food news
The Full Helping
Cashew Parmesan Cheese
This four-ingredient vegan cashew parmesan cheese is my go-to recipe for topping pasta, salads, grain bowls, toast, and more!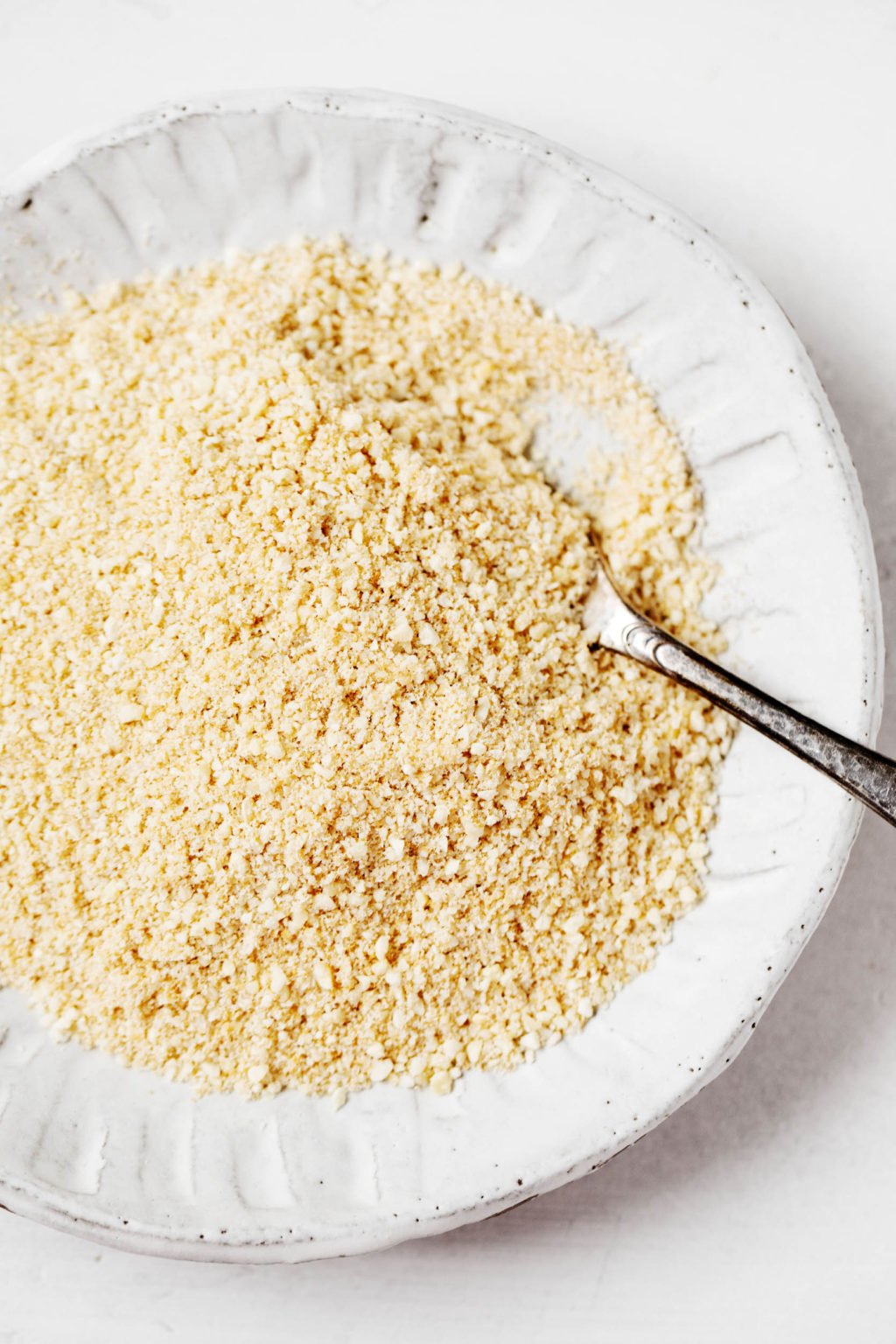 There's no shortage of crumbly, cheese vegan toppings in my life. I've made plant-based "parmesan" using hemp seeds and walnuts. There's a cashew parmesan recipe in Power Plates, too.
Lately, though, I've been streamlining the Power Plates parm. I'm using fewer ingredients, which is indicative of how much I'm trying to streamline my cooking in general. My patience for cooking has actually decreased with quarantine, not increased!
This vegan cashew parmesan cheese is now my go-to parm. There is a mason jar full of it in my fridge right now. There was a jar of it in the fridge last week. And there will be a jar in the fridge next week at this time.
This perennial condiment goes on anything and everything in my home. I use it on pasta, salads, and bowls. I nearly always put it on dinner toast. It ends up on my savory oatmeal all the time. And I've put together twenty additional uses for the parmesan in this post.
Fortunately, this DIY staple is as easy to make as it is versatile and rewarding.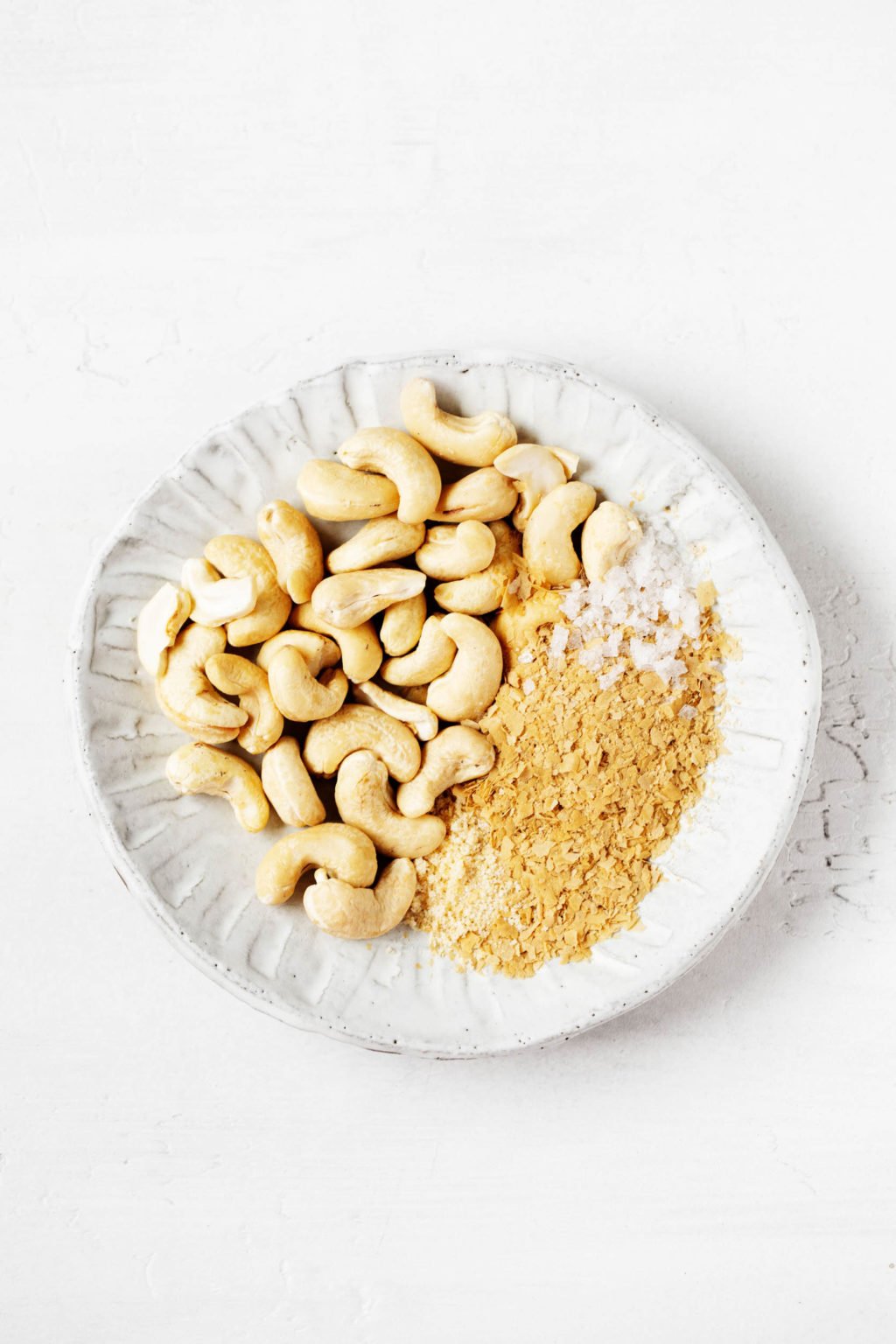 The four ingredients of cashew parmesan cheese
I don't have too many four-ingredient recipes up my sleeve. But I get excited when I do have one to share. Here's what you'll need for your cashew parmesan cheese.
Cashews
I prefer using raw cashews for this recipe. I think the flavor works out best. The cashews are a sweet, neutral, buttery base for the parmesan. It's the same role that they play in my cashew cream and cashew cheese.
If you don't have raw cashews, roasted and unsalted is the next best option. The parmesan will have a toasty, nutty flavor. Not a bad thing, just something different.
Finally, you can use roasted and salted cashews in a pinch. If you do this, be sure to adjust the salt in the recipe to compensate for the salt added to the nuts. I'd suggest 1/4 teaspoon less salt than is called for.
Nutritional yeast
Nutritional yeast is what gives the cashew parmesan its "cheesy" flavor.
For those of you who are new to plant-based eating, nutritional yeast is an inactive form of yeast that adds a savory, umami-rich, cheesy taste to vegan dishes. It's a good source of B-vitamins, including B-12 (though even the most yeast-loving vegans should supplement B-12!).
You can find nutritional yeast—aka "nooch"—it in a flake form or a powder form. I usually purchase nutritional yeast flakes, though the powder can be useful if you want to whisk nutritional yeast into a dressing.
Both flakes and powder work in this cashew parmesan cheese recipe, since the nutritional yeast ends up in a food processor, anyway.
Salt
I use Diamond Crystal Kosher salt for pretty much all of my cooking, and that's what I use in this recipe. Fine sea salt will also work well, though you can probably use a little less (1/4-3/8 teaspoon), since it's saltier than kosher salt.
Garlic powder
Garlic powder adds a little bit of garlicky flavor to the cashew parmesan cheese. It's definitely not necessary, especially if you don't like the flavor of garlic! I don't use very much of it, but I think it gives the parmesan a nice, well rounded taste.
Optional add-ins
If you'd like to go beyond the basics, you can certainly add additional seasonings to your cashew parmesan cheese. These could include:
Onion powder
Dried thyme
Turmeric
Dried rosemary
Smoked paprika
Pinch of cayenne pepper (for a spicy version)
Dried oregano
The perfect ingredient ratio
A lot of nut-based parmesan recipes call for a 4:1 ratio of nuts to nutritional yeast.
Personally? I like my cashew parmesan cheese to be very heavy on the nooch, lighter on the nuts. This recipe calls for a 2:1 ratio of cashews to nutritional yeast.
I think this makes for a more flavorful vegan parm! It also allows for a little extra protein. Nutritional yeast is one of my favorite, plant-based protein sources.
What if I'm allergic to cashews?
Sometimes I feel bad about being the cashew fanatic that I am, since I know that tree nuts are one of the most common allergens.
To the many of you who message me on Instagram regularly with requests for cashew alternatives in my cooking, I see you! I'll probably always use cashews as a base ingredient for lots of recipes, but I'll always try to offer alternatives.
If you're allergic to cashews and cashews only, you can make this recipe with:
Almonds
Pecans
Pine nuts
Macadamia nuts
If you have a tree nut allergy but you can tolerate seeds, try:
Pumpkin seeds
Sunflower seeds
If all nuts and seeds are off limits, you could use a mixture of all nutritional yeast and salt. It'll be different, but it'll still be nice. You could even toss in some bread crumbs for the texture that nuts usually create. Herbs and spices could help to jazz it up, too.
Twenty uses for cashew parmesan cheese
There are so many ways to use your cashew parmesan cheese once you've made it. Here are just a few of the recipes that I most like to sprinkle it on:
But really, this is just a smattering of the homemade meals that I've topped with the cashew parmesan cheese. You can use it in any dish where you'd normally want a little shaved parm.
The texture isn't the same, of course. But the saltiness and savoriness is definitely there.
Storing cashew parmesan cheese
The cashew parmesan cheese is easy to store. I keep mine in a mason with a lid and store it in the fridge for up to two weeks at a time.
I imagine it could last even one week longer than that, but I've never been able to keep a batch long enough to find out!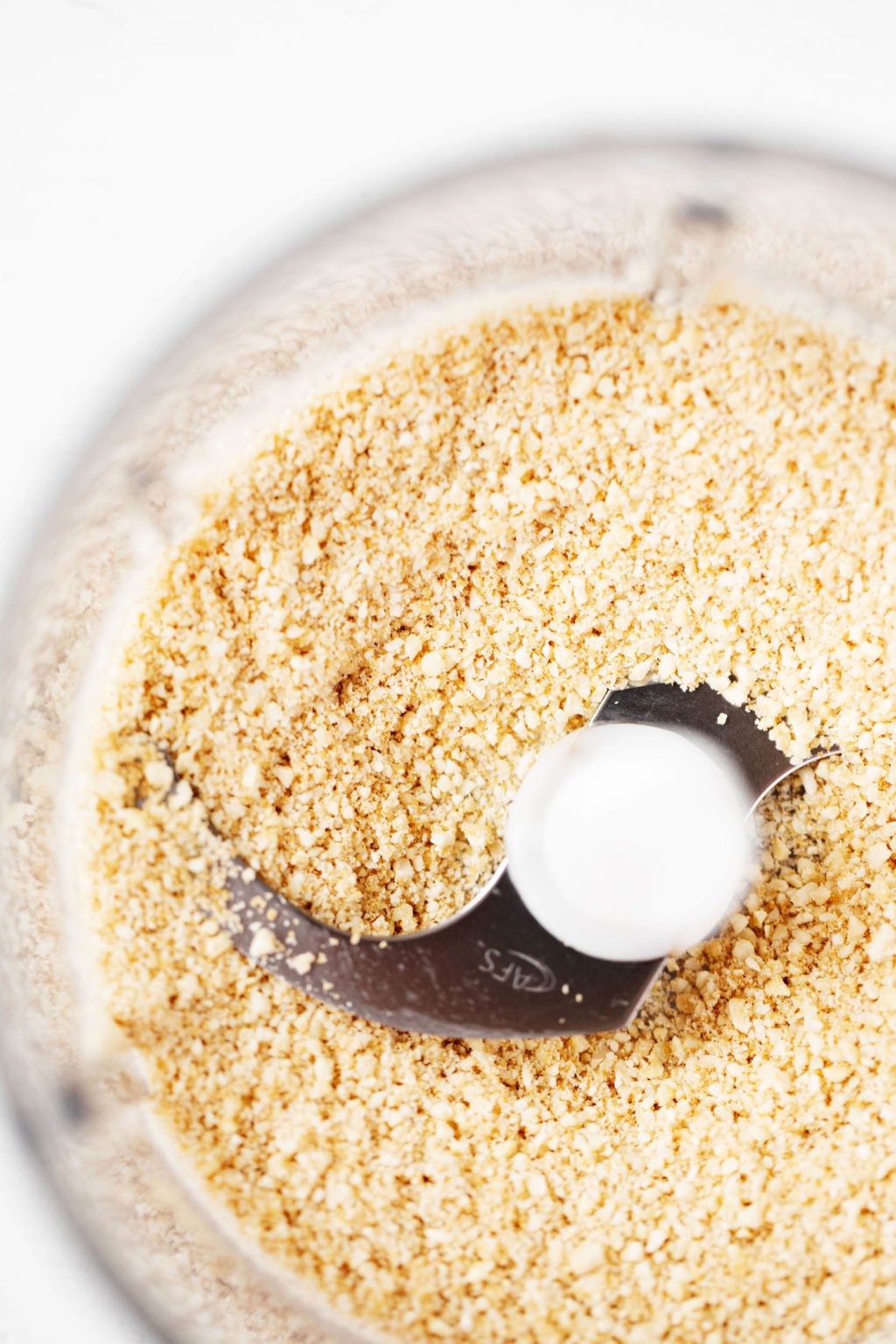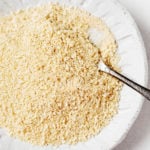 Print
Vegan Cashew Parmesan Cheese
Vegan cashew parmesan cheese is the ultimate savory, salty, wholesome topping for pasta, salads, grain bowls, and more! Only 4 ingredients and so easy to make.
Course
condiment, topping
Cuisine
Italian
Diet
Gluten Free, Vegan, Vegetarian
Keyword
cashews, nutritional yeast
Prep Time
5
minutes
Total Time
5
minutes
Servings
12
servings
Equipment
Ingredients
Instructions
Process all ingredients in a food processor fitted with the S blade till they're ground up. The cashews should be very broken down, but not quite powdery. Store in an airtight container in the fridge for up to two weeks.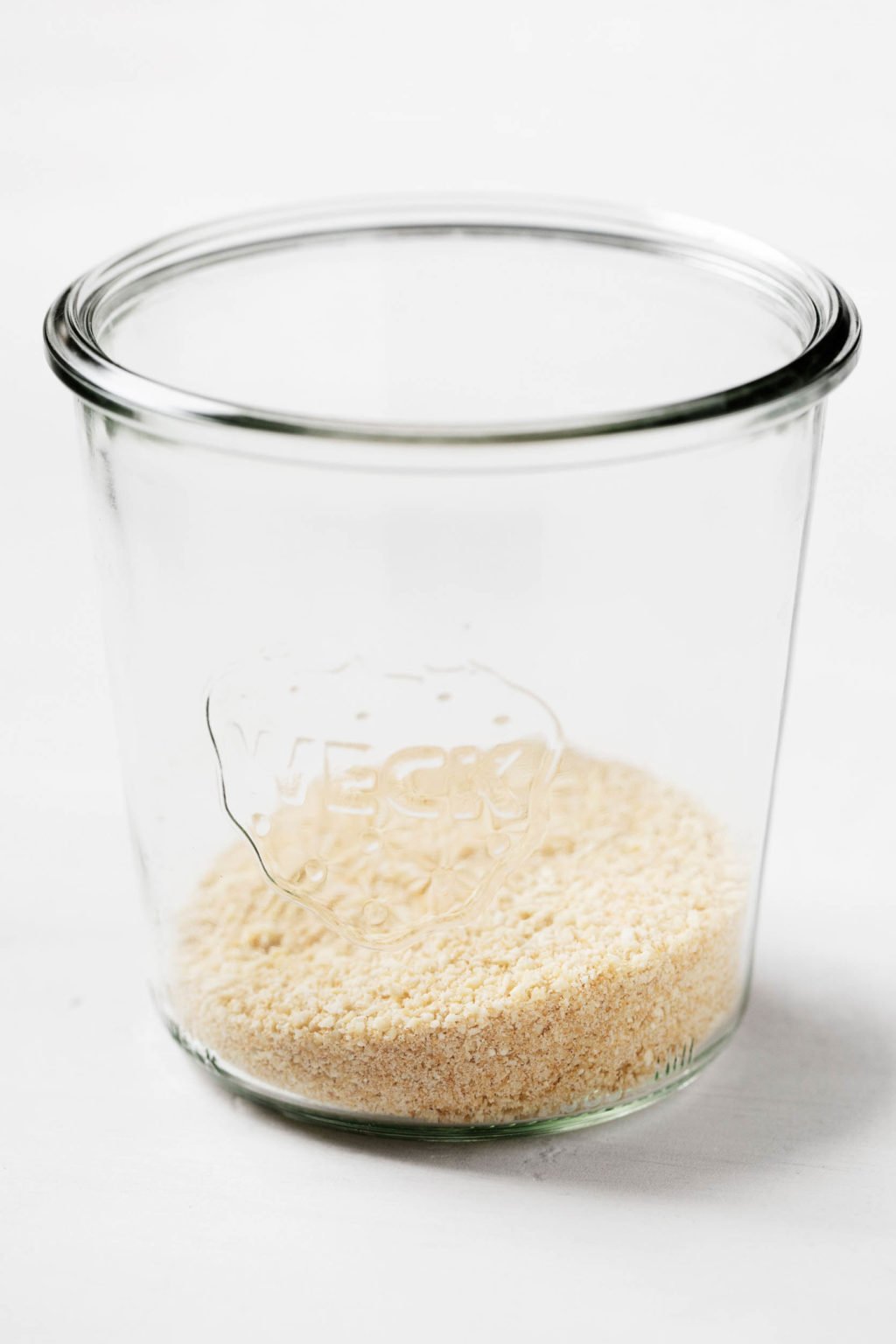 I'm all about shortcuts and getting a helping hand in the kitchen as we enter this new year.
That said, it does feel nice to make certain condiments from scratch. And I fell out of the habit of doing that this year. I'm getting back into the swing of homemade dressings and toppings, and I feel good about it.
In a couple days, I'll share the pasta dish that I've been folding this cashew parmesan into lately!
xo
The post Cashew Parmesan Cheese appeared first on The Full Helping.
translate | Tue, 12 Jan 2021 19:14:50 +0000
Plantspired Meal Solutions
Nasoya's Plantspired Meal Solutions allow you to create fast, flavor-forward, and nutritious plant-based meals in no time!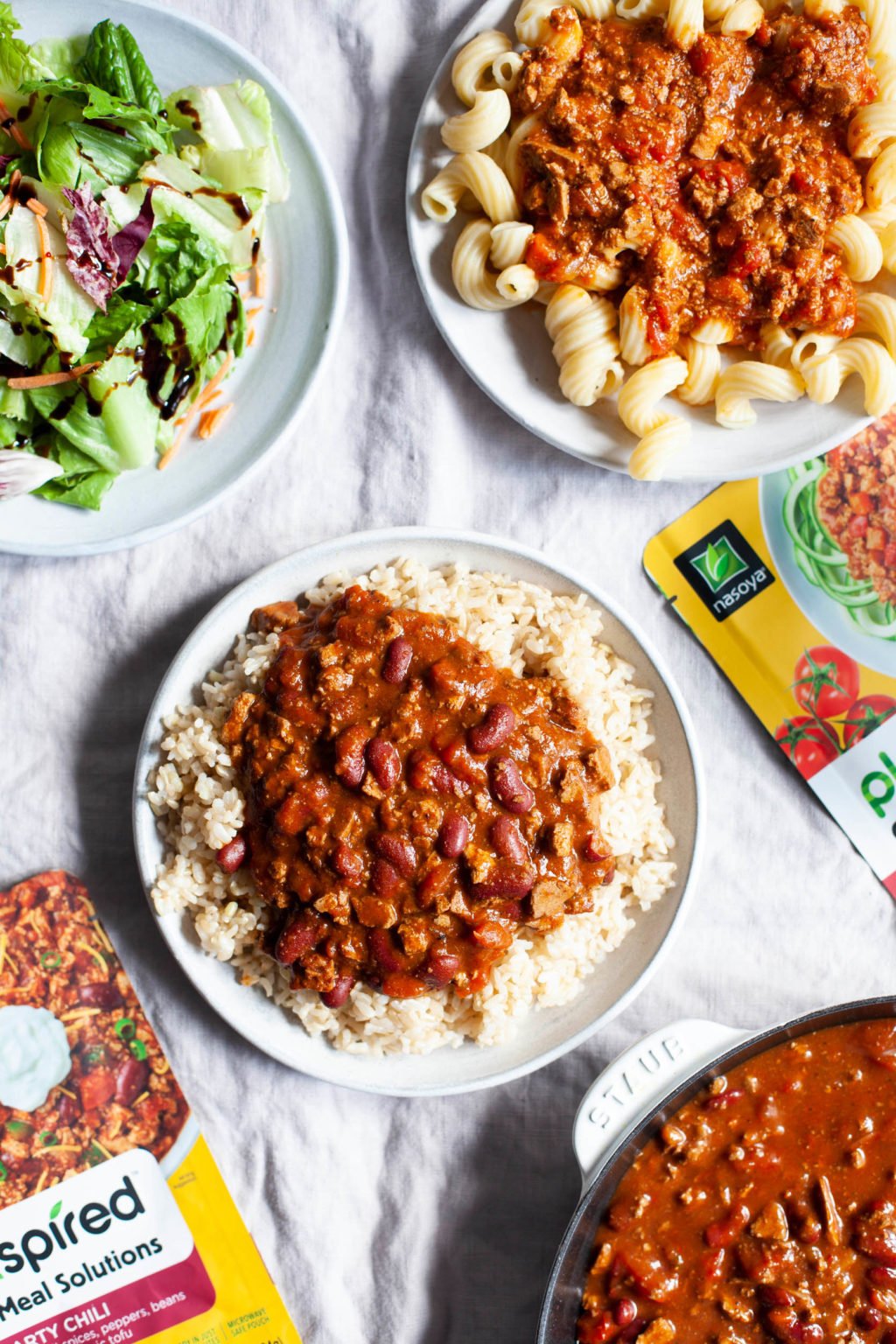 The last few weeks of December are always busy. Even under the circumstances this year, they involved a lot of frantic catching up.
Not to mention all of the extra cooking and baking.
January is often full of encouragement (and sometimes pressure) to cook and meal prep from scratch. I'm not sure about you, but I can't remember the last time I entered a new year as fatigued as I feel right now.
So I'm giving myself permission—and issuing an invitation to anyone who needs to hear it—to keep things simple. Embrace a shortcut or two. Give yourself a break from time to time.
In this context, I couldn't be more grateful for fast, semi-homemade meals. It's a stroke of good fortunate that Nasoya's new Plantspired dishes have entered my life.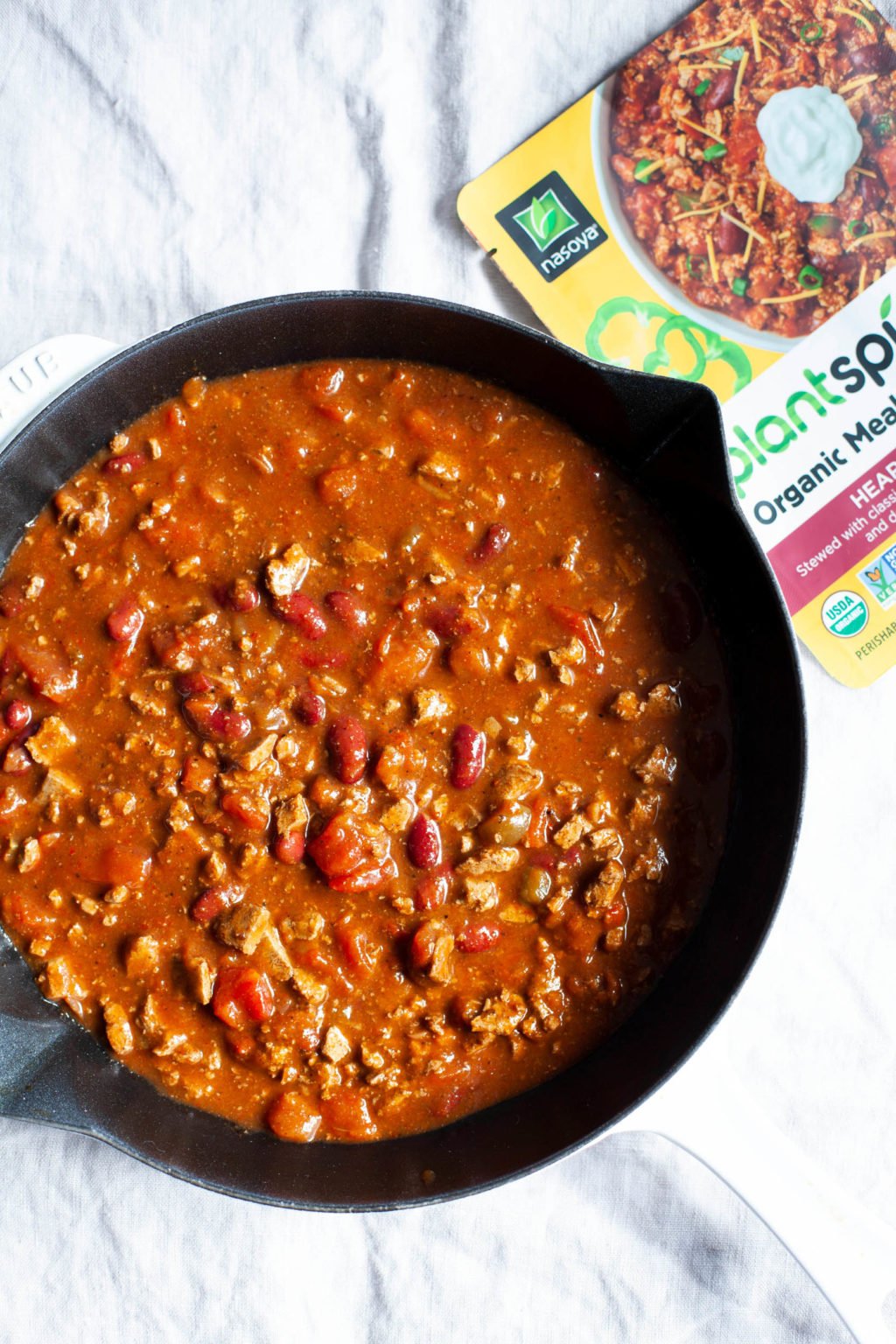 What are Plantspired Meal Solutions?
Nasoya tofu has been my tofu of choice for many years now. It's a wonderful product, always organic, always non-GMO, and available in many different consistencies.
I use the firm, extra firm, and super firm for marinating and baking, as well as stir fries and hash. It's even the base of my homemade vegan cream cheese. Meanwhile, I turn to the silken tofu for dressings and soups.
Nasoya's Plantspired Meal Solutions are the perfect bridge between plain tofu and a complete, home-cooked meal. They are available in two plant-based options: a pre-seasoned, pre-cooked, ready to heat chili and a classic Bolognese.
Tofu is the central protein in both meals. The hearty chili also contains kidney beans, which give it extra protein and extra fiber.
Both meals come ready-to-eat. They simply need some heating in a skillet before serving. They feature rich, flavorful sauces with lots of spices.
How to serve Plantspired Meal Solutions
I like to think of the Plantspired dishes as meal starters. They're the central protein for a plant-based meal.
To turn them into a balanced meal with all three macronutrients (in other words, a Power Plate!), you need only add your favorite starch or whole grain.
Serving
Plantspired Hearty Chili Meal Solutions
A few ideas for serving the Hearty Chili:
As you can see, that's what I've been doing a lot lately! And I love some vegan cheese shreds on top. A few more topping ideas:
Vegan sour cream
Chopped green onions
Yum sauce
Toasted pepitas
Serving
Plantspired Classic Bolognese Meal Solutions
The Plantspired Classic Bolognese is equally versatile!
To be honest, I've been very content piling it on top of pasta, and I have no plans of stopping soon. But there are many other options. You could serve it:
Over farro
With zoodles (or another veggie pasta)
In toasted ciabatta, maybe with some garlicky sautéed greens
Mixed with veggies and bake over pizza crust
Over toast
And, just as with the chili, you can further customize your Plantspired Meal Solutions by playing around with different toppings. My choices:
Vegan mozzarella-style shreds
Cubed bread or bread crumbs (a great use for bread that's about to get a little stale!)
By the way, I've made a lot of different attempts at vegan Bolognese. I've used lentils, mushrooms, cauliflower, vegan meats, vegan sausage. Nothing I've made is quite what I want it to be—yet.
But this tofu Bolognese hits the spot. It's the Bolognese I've been most happy with, even though I didn't make up the recipe myself! There's something to be said for turning kitchen projects over to the experts sometimes.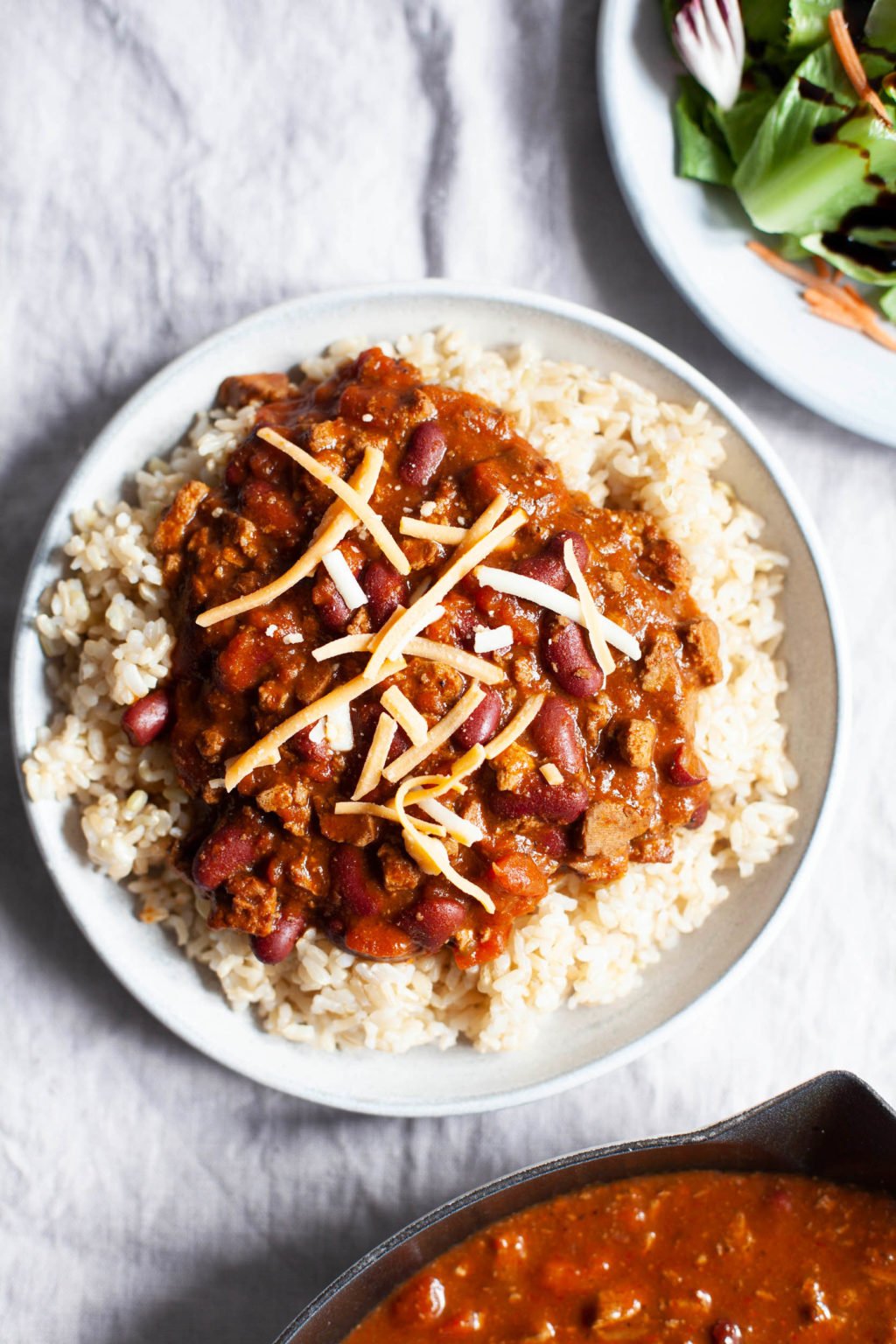 Plantspired nutrition
The Plantspired Hearty Chili Meal Solutions feature thirteen grams of plant protein in each serving. That's a good amount, and it becomes even more robust if you add some veggies or protein-rich accompaniments to the meal.
The chili also packs in six grams of fiber and an impressive 20% of the recommended daily allowance of iron for adults. The Bolognese is equally robust.
These meals are intended to provide good, balanced nutrition for plant-based eaters who don't always have time to cook from scratch.
Meet yourself where you are
Speaking of that, it's worth mentioning a conversation that I have with my nutrition clients on a near weekly basis.
It usually begins when I recommend a vegan product—or a whole slew of products—that are intended to help someone cut back on cooking while also eating wholesome, plant-based foods.
My clients often express incredulity, or even a little discomfort around this. I think we all like to cling to the idea that we can do it all ourselves. All the work, all the caretaking, all the cooking.
But one of the biggest lessons I learned in 2020 was to meet myself where I am. And I mean that I really learned it, in the sense that I accepted it and acted on it, rather than talking about it.
I stopped trying to do everything. Month by month, I learned to accept that there are some things I really don't have energy for. Even if they seem doable, and even if I've been able to do them regularly in the past.
This isn't the past. It's the present.
The longer I do nutrition work, the longer I observe how profoundly healthy a realistic mindset is. Elaborate meal planning isn't worthwhile if a person is too exhausted, distracted, or busy to actually cook the food. Wholesome vegan products are much better than "homemade" food that never gets cooked at all.
And products like the Plantspired dishes prove that semi-homemade can be as wholesome and nourishing as anything one might make from scratch.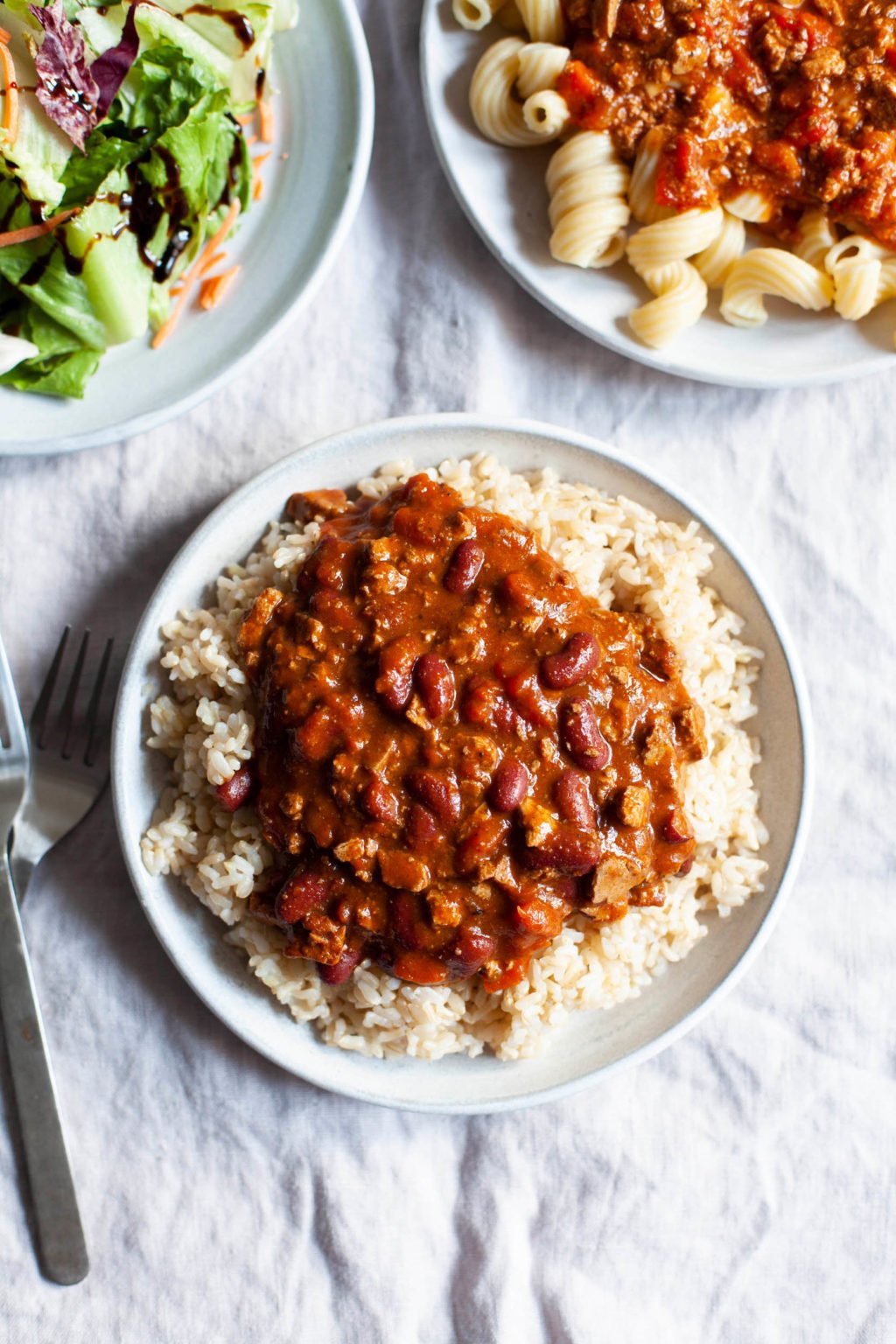 A healthy, practical new year
As we kick off a new year, I cheer you on in meeting yourself where you are, not where you wish you were. It's great to have goals and intentions, of course. But creating steady habits usually feels better than short-lived bursts of effort. And habits develop when we aim to do what's actually achievable.
Or, to quote the yoga teacher whose words left such an impact on me years ago: "when it can be easy, let it be easy."
Thanks to Nasoya and its Plantspired Meal Solutions for making my holiday season a little easier. You can check out the Nasoya website to learn more about how I plated these tasty dinners!
xo
This post is sponsored by Nasoya. All opinions are my own. Thanks for your support!
The post Plantspired Meal Solutions appeared first on The Full Helping.
translate | Thu, 07 Jan 2021 18:02:31 +0000
Silken Tofu Chocolate Pudding
Silken tofu chocolate pudding is an easy-to-make vegan dessert that tastes rich, but uses nutritious, protein-packed silken tofu as a base.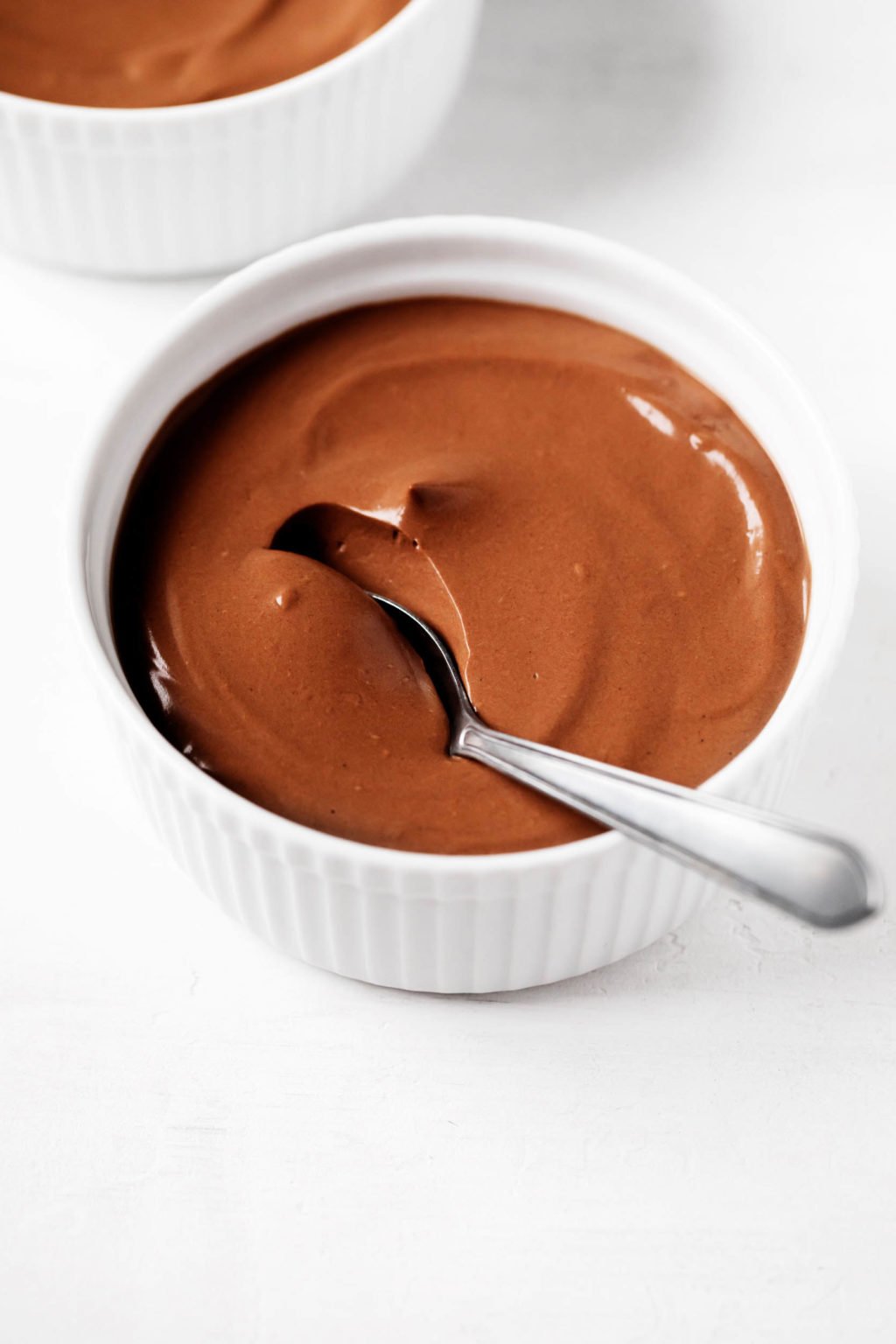 Let's wrap up the year with something sweet, yes?
There's a lot of pressure to relinquish sweets at this time of year. Online recipe content switches suddenly from holiday treats to wholesome, sensible fare for a new year.
I can understand the impulse to get back to basics in January. After lots of holiday cooking, simplicity feels good. But sweet and simple aren't mutually exclusive. This silken tofu chocolate pudding proves that.
This is a rich, creamy, very chocolate-y dessert that's easy to make. Silken tofu is a nutritious, protein-rich base, which gets blended with both melted dark chocolate and cocoa powder.
The pudding takes only minutes to prepare, and it's delightful to eat. It's an easy indulgence—the best kind!
Why silken tofu is the perfect base for dairy-free chocolate pudding
There are many ways to create a vegan chocolate pudding. I've used avocado (the famous chocomole), pumpkin, and cashew as a base.
I've also seen recipes that call for whipped aquafaba as a chocolate pudding base. They're made similarly to traditional chocolate mousse.
But silken tofu chocolate pudding is my personal favorite for a lot of reasons.
First, ease. Yes, you'll need to melt your chocolate (either in a double boiler or in the microwave). But there's no stand mixer required. No need to use cornstarch or another thickener. No custard to create.
Making the silken tofu chocolate pudding is as simple as blending silken tofu with melted chocolate, cocoa powder, a sweetener of choice, and a pinch of sea salt. It sets in the fridge overnight, and then it's a perfect texture for eating.
Silken tofu does more than enable easy preparation. It's also a nutritious base for this dessert, rich in all of the nutrients that soy beans offer. This includes plenty of plant-protein, healthful fatty acids, and anti-inflammatory soy phytoestrogens.
There may be other ways to create a dairy-free chocolate pudding or mousse, but I can't think of a creamy base that offers as much nutrient-density as this one!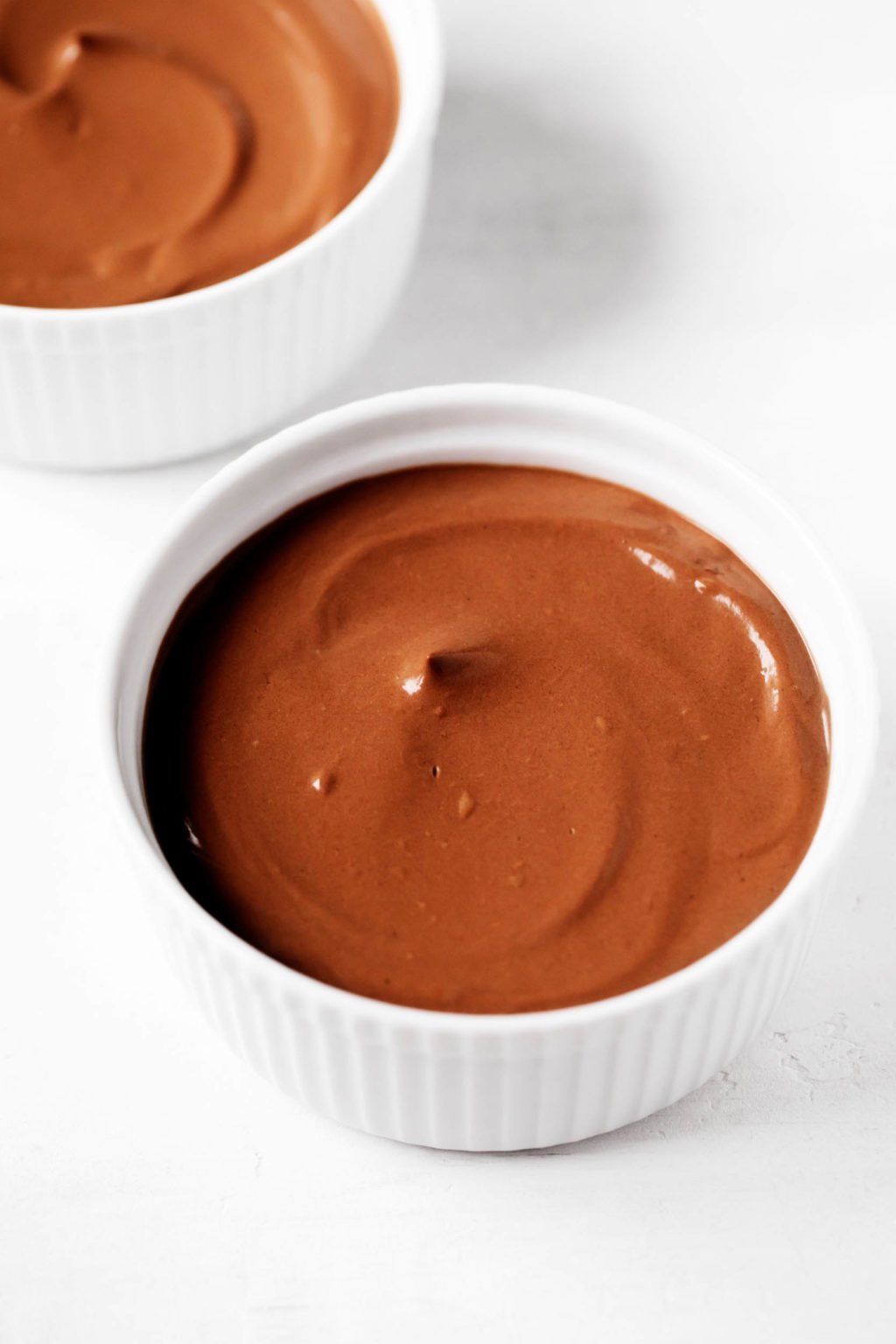 Silken tofu chocolate pudding ingredients
It's not every day that I make a dessert I love with only five ingredients. But that's how silken tofu chocolate pudding works. Here's what you'll need.
Silken tofu
I remember the days when silken tofu was easiest to find in 12-ounce packages. You can still find those online, but when I go to the grocery store, I usually see silken/soft tofu in 16-ounce containers.
So that's what this recipe calls for: 16 ounces of silken tofu. If you happen to have the 12-ounce packages at home, you can always save your leftover tofu for smoothies, soup, or another use. You can also scale down the chocolate and other ingredients 25% to accommodate only 12 ounces of tofu.
Dark chocolate
Any vegan dark chocolate or semi-sweet chocolate should work in the recipe. You can use chips, chunks, disks, or a chopped up dark chocolate bar.
I like something in the semi-sweet range for this recipe. Bittersweet chocolate is too bitter for me. But you can use the percentage and level of sweetness that you like. When I use a bar to make the pudding, I usually use this one.
Cocoa (or cacao) powder
I tend to prefer the flavor of cocoa powder over cacao. Once again, though, you can use the powder you have at home. I use this cocoa powder for some of my baking, hot cocoa, this pudding, and chocolate mousse pie.
Maple syrup (or agave)
I like to use liquid sweetener—maple syrup or agave—in the recipe. However, I've tested it with both coconut sugar and cane sugar, and they also work well.
Salt
You won't need more than a pinch of kosher salt or sea salt for the pudding itself. But if you like chocolate and sea salt together, you can definitely top each ramekin of pudding with some flaky salt, too!
Storing and preparing silken tofu chocolate pudding
There's not much to the preparation process of this silken tofu chocolate pudding. Blend, chill, eat.
The pudding should yield 4 large or 6 smaller portions. I use ramekins to portion it out (and because it makes an otherwise low-key dessert feel fancy). But you can certainly store all of it in a larger storage container, too. It will keep for up to five days in the fridge.
Speaking of, the pudding needs at least 3-4 hours to chill in the fridge before eating. However, I like it a lot better once it sets in the fridge overnight. At that point, the pudding has a texture that's still silky but also set. It's some hybrid of pudding, mousse, and pot de crème.
So, if you have the time, I recommend making the pudding a day before you plan to eat it. For example, you can make it today and enjoy it tomorrow, as a means of welcoming the new year

More chocolate goodness…
I was so focused on gingerbread that I didn't give much thought to chocolate this holiday season. But it's always a good time for a little bit of chocolate. If you'd like a few more ideas, here are some of my favorite chocolate treats: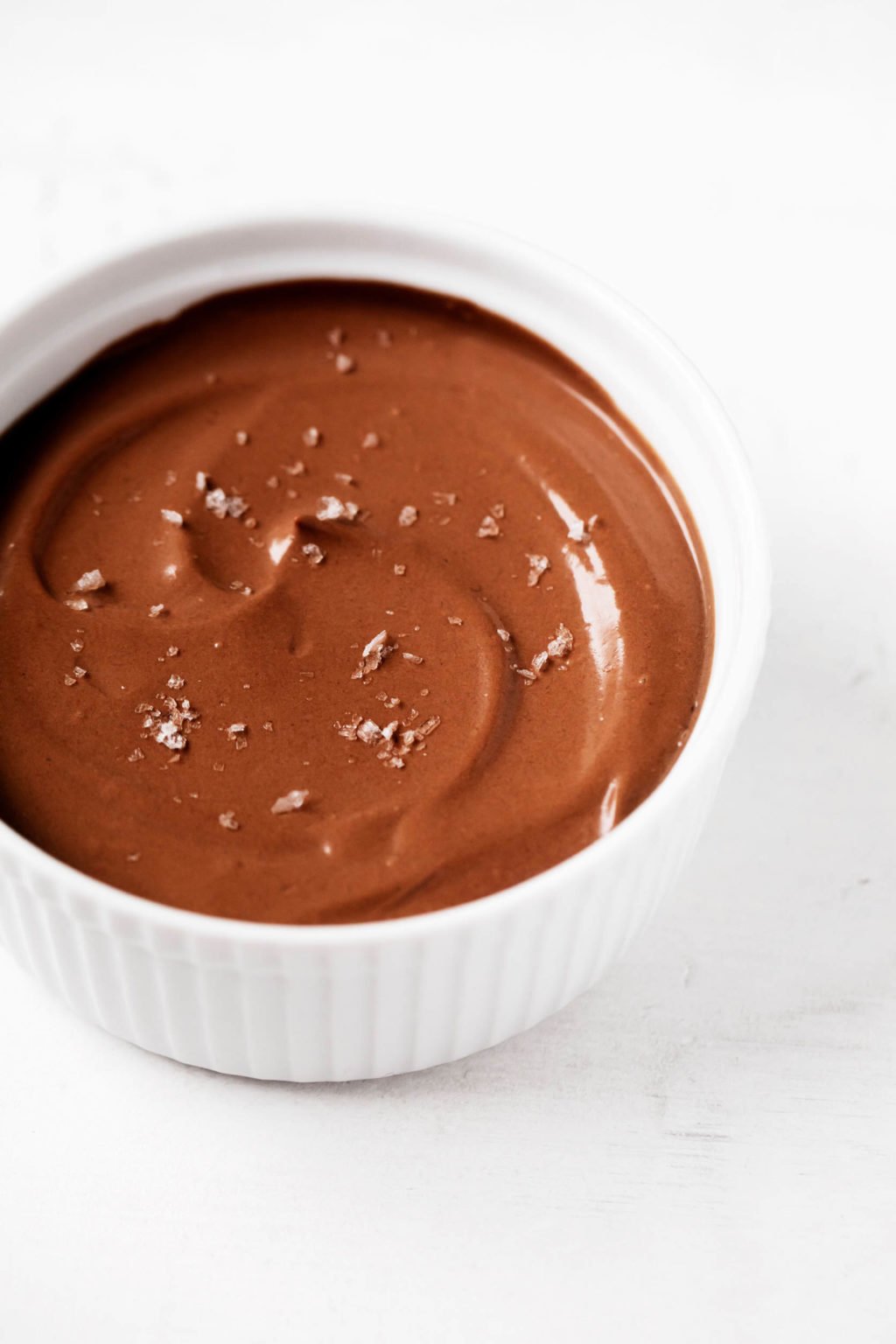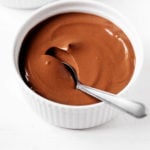 Print
Silken Tofu Chocolate Pudding
This vegan, dairy-free silken tofu chocolate pudding tastes rich and decadent! But it uses nutritious, protein-packed silken tofu as a base. Easy to make, easy to include in your meal prep.
Course
Dessert
Cuisine
vegan
Diet
Gluten Free, Vegan, Vegetarian
Keyword
chocolate, tofu
Prep Time
15
minutes
Chilling time
12
hours
Total Time
12
hours
15
minutes
Servings
6
servings
Ingredients
16

ounces

silken tofu

1

cup

(5 oz/150 g) chopped dark or semi-sweet vegan chocolate  

3

tablespoons

cocoa powder

1/4

cup

maple syrup or agave syrup

(substitute coconut sugar or cane sugar)

Pinch

salt
Instructions
Melt the dark chocolate in a double boiler or by heating it for 30 seconds in the microwave, stirring, and continuing to heat for 15 seconds at a time until the chocolate is melted. Don't microwave for longer intervals, as the chocolate may burn and lose its silky, melted texture. 

Add the melted chocolate and all other ingredients to a high speed blender. Blend till completely smooth. Pour the mixture into 4 or 6 ramekins. Refrigerate overnight to set the pudding. Enjoy!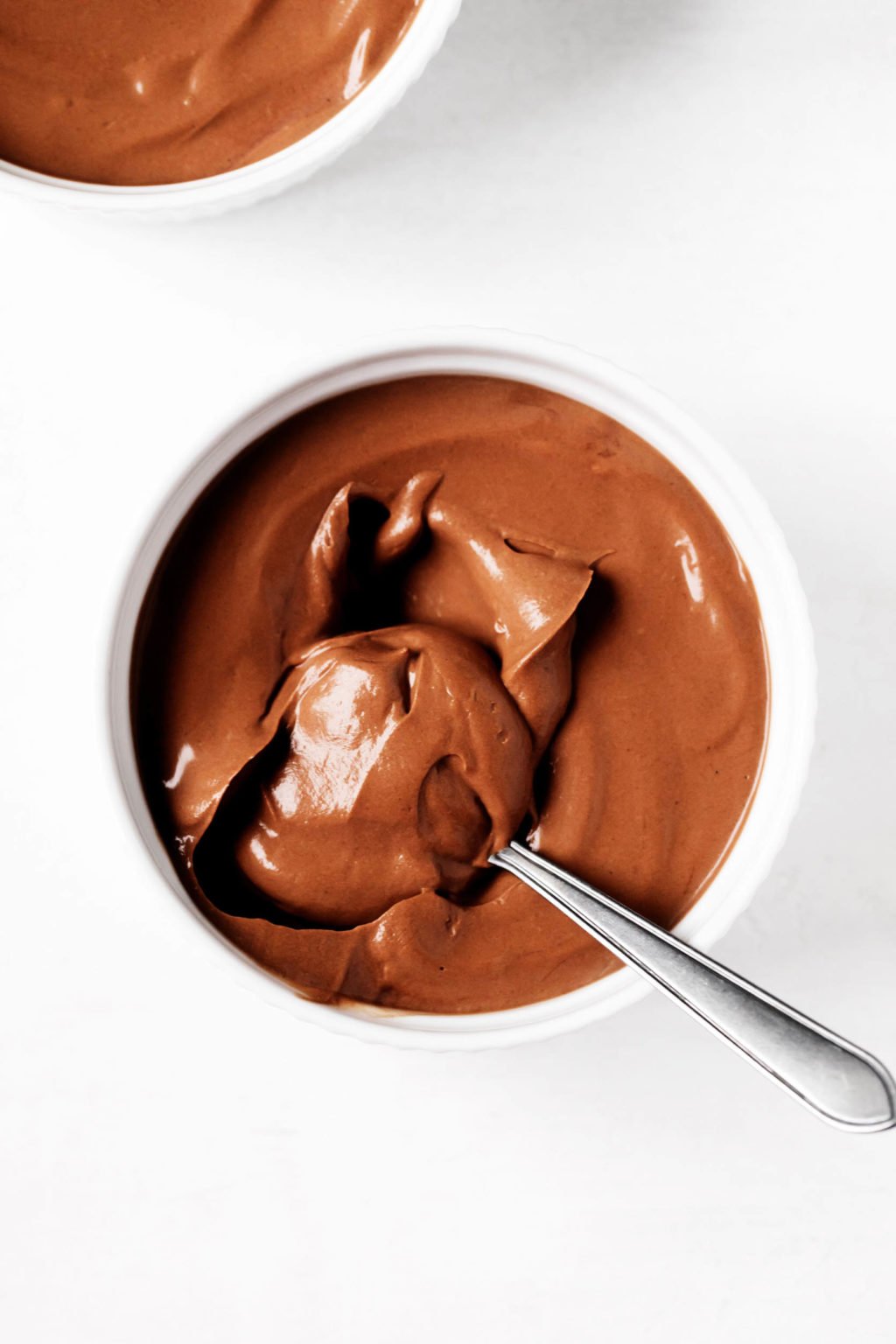 I'm having mixed feelings today, just the way I did on Christmas. I feel grateful to have made it through the year, but there's a lot of sadness associated with what didn't happen and wasn't possible. Some of the things that I had hoped for at this time last year.
But in addition to being a reminder of the fragility and preciousness of life, 2020 had its sweet moments.
The sweetest of them were very sweet indeed: life coming back to NYC this summer. My first few reunions with friends I hadn't seen in a long time. Many outdoor walks, some chilly, some rainy, some absolutely glorious. A lot of special time sitting in the park with my mom.
These small moments were even sweeter because of the circumstances. As I savor this dessert today, I'll honor them, and the sweetness of life. It's always there, even in the toughest moments.
Enjoy the silken tofu chocolate pudding. Can't wait to hear what you think. And a great big hug to you on this New Year's Eve.
xo
The post Silken Tofu Chocolate Pudding appeared first on The Full Helping.
translate | Thu, 31 Dec 2020 16:05:02 +0000
Whole Wheat Raisin Bars
Whole wheat raisin bars are a perfect cross between a wholesome snack bar and a buttery cookie. Freezer-friendly and great for meal prep!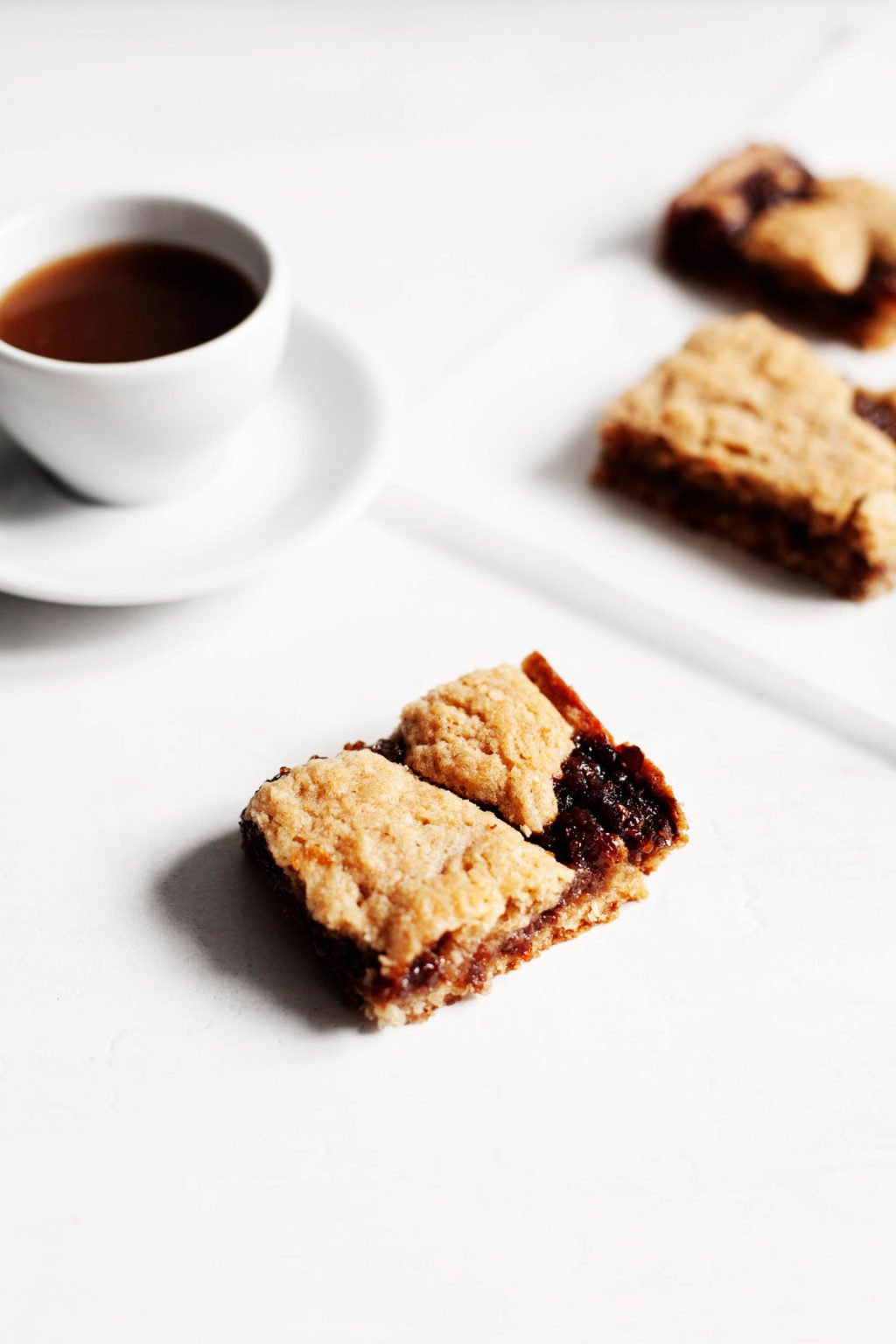 You know those recipes that drastically exceed expectations?
These whole wheat raisin bars are one of them. I had the idea for the recipe in my mind. I suspected I'd like them. After all, it's not hard to sell me on soft, cookie-like layers of dough and a dried fruit center.
But the bars turned out to be so much more tender, buttery, and tasty than I was expecting. Within moments of trying one, I knew I'd make them as one of my edible holiday gifts for friends next week. And I was reasonably sure that I'd make a double batch so that I could snack on them, too.
Even better? The bars are made with sprouted, whole wheat flour and rolled oats. Which makes them a little more wholesome than they would be otherwise. It also gives them a rich, nutty flavor that works so well with the sweet raisin interior. 
Whole grain baking
One of the most common questions I'm asked about my baking recipes is, can this be made with whole wheat flour?
The answer is…maybe.
Whole wheat flours don't work exactly like all-purpose flour does. Whole wheat flour, which is made by grinding up all parts of the wheat berry. The ground wheat bran can impede development of gluten strands in baking.
This is why whole wheat baked goods can sometimes be less tender, have less rise, or be denser than cakes or breads made with all-purpose flour.
So no, you can't always substitute whole wheat flour for all-purpose. If you do, you may need to start by substituting 10 or 25% of the original flour for whole wheat, to see what your baking results are like.
I don't often bake with 100% whole wheat flour, but I often add a portion of it to quick breads, muffins, and breads. In some recipes, using all whole wheat flour just happens to work well.
These whole wheat raisin bars are one of those recipes!
Sprouted wheat nutrition
If you are able to use whole wheat flour in baking, there are some wonderful benefits that come along with it.
Whole wheat flour is richer in fiber than all-purpose. Because the whole wheat germ is used, it's also got richer amounts of vitamins and minerals. Whole wheat flour (and most whole grain foods) are often higher in protein than refined grain counterparts.
My whole wheat flour of choice is the Sprouted Whole Wheat Flour from One Degree Organics.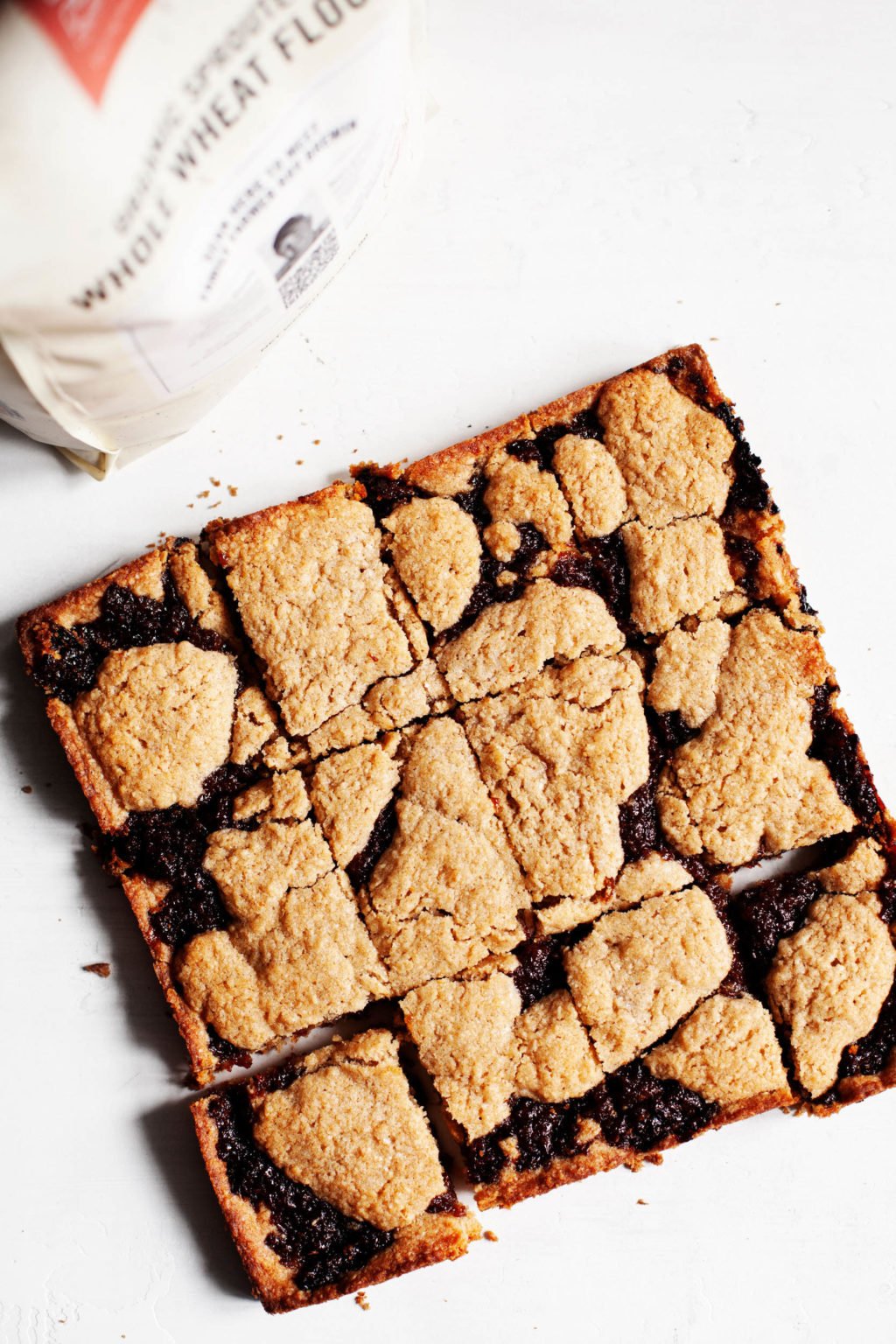 This flour is made not only from whole wheat, but sprouted whole wheat. Sprouting can help to make the nutrients in the wheat more bioavailable.
Beyond that, One Degree flours are organic and veganic (which means that they're cultivated with plant-based fertilizers).
One of the things I love so much about One Degree Organics and its products is that the brand puts transparency at front and center. One Degree foods come with scannable QR codes on the packages. When you pull them up, they teach you more about the farmer who produced the grains, oats, legumes, or seeds. 
Sneaky oats in whole wheat raisin bars
These raisin bars contain not only the One Degree Sprouted whole grain flour, but One Degree's quick oats, too. 
These are my favorite oats, period. They're tender, sweet smelling, have an incredible texture, and they're grown without glyphosate. I make them for breakfast all the time, but I also love to bake with them.
In this recipe, I grind up a cup of oats and add them to the flour. This serves two purposes: first, it infuses the recipe with the whole grain goodness and soluble fiber of the oats.
Second, I think the homemade oat "flour" actually helps to lighten and tenderize the dough. It's a perfect compliment to the whole wheat flour.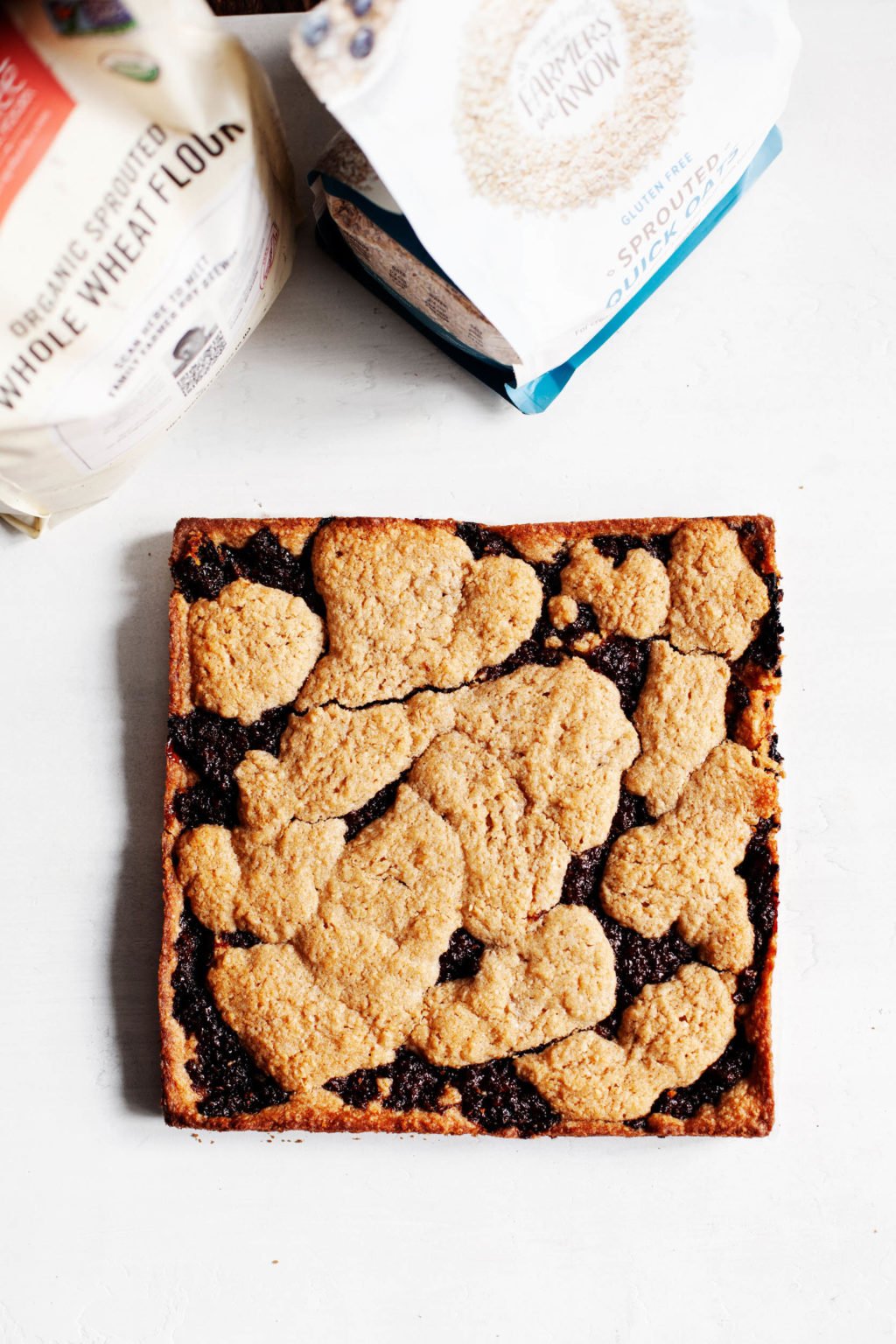 Here are a few other baked treats that I've made with One Degree's fabulous oats:
Whole wheat raisin bar ingredients
These whole wheat raisin bars are sort of a cross between buckle and cookies.
When I first thought about making them, I imagined a short crust bottom and a streusel top of some sort.
But the more I thought about that, the more it wasn't exactly what I craved. I like soft, cake-y textures. And What I really wanted was a soft, cake-like bar. Similar to these blueberry oat bars, but with a smoother texture.
I'm so happy that I followed my instincts and made the bars this way. I love their tenderness and chew. As an added bonus, you only need to make one batter for the recipe. No need to create something separate for the top.
Here's what you'll need:
Whole wheat flour
It works perfectly in this recipe, with no need for all-purpose. You could, though, substitute spelt flour or white whole wheat flour. And of course, if you don't have whole wheat flour, all-purpose is fine.
Oats
I used my food processor to quickly grind the whole, quick oats into flour. Rolled oats would also work. If you happen to have oat flour at home, you can simply use ¾ cup of it.
Brown & cane sugar
I often use a mixture of brown and cane sugar to get the right consistency (light, yet moist) in baked goods. You could use all of one or the other, if you need to. I also love baking with coconut sugar!
Raisins
When I gave a sneak peek of these bars on Instagram, a lot of people asked whether they were date or fig bars.
In theory? They could be. But making the whole wheat raisin bars reminded me of how underrated and wonderful raisins can be. They're inexpensive and easy to find. No wonder I use them so often, especially in salads and cake.
You could use golden raisins or brown. And if you're dying to use up another dried fruit, you can try one and a half cups of any of the following, chopped:
Storing whole wheat raisin bars
These bars should be kept at room temperature for up to four days, stored in an airtight container. They make wonderful gifts.
If you need to make them last a little longer, you can freeze them, individually or in bunches, for up to six weeks. 
Sometimes I get a little fatigued of holiday cooking. But honestly? I've enjoyed every minute of baking and cooking this season. It feels "normal" in a time when so little else does. I hope that new year will bring a return to some of what we know and love, along with a fresh beginning.
Hope you'll enjoy these buttery, irresistible treats, too. You can head on over to the One Degree Organics website to find the full recipe!
xo

This post is sponsored by One Degree Organic Foods. All opinions are my own. Thanks for your support!
The post Whole Wheat Raisin Bars appeared first on The Full Helping.
translate | Thu, 24 Dec 2020 00:11:28 +0000
Vegan Spinach Lasagna Rolls
Vegan spinach lasagna rolls are a perfect way to enjoy all of the comfort food goodness of lasagna in an adorable, easier-to-serve package.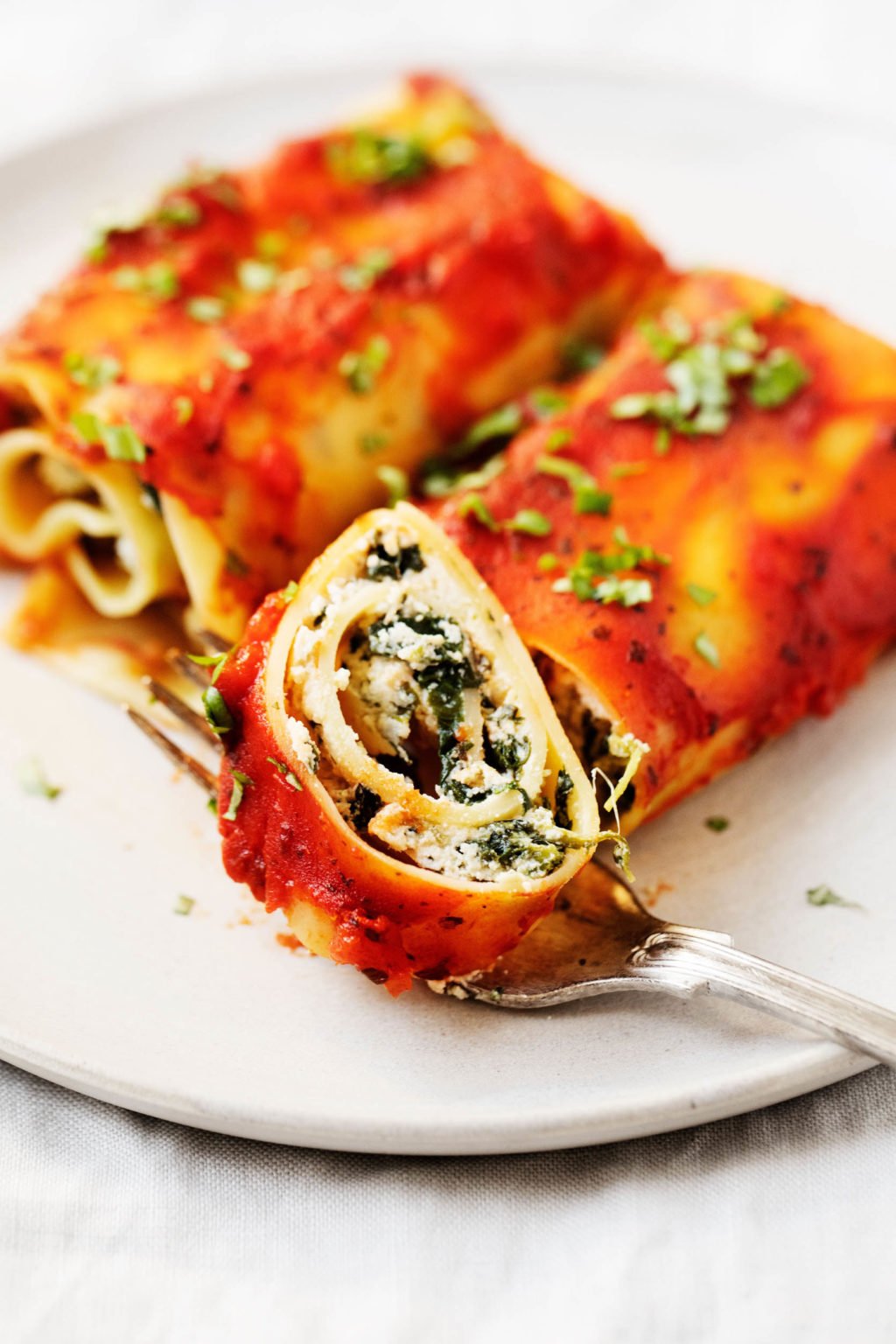 With only a few more days before the Christmas holiday and the winter solstice, I thought it might be a good day for some classic comfort food.
These vegan spinach lasagna rolls are my new favorite make-ahead, freezer-friendly, cozy meal.
The rolls have all of the goodness of regular lasagna. This includes red sauce, a vegan "ricotta" filling, and tender lasagna sheets. But they're easier to portion and serve than regular lasagna is. And they cook in less time.
I can't think of a better, stress-free option for holidays or special occasions. And while I love the addition of spinach to the "ricotta," you can modify the rolls to include lots of different vegetables.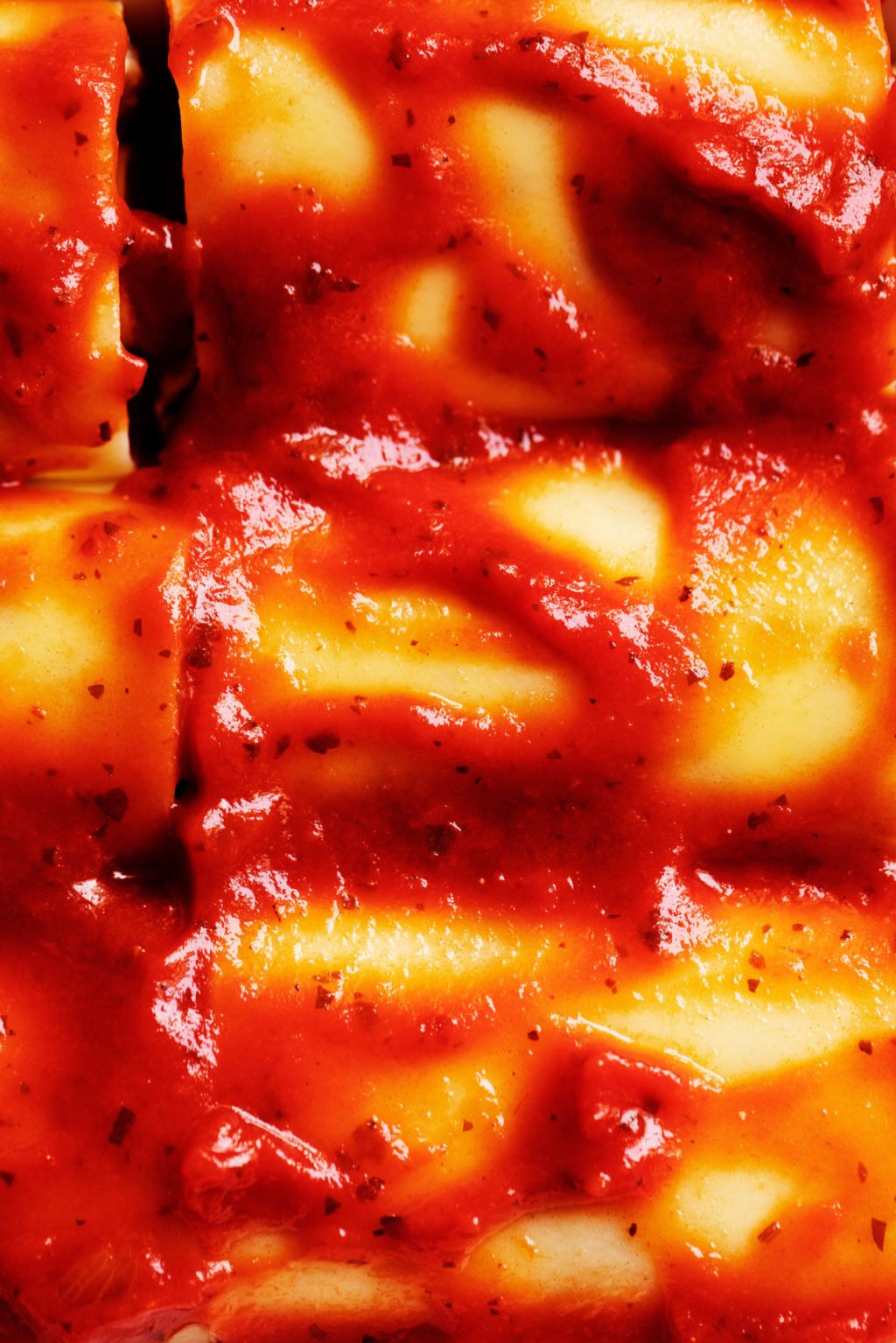 Why lasagna rolls?
There's absolutely nothing wrong with a traditional lasagna. So, why lasagna rolls?
In addition to being pretty to look at (and pretty when you slice them), vegan lasagna rolls have a few advantages over a regular, layered lasagna.
For one thing, they're a lot easier to portion and serve! I never manage to slice lasagna evenly, and I always make a huge mess of things when I'm trying to get that first slice out of the pan.
With the lasagna rolls, you simply scoop two or three out of a dish and onto a plate. No slicing required, and no splatters or mess as half of a piece of lasagna topples off your spatula.
The vegan spinach lasagna rolls also cook more quickly than regular lasagna. I usually leave lasagna in the oven for 45-60 minutes. These are ready in 30-35.
In addition, there's no resting time for the lasagna rolls. When I make regular lasagna, I always give it about half an hour to sit after it comes out of the oven, so that it's not too sloppy when I slice into it.
No such wait time here: you can plate and enjoy the rolls right away.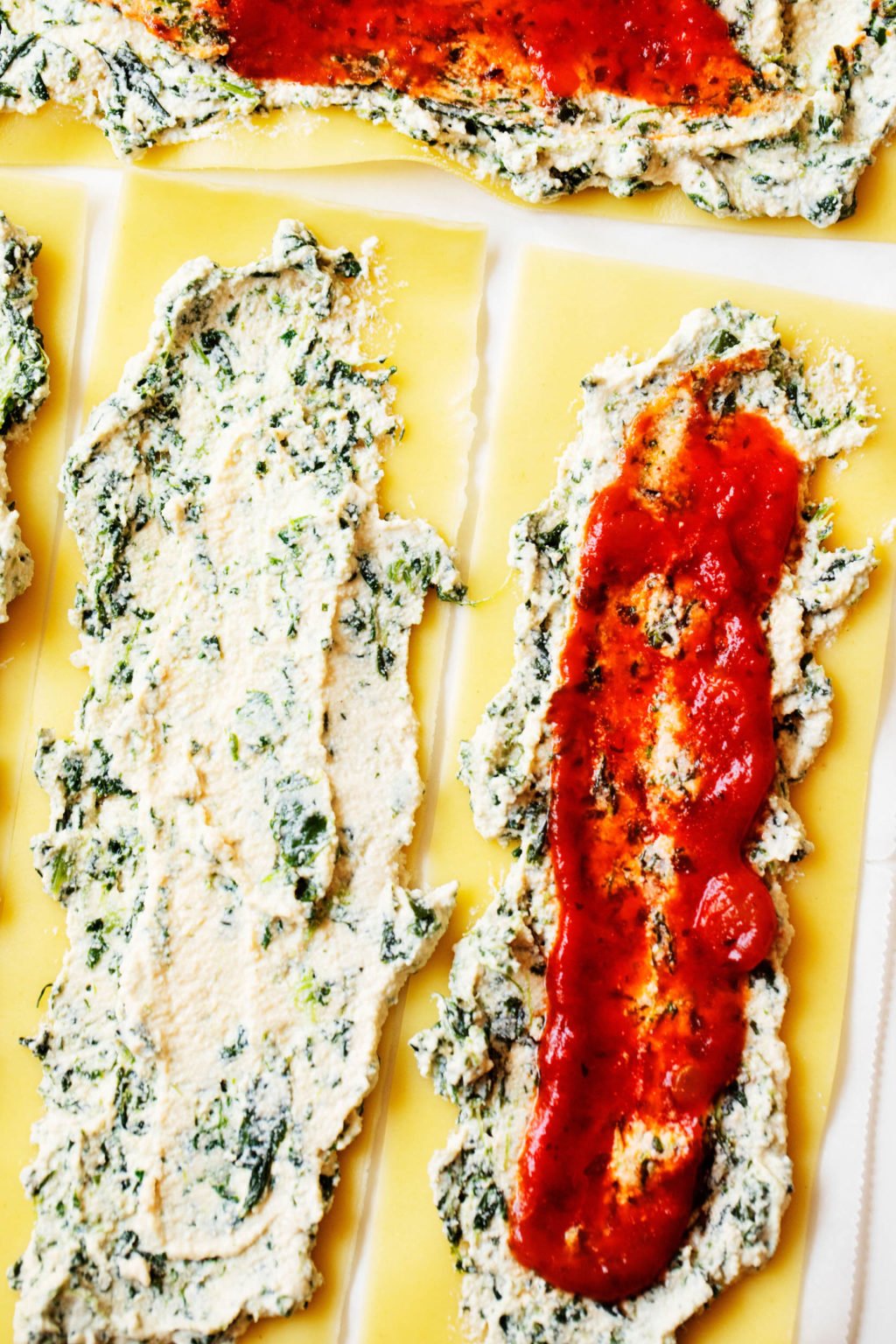 Vegan spinach lasagna rolls, step by step
Many of the same tips that apply to making regular lasagna apply to the lasagna rolls. (I like all of the noodle-cooking tips here, as well as the recommendation to have extra sauce handy.)
And, like regular lasagna, making the rolls is a bit of a process. But it's a fun process. Here are the major steps:
Make your vegan "ricotta"
I've been making tofu "ricotta" for a long time. It shows up in the shells in Power Plates and in this summery lasagna.
Ever since making this eggplant baked rigatoni, though, I've gotten in the habit of putting cashews in my ricotta, along with the tofu. I love the richness and creaminess that the cashews contribute. I think they give the "ricotta" a much more authentic texture.
Same rules that go for cashew cheese go for making this ricotta. Be patient. Allow everything to spend enough time in the food processor to get a creamy, even consistency. And use some nutritional yeast, salt, and lemon for seasoning.
Once the ricotta is ready, you'll cook, drain, wring out (to remove excess moisture) and add some frozen spinach.
Boil your noodles
Use lasagna noodles that are about 10-inches long for this recipe. I'm usually a fan of the De Cecco no. 1 lasagna noodles for regular lasagna, but the wide, short shape doesn't work for rolling.
In this recipe, I used Barilla's wavy lasagna noodles. They're just the right size.
Be sure to boil your lasagna noodles in salted water, without adding any oil to the pot. And it's helpful to give them a cold rinse as soon as they finish cooking.
Prepare your lasagna sheets
Once the lasagna noodles are cooked, you'll cover them with ricotta and marinara on a work surface. I like using a baking dish or a big, rectangular sheet of either parchment paper or aluminum foil for this part.
Spread each noodle with 1/4 cup of the spinach and ricotta mixture, followed by a heaping tablespoon of marinara. A small, offset spatula is useful for spreading the toppings around.
Roll & arrange
Once the lasagna noodles have been covered with the ricotta and sauce, you'll roll them up. Have the noodles arranged so that the short edge is facing you, and roll from the bottom up.
Right before you start assembling and rolling, you'll place some marinara sauce into the bottom of your 9 x 13 baking dish. Once you've got some rolls assembled, you can arrange them in the rectangular baker. You should have about 12-16 rolls in total.
Bake
The vegan spinach lasagna rolls don't need too much oven time. Thirty or thirty-five minutes in total is just fine.
I recommend baking them with a foil covered for the first fifteen minutes, then removing the foil so that the sauce on top can thicken up a bit as they finish cooking.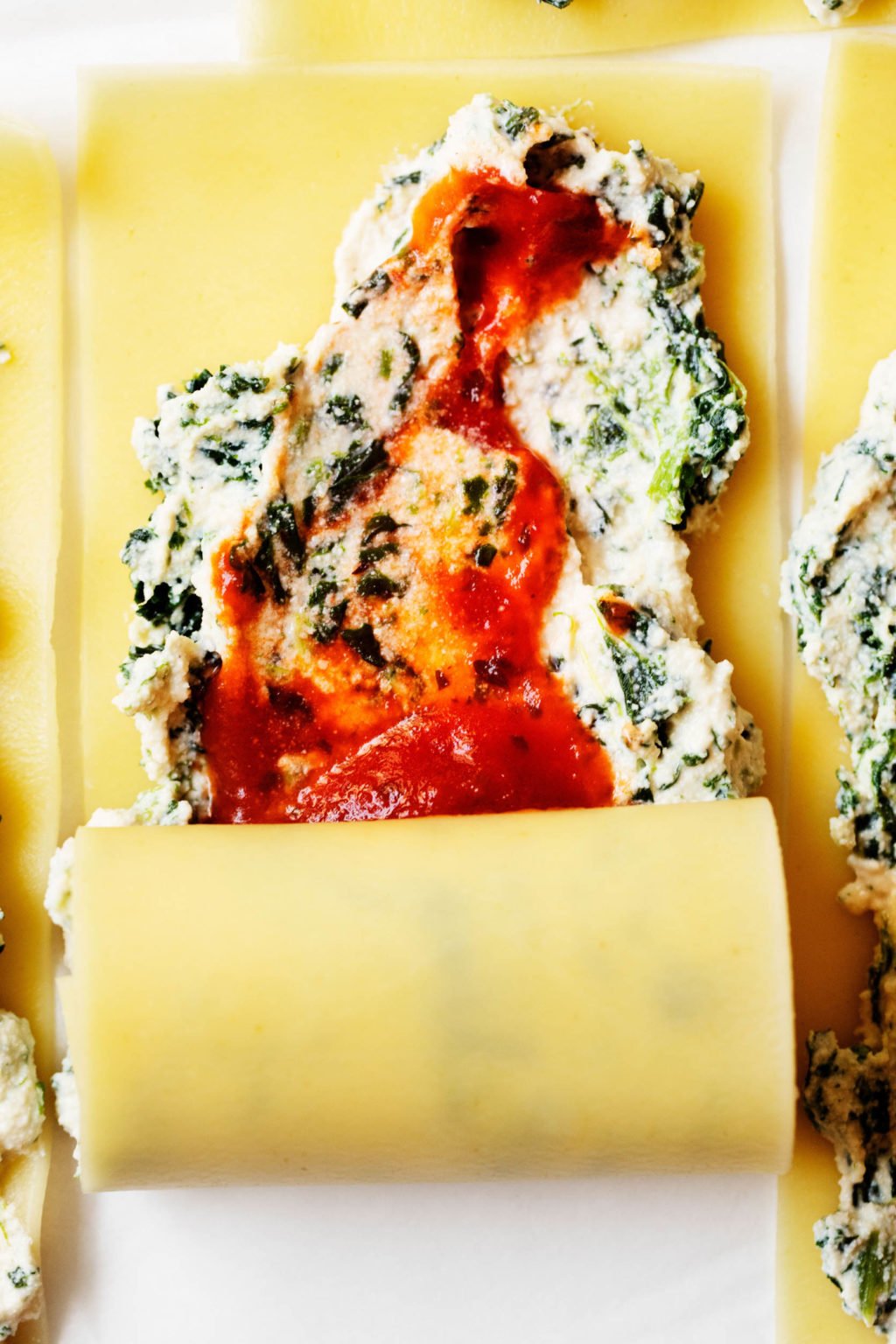 Time-saving tip: use store-bought marinara
I love using a homemade vegan "ricotta" in this recipe. It's a little less expensive than purchasing two or three containers of store-bought vegan ricotta (which is the amount you'd need). And I think the flavor is even better.
Marinara, on the other hand? These days, I leave it to the pros. Rao's and Michael's of Brooklyn are my two favorites.
It's not that I don't love making a good, old-fashioned, long-simmered marinara at home. I do. But no matter how much labor and love I pour into my batches, professionally made marinara is usually better than mine.
In this recipe, and others, using a store-bought sauce is the single shortcut that makes the entire dish feel faster, and more doable. That counts for a lot these days.
Can vegan spinach lasagna rolls be frozen?
They sure can! Make-ahead and freezer-friendly potential is one of the things I love most about this dish.
You can bake the rolls and freeze half once they're out of the oven. Or, you can make the entire recipe and freeze: it's up to you and your schedule. The rolls will keep in the freezer for up to six weeks.
Other ways to make ahead:
Prepare the tofu and cashew ricotta up to three days in advance
Assemble the rolls, cover, and store in the fridge over night before baking the following day
Prepare and bake the rolls one or two days before serving. The rolls keep for up to five days, covered, in the fridge.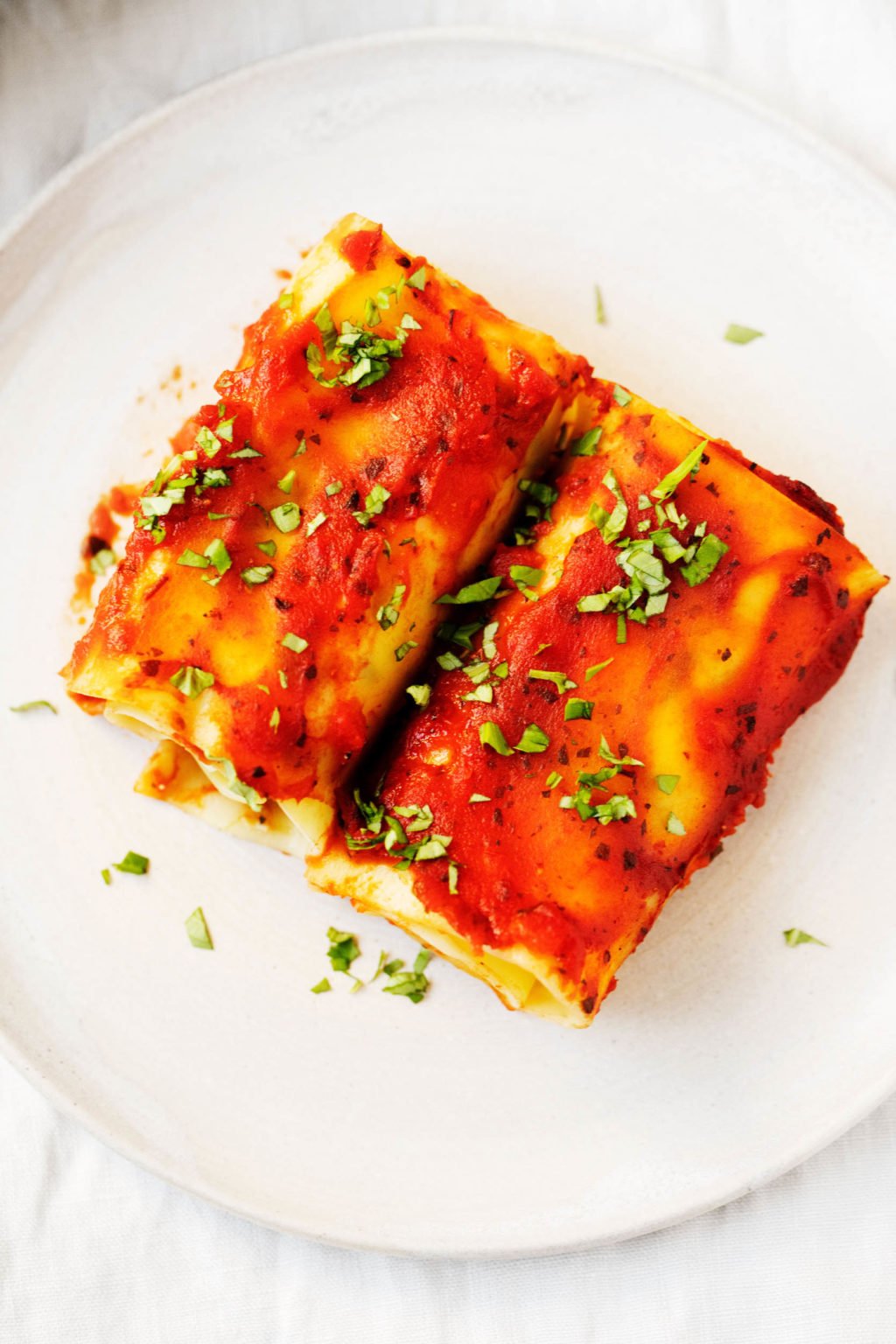 Can I make the lasagna rolls gluten-free?
Yes you can, and very easily. Simply use your favorite, gluten-free noodle in place of regular lasagna noodles. I like the brown rice lasagna noodles from the Tinkyada brand.
Other comforting pastas
I've always loved cozy pasta dishes, but I've come to appreciate them more than ever this year. If you love this kind of comfort food as much as I do, a few other options: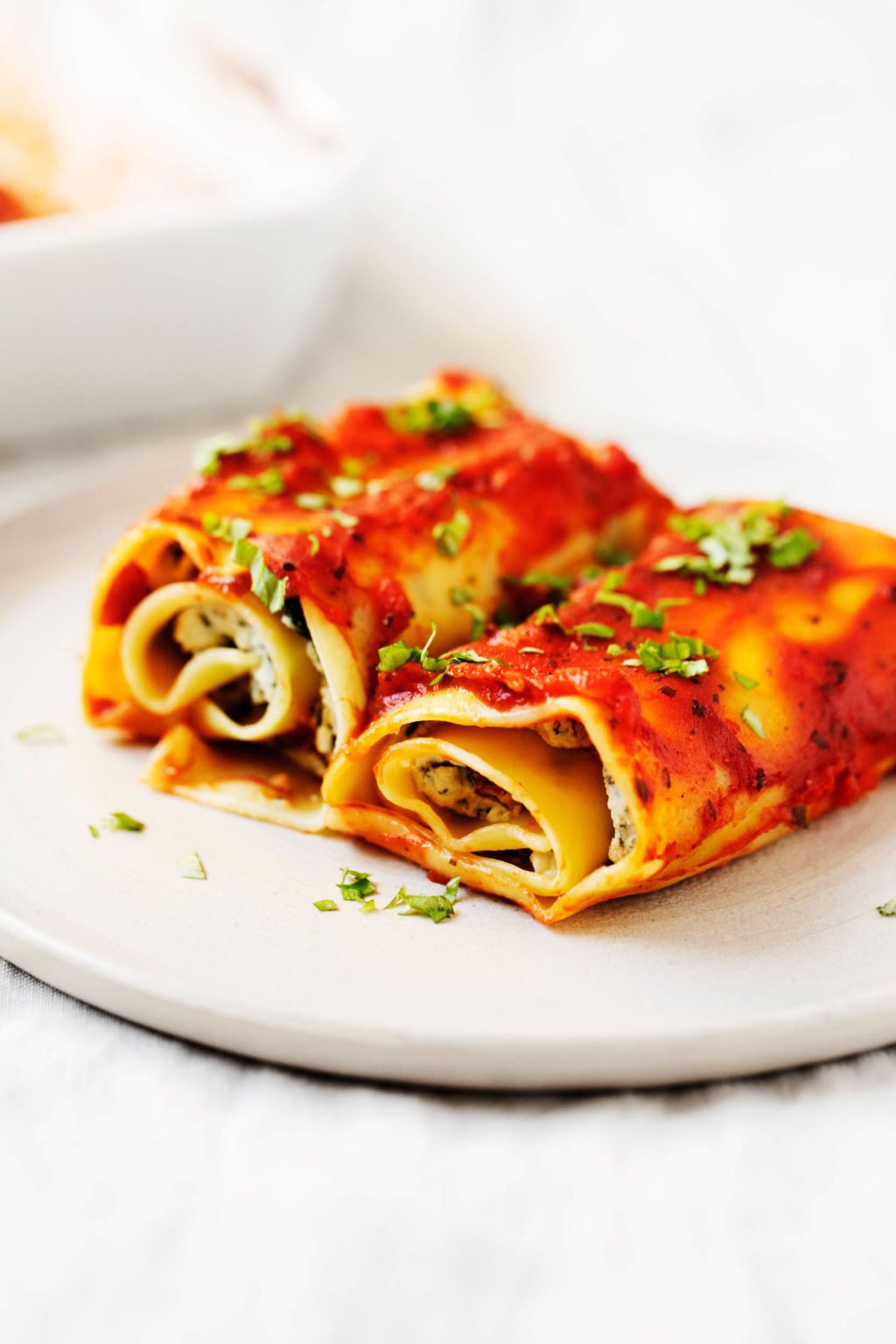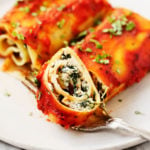 Print
Vegan Spinach Lasagna Rolls
These vegan spinach lasagna rolls have all of the comfort food goodness of traditional lasagna, but in a quicker-cooking, easier-to-eat form. Crowd-pleasing, freezer-friendly, and delicious!
Course
main, Main Course
Cuisine
Italian
Diet
Gluten Free, Vegan, Vegetarian
Keyword
lasagna, marinara, pasta, spinach
Prep Time
30
minutes
Cook Time
30
minutes
Total Time
1
hour
Servings
6
servings
IngredientsFor the ricotta filling:
3/4

cup

(90 g) raw cashews, soaked for at least 2 hours and drained

1

tablespoon

freshly squeezed lemon juice

2

tablespoons

nutritional yeast

1

teaspoon

kosher salt

1/4

teaspoon

garlic powder

Pinch

freshly ground black pepper

15

ounces

extra firm tofu, pressed between paper towels or flour sack towels to remove excess moisture

10

ounces

frozen, chopped spinach, cooked according to package instructions and firmly pressed in a colander to remove as much moisture as possible 
For the rolls:
16

lasagna noodles (you may only need 12, but it's better to cook extra in case some break or tear)

24

ounces

(2 1/2 cups) marinara sauce, store-bought or homemade
Instructions
Preheat the oven to 350F and lightly oil a large, rectangular (9" x 13" x 2.5") baker. 

Bring a large pot of salted water to boil. Add the lasagna sheets. Cook according to package instructions (probably 10-12 minutes), or until tender. 

While the water heats and the lasagna cooks, place the cashews into a food processor fitted with the S blade. Add two tablespoons water, lemon juice, nutritional yeast, salt, garlic powder, and black pepper. Pulse a few times, then process for about a minute, to break the cashews down. Crumble the tofu into the processor. Continue processing for another 2 minutes, stopping a few times to scrape the sides of the processor down. When the ricotta is completely creamy and smooth, stop the processor. Taste and adjust the salt/pepper/lemon to your liking. 

Transfer the ricotta to a mixing bowl and add the chopped spinach. Mix well. 

Place about 3/4 cup of the marinara sauce into the prepared baking dish, then spread it evenly around the bottom of the dish. 

When the pasta is ready, line a work surface with parchment, foil, or a baking sheet. Spread a cooked lasagna noodle over the surface. Top with 1/4 cup of the ricotta mixture and spread the mixture evenly over the noodle. Add a tablespoon of the marinara sauce and cover the top of the ricotta lightly. Starting at the short, bottom end of the noodle, roll the lasagna noodle up. Place the lasagna roll into the baker. Repeat with your remaining noodles, arranging the rolls in your baking dish in rows. When the baking dish is full, top the rolls with remaining marinara sauce, enough to cover them generously. 

Cover the baking dish with foil and transfer it to the oven. Bake for 15 minutes, covered. Remove the foil and bake for another 15-20 minutes, or until the sauce is darkened, concentrated, and bubbling at the edges. Serve!
This year at Thanksgiving, I focused on recipes that were simple to make and designed to serve one or two people.
Theoretically, this isn't a two-person meal. In fact, it's a perfect dish for company. But I think it's still a nice option for this year, because it's so easy to store/freeze leftovers of the vegan spinach lasagna rolls.
Which means that you can enjoy some on Christmas (or any special occasion), then savor them all over again the next time you want an easy, from-the-freezer dinner.
Enjoy them, friends. Another holiday treat later this week!
xo
The post Vegan Spinach Lasagna Rolls appeared first on The Full Helping.
translate | Mon, 21 Dec 2020 23:01:48 +0000
The Best Vegan Gingerbread Cake
This is an unfussy, uncomplicated, delightful vegan gingerbread cake. It's light and airy, not dense, and every bite is infused with ginger and cinnamon.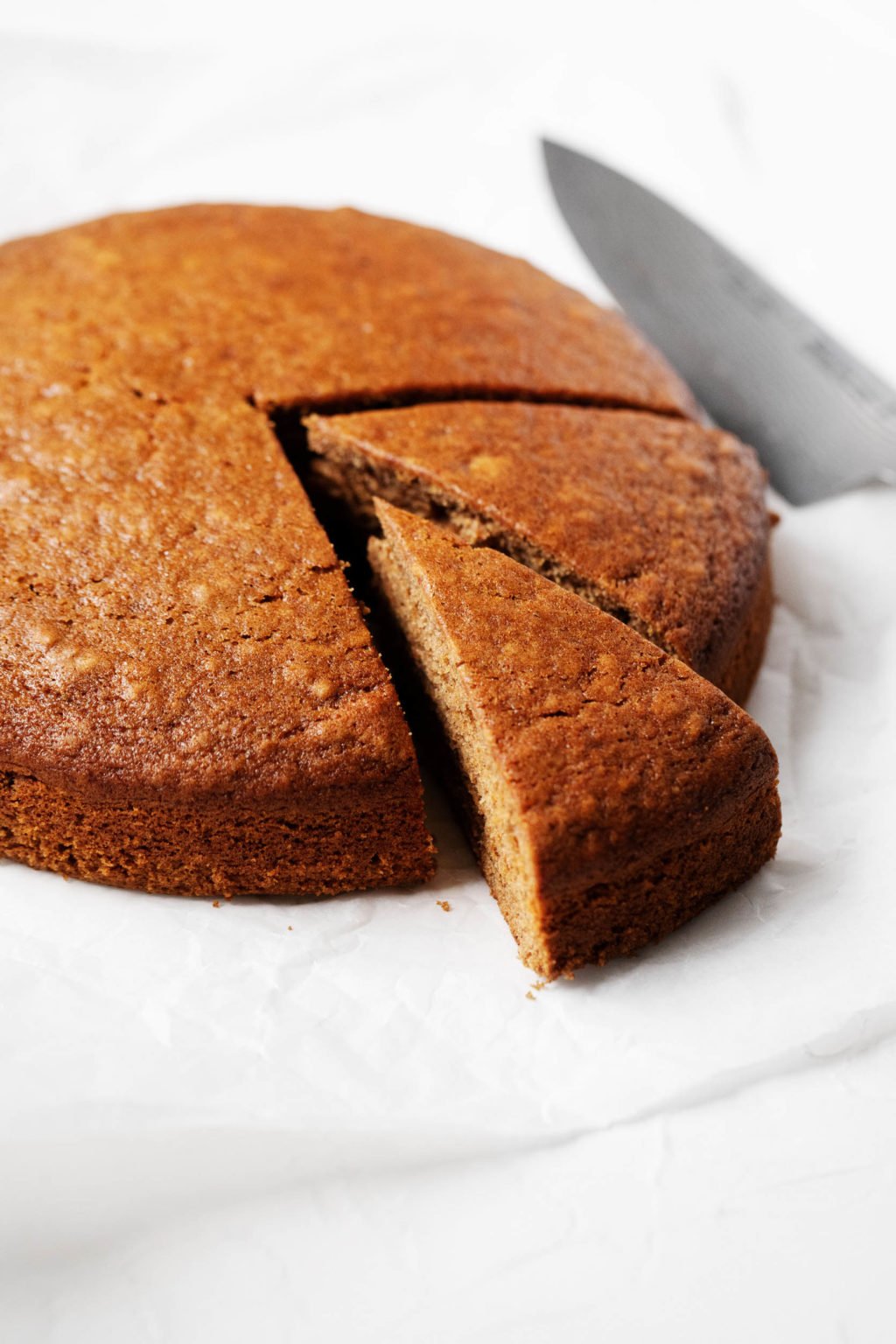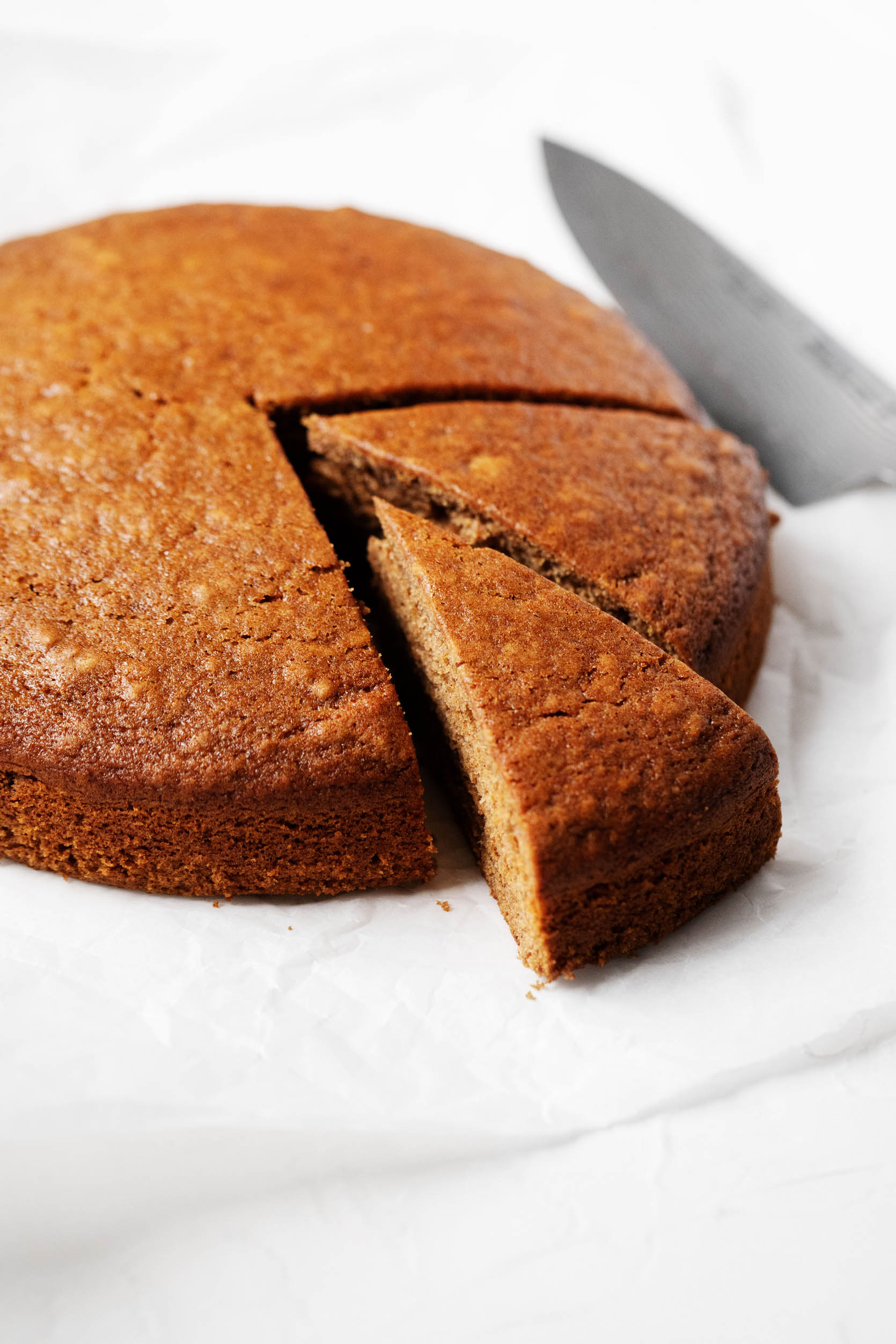 I know it takes a little moxie to call a recipe "the best" anything. I also know that there's really no "best" version of a dish. Especially a classic, beloved dish. Taste is so subjective.
But sometimes it's hard to contain one's excitement about a recipe. And I really, really love this vegan gingerbread cake. So I can't help throwing attaching the superlative to it. Because it really is the best, to me.
Vegan gingerbread cake inspiration
I know that I was just going on and on about Laurie Colwin (one of my favorite food writers) and cake. Colwin was the inspiration for my Nantucket cranberry pie this Thanksgiving. She also happens to be the inspiration for this gingerbread cake.
Laurie Colwin loved gingerbread. She devoted two whole chapters in two separate books to it. Her love of gingerbread is one of the most memorable things about her books, Home Cooking and More Home Cooking.
In 2016, writer Lindsay-Jean Hard did a ranking of some of Colwin's gingerbread recipes for Food52. Hard wrote,
"I nodded along with Colwin all the way through both books and felt like I'd found a new friend in her words. And when a friend talks about making something over and over again, you make it: Time to bake some gingerbread."
I can relate to that feeling.
Lindsay-Jean Hard and her taste testers actually chose a different Laurie Colwin gingerbread as their favorite. They preferred Colwin's "damp gingerbread" (sort of an unfortunate name).
I've made that gingerbread, too, and I liked it. I had no trouble finishing mine. But again, taste is so subjective. I found that cake to be a little denser and more stodgy than the kind of cake that I crave.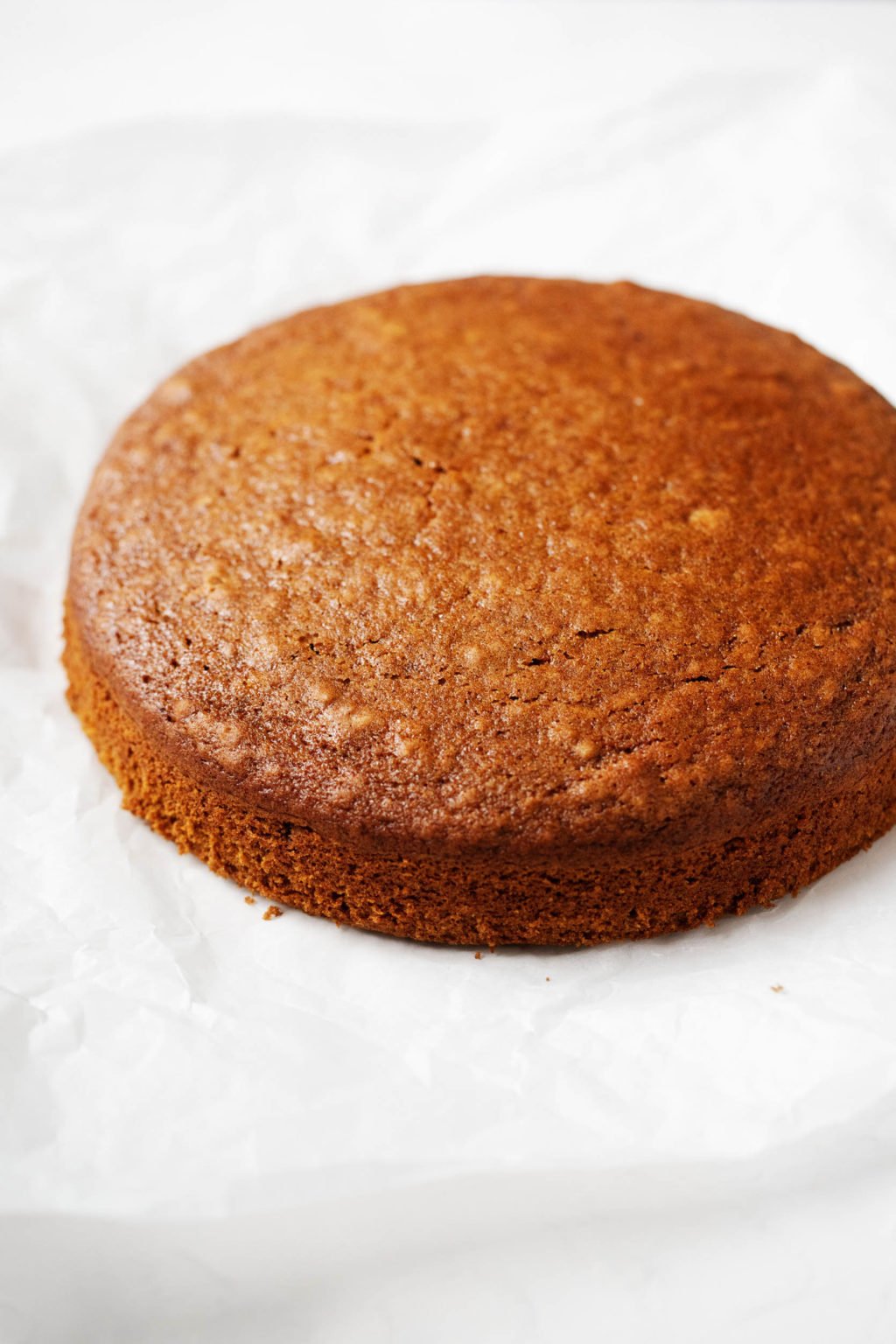 My favorite kind of gingerbread cake
And what is that kind of cake, exactly?
I like a gingerbread that has plenty of fresh ginger, but isn't overly spicy. I like being able to taste the cinnamon, too.
More importantly, I like my vegan gingerbread cake to be light, even a little airy. Moist and tender, yes. But not dense or claggy (claggy: a word I've learned from multiple GBBO binges).
Part of what I love about cake is its lightness and simplicity. I love a good, dense quick bread, like banana bread or chocolate pumpkin marble loaf. But when I sit down to eat a piece of cake, I want something just a little more delicate.
Finding the perfect sweetener
As it turns out, the factor that makes a big difference with gingerbread cake texture is the choice of sweetener.
I've seen all sorts of sweeteners in gingerbread recipes. Some call for sugar, some honey, some molasses. Most that I've seen call for a mixture of molasses and sugar. The more molasses, the denser and darker the cake will be.
It's not that I don't like molasses; I do. But in cake—as opposed to, say, molasses ginger cookies—I think less is more. Each time I've made vegan gingerbread cake with a lot of molasses, the molasses has been all that I can taste.
Laurie Colwin gravitated toward non-molasses sweeteners in a number of her gingerbread cakes. Her favorites were Steen's Cane Syrup and Lyle's Golden Syrup.
I had no idea what either was until I read Colwin's books. But sampling them made me a fan quickly.
Steen's Cane Syrup
Steen's is cane juice that's simmered in an open kettle. It reduces to a golden syrup that's someplace in between maple syrup and molasses. It's more thicker than maple syrup, thinner and less assertive than molasses.
It's really delicious. Laurie Colwin called it a "cheap luxury," and I can see why.
Lyle's Golden Syrup
Lyle's golden syrup is a syrup made from cane sugar. It's also delicious, but in a different way. I think it tastes like a richer, more syrupy version of agave. I've also read that it's sometimes used as a honey substitute, and that makes sense to me. The consistency and color are very close.
I think it's fun to explore new baking ingredients, like these sweeteners. I gave both a try in my gingerbread experiments.
In the end, I liked Steen's Cane Syrup best for the cake. Much more than molasses, and slightly more than Lyle's (but I liked Lyle's, too). If you happen to have either one of these syrups at home, or you want to try them, this is the place to use them.
DIY syrup
But no need to purchase a new syrup, either. Part of why I wanted to share a vegan gingerbread cake this year is that it's a simple dessert. And simple is what so many of us need and crave this year.
If you have molasses and maple syrup (or agave syrup) at home, then you can make a syrup that I think is close to Steen's. I think 2 tablespoons molasses + 6 tablespoons maple syrup works perfectly.
With this combination, you'll taste a hint of molasses. You'll know it's there. But the cake won't taste like molasses once you bake it, and it will be a light golden brown—lighter than gingerbread cookies.
If you happen to love molasses flavor, then feel free to use more! Again, this is only my favorite vegan gingerbread cake. You'll have your own preference.
Other vegan gingerbread cake ingredients
Once you choose your own syrup adventure, the rest of this cake is pretty straightforward.
Vegan butter
I like the taste of vegan butter as a fat source in this cake. The butter goes into the cake melted, along with the syrup. The brand doesn't matter too much: use what you can find and what you like.
However, if you don't have vegan butter, don't worry. A neutral tasting vegetable oil, like refined avocado, can be substituted (use the same amount, six tablespoons).
Flour
I like unbleached, all-purpose flour in this cake. That said, I've tried making it with whole wheat pastry flour and white whole wheat flour, too. Both work well! I also think that light spelt flour would be fine for the recipe.
And if you need to make this cake gluten-free, you can use a gluten-free, all-purpose blend of your choosing (I like King Arthur's).
Applesauce
Applesauce is my egg replacer in the vegan gingerbread cake. It also adds moisture, without the need for too much vegan butter.
Brown sugar
Brown sugar helps to sweeten the cake, along with your syrup of choice. It adds more moisture to the batter than cane sugar. But if you have cane sugar at home, that's OK—I tested the reicpe with it as well, and it works!
I also love using coconut sugar, which I think tastes a bit like caramel, in this cake.
Spices
Just ginger and cinnamon. Which makes the cake different from a lot of gingerbreads that call for cloves. If you love the taste of cloves in a cake like this, go ahead and add 1/4-1/2 teaspoon.
Currants or raisins
Totally optional, and not pictured! I like the cake best plain. But Colwin's original recipe gives an option for including them, and I've tried it. They're a fun change for when you want something that's a little more like fruit cake.
What size pan should I use?
I learned this year that it's helpful to give a few options for baking vessels when I share baked goods. No one likes to purchase a new dish for a single recipe.
Swapping baking vessels can be a little complicated for cooking times. But there's usually a way.
I recommend cooking the vegan gingerbread cake in an 8-inch round cake pan. I love this one, which has a removable bottom.
If you don't have that sort of pan, you could also use an 9-inch round cake pan. You could also use an 8 x 8 or 9 x 9 square baking pan.
No matter what, take a peek at the cake after 35 minutes. A bigger baking dish may make the cake cook more quickly.
Making and storing vegan gingerbread cake
This vegan gingerbread cake can be easily made in advance of a special occasion. It will keep in an airtight container or with wrapping for about five days. I recommend leaving it at room temperature for the first two days, then transferring it to the fridge.
If you think you won't eat the cake within five days, then you can go ahead and freeze it (or some of it). The gingerbread will last in the freezer for up to six weeks.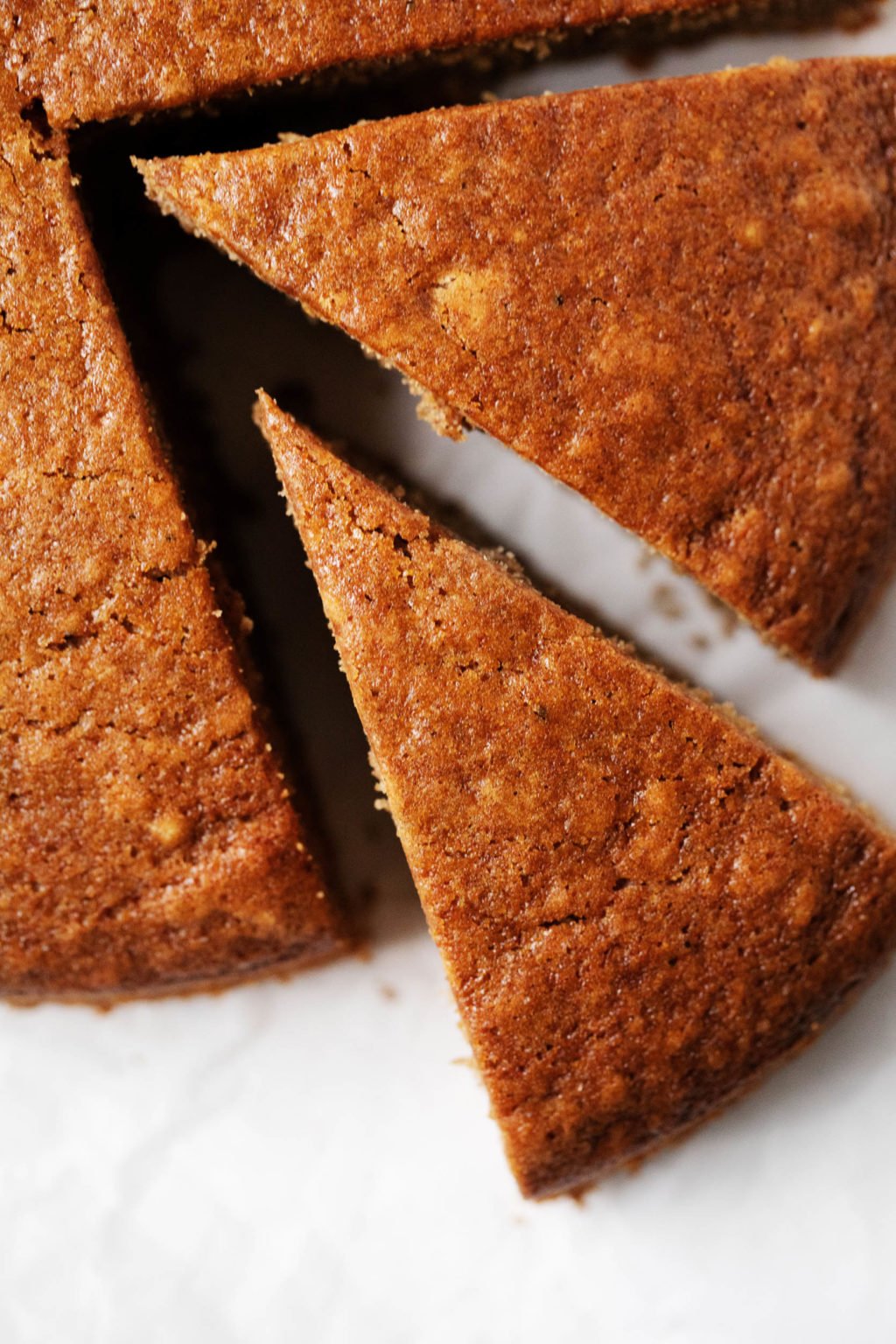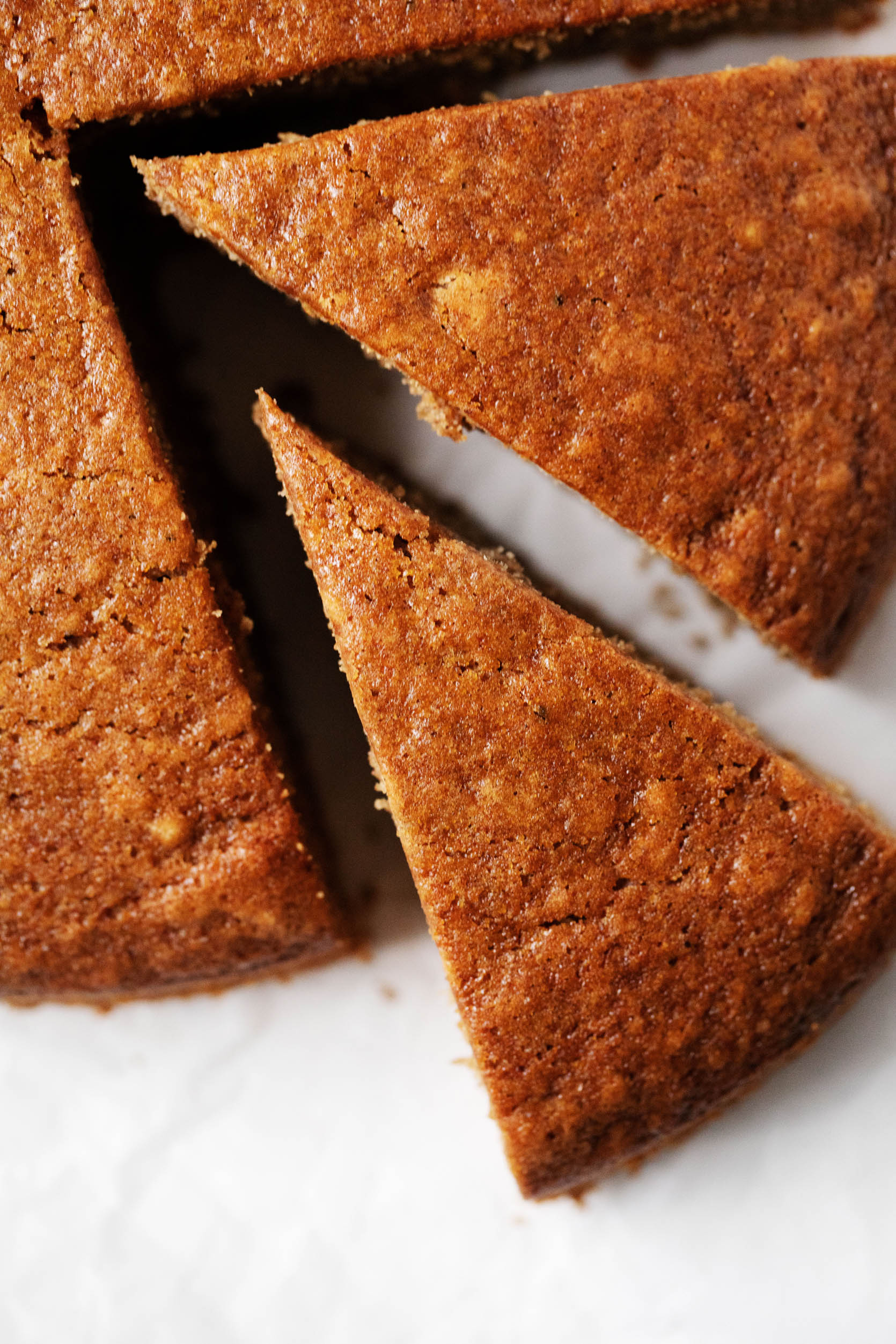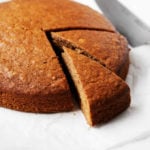 Print
Vegan Gingerbread Cake
The best vegan gingerbread cake! This cake is light, yet rich in flavor and infused with spices. It's the perfect simple snack cake for the holiday season.
Course
cake, Dessert, Snack
Cuisine
American
Diet
Vegan, Vegetarian
Keyword
cake, ginger, gingerbread
Prep Time
10
minutes
Cook Time
45
minutes
Total Time
55
minutes
Servings
10
slices
Ingredients
2

cups

(240 g) unbleached, all-purpose flour

3/4

teaspoon

baking powder

1/2

teaspoon

baking soda

1

teaspoon

cinnamon

2

teaspoons

(heaping) ground ginger

(make sure the ginger is pretty fresh, as the flavor diminishes over time)

1/4 + 1/8

teaspoon

kosher salt

6

tablespoons

(84 g) vegan butter

1/2

cup

Steen's Pure Cane Syrup or Lyle's Golden Syrup

(substitute 2 tablespoons molasses + 6 tablespoons maple syrup or agave syrup)

1/3

cup

non-dairy milk

1

teaspoon

white vinegar

1/2

cup

(about 4 ounces, or 113 g) applesauce

1/3

cup

(64 g) packed brown sugar

Optional: 3/4 cup currants or raisins
Instructions
Preheat your oven to 350F. Grease an 8-inch round cake pan with vegan butter and line the bottom with a circle of parchment. 

Sift together the flour, baking powder and soda, cinnamon, ginger, and salt into a large mixing bowl.

In another bowl, combine the non-dairy milk and vinegar. While they sit, melt the vegan butter in a small saucepan. Stir in the syrup (or molasses and syrup mixture). Add this warm mixture to the bowl with the milk. Stir in the applesauce, and brown sugar and mix everything together. 

Pour these wet ingredients into the flour mixture. Mix well (a few tiny lumps of flour are OK.) Fold in the raisins or currants, if using. 

Bake the cake for 45 minutes, or until the top is domed and set and the edges are turning golden. Allow the cake to cool for fifteen minutes, then remove it from the pan and allow it to cool on a wire rack completely before slicing and enjoying. 
Notes
Adapted from the "Old-Fashioned Gingerbread" in Laurie Colwin's More Home Cooking, adapted from Mary Norwak's recipe in The Farmhouse Kitchen.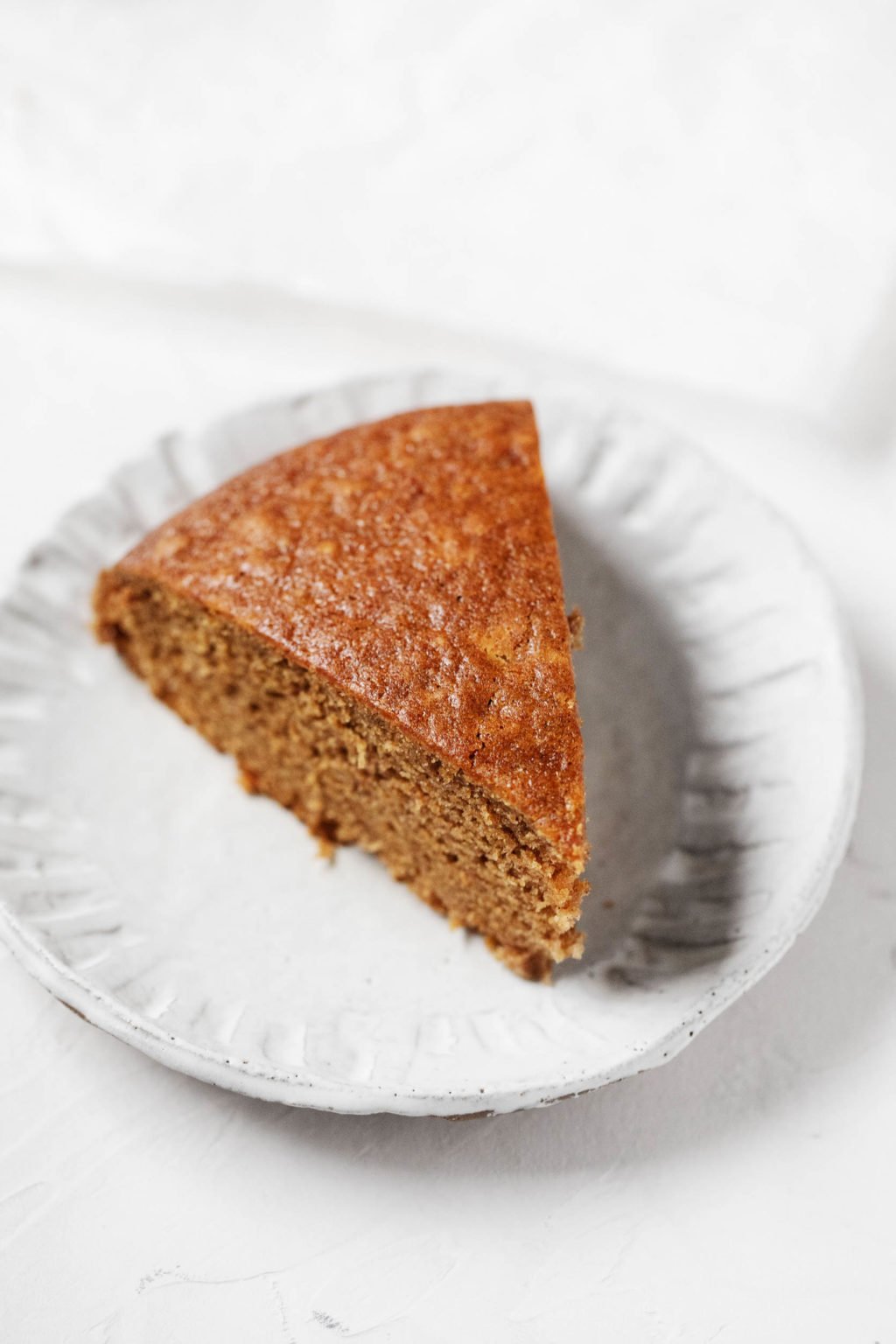 I don't really think it gets homier or more humble than gingerbread as a holiday dessert.
I love my dark chocolate pear cake, and for the past few years it's been my Christmas dessert of choice. It's rich and beautiful to look at. The many dark chocolate chunks, which sink into the top of the cake, make it feel decadent.
Somehow, an elegant chocolate dessert just isn't what I'm craving for Christmas of 2020. I want something simpler and plainer, which smells of baking spices as it cooks.
I want a cake that would be great for dessert, with our without vanilla ice cream, but also fine for snacking (maybe with a turmeric chai latte?) as the holiday season winds down.
This vegan gingerbread cake is what I want, and need. And even though there are a lot of gingerbreads out there, I hope that it will be as perfect and pleasing for some of you as it is for me.
xo
The post The Best Vegan Gingerbread Cake appeared first on The Full Helping.
translate | Fri, 18 Dec 2020 00:18:16 +0000