food news
The Full Helping
Chickpea Burrito Bowls
These vegan chickpea burrito bowls are easy to meal prep and so delicious! They feature chickpeas that have been seasoned with salsa for fast flavor. Top them with my creamy cashew queso sauce for a vibrant and filling meal.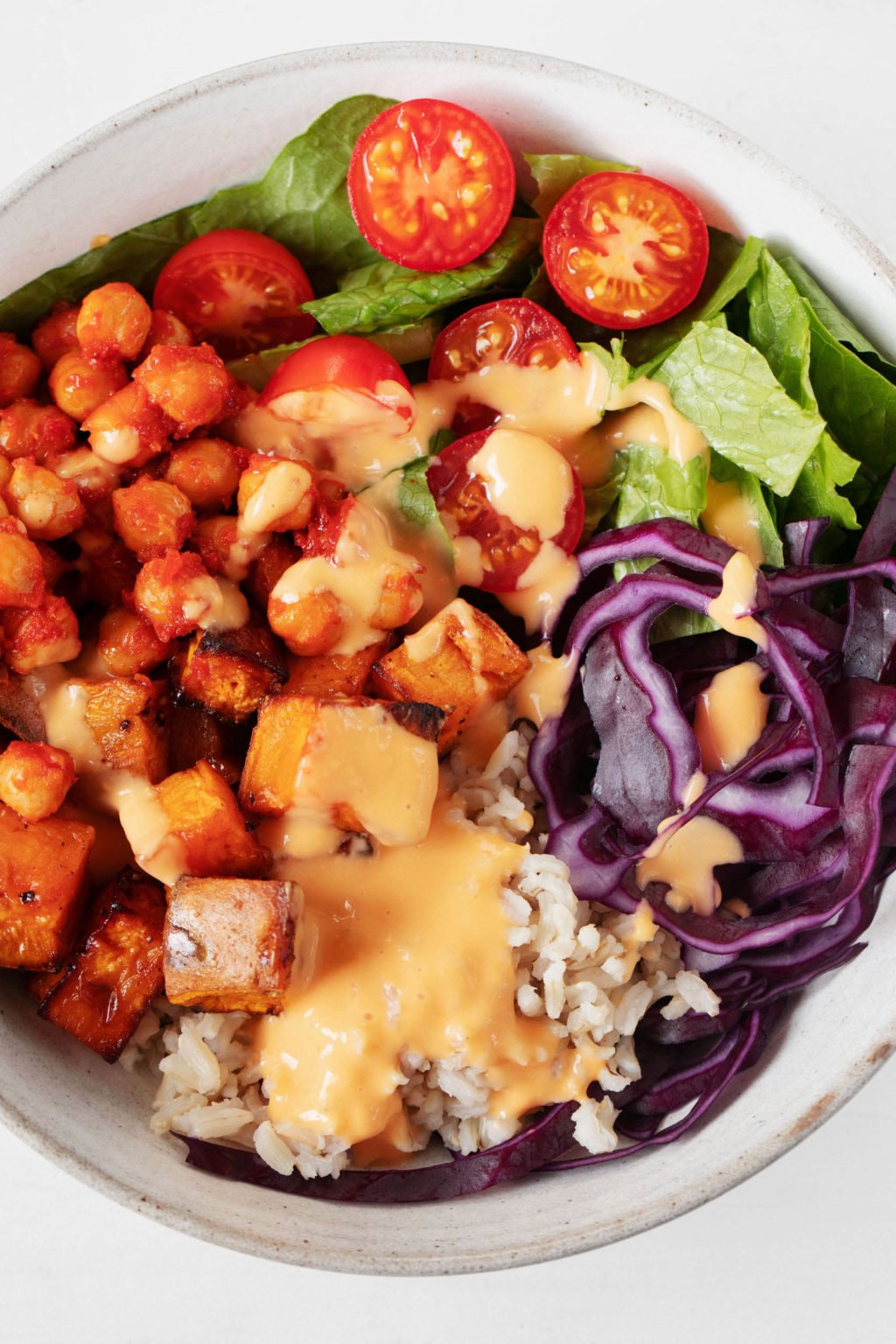 With the arrival of fall, I've been getting into a routine of meal prep at home. I'm batch cooking soups, baking plenty of muffins and baked oatmeal for breakfasts and snacks, and remembering to make at least a couple homemade dressings each weekend.
With a good dressing, a cooked grain, some veggies, and a vegan protein in hand, I have everything I need to create a balanced vegan bowl.
These chickpea burrito bowls are a great example. They've got a great sauce, which is the cashew queso I've been making for years. They also feature a whole grain, plenty of veggies, and chickpeas for protein. In other words, the grain + green + bean trifecta that so many plant-based eaters love.
There are a bunch of components in the chickpea burrito bowls, but each one is easy to prepare. That's especially true of the chickpeas, which are seasoned with my new favorite cooking hack (more on that below!).
I've been eating the bowls for both lunch and dinner, grateful for the color and texture and satisfaction they provide. Even though the bowls are simple—quite a bit simpler than nearly all of the bowls in Power Plates—I think they're worth sharing today.
Macronutrient balance (and why it matters)
I think that I probably sound like a broken record when I talk about macronutrient balance. Yet the topic is dear to my heart, and I can hardly think about assembling a vegan bowl without it springing to mind.
Macronutrient balance is one of the principles that I share with new clients who are hoping to feel more satisfied and energized by what they eat. It's also the organizing principle in Power Plates.
Macronutrients are the nutrients that we need to consume in large amounts in order to thrive. This distinguishes them from micronutrients, like vitamins and minerals, which our bodies require in only microscopic amounts. Macronutrients include carbohydrates, protein, fats, and water.
A lot of people who write about nutrition believe that there's an optimal ratio of macronutrients to strive for in a given day. I think that the ratio can be fluid and personalized. Some people feel better eating less fat and more carbohydrate, others more protein and fewer carbs. What works best for a person depends on lifestyle, preference, time of life, culture, and biology.
However, it's been my observation that people tend to thrive when they have a source of protein, carbohydrate, and healthful fat each time they sit down to eat. One macronutrient might be better represented than others, but all are accounted for.
In these chickpea burrito bowls, protein comes from chickpeas and cashew queso, which has quite a bit of nutritional yeast in it. Complex carbs are present in the rice, sweet potatoes, and the legumes. Healthful fat shows up in the cashew-based sauce and in the avocado oil that's used for roasting the potatoes.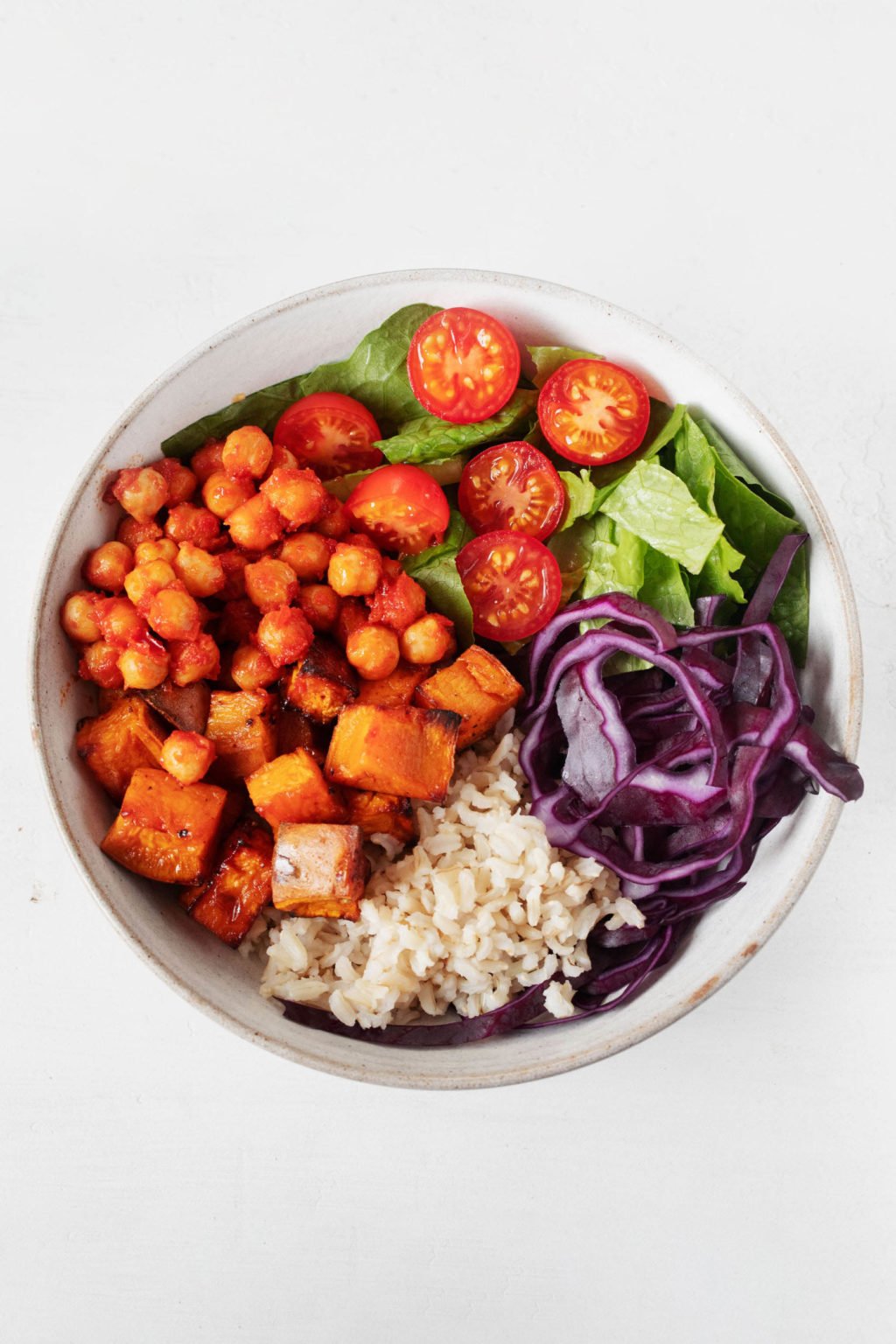 Seasoned chickpeas (and my favorite new cooking hack)
Chickpeas are not only the star protein in this recipe, but also a big source of flavor. While I'm not opposed to throwing unseasoned chickpeas into my bowls, I appreciate that these are saucy and bold. This is all thanks to the salsa that they're heated with.
At some point last year, my friend Ashley told me that she sometimes makes the Tofu Migas recipe from Power Plates using jarred salsa in place of tomatoes, onions, garlic, and spices. She told me that the recipe tastes nearly the same this way, all without the need to chop and mince vegetables.
It sounded like an ingenious cooking hack to me, and I decided to explore it. I've now gotten into the habit of using salsa as a meal starter. It works so well when it's stirred into rice or quinoa, and it's a fantastic addition to tofu scramble. Chopping onions and garlic is one of my least favorite cooking tasks, and this trick saves me the trouble.
Salsa simmering may be my new favorite way to prepare chickpeas! It's a similar idea to my chickpea scramble, but it's faster and easier. I'd love to try the chickpeas in tacos or in actual burritos, rather than bowls. I think they'd also be a good addition to pasta or pasta salad.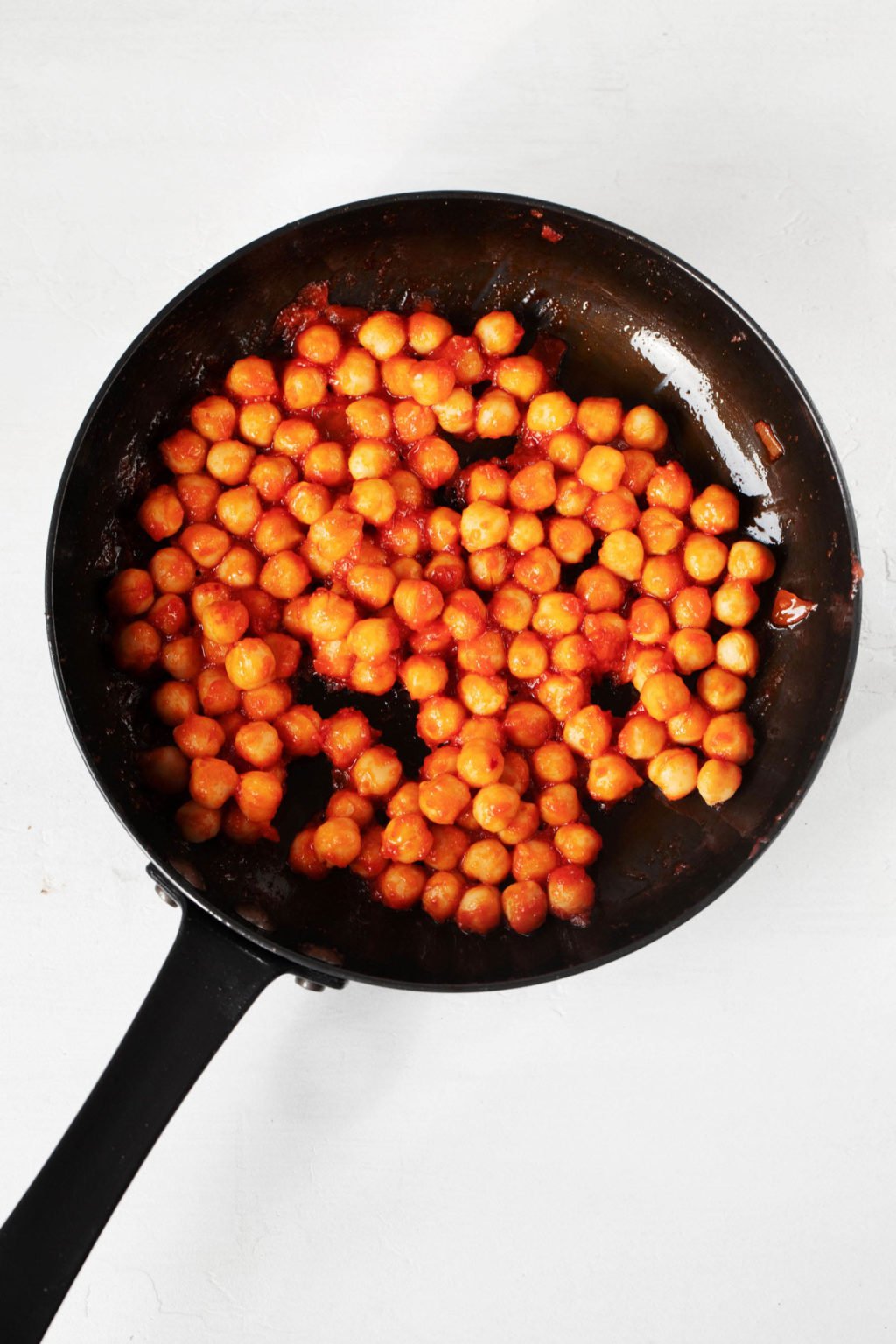 Assembling chickpea burrito bowls
The chickpea burrito bowls can come together very fast if you do some meal prep ahead of time. They're more time consuming if you make each component from scratch right before you serve them. But even then, none of the cooking for this recipe is difficult.
My weekend meal prep routine almost always includes a couple of dressings and a batch or two of cooked whole grains. I use these in salads and bowls as the week goes by. Accordingly, these burrito bowls call for my cashew queso (or another dressing) and cooked rice (or quinoa).
If these components are ready to go, the rest of the recipe can come together seamlessly. First, scrub and chop your sweet potatoes. Prepare them for roasting, then pop them into the oven.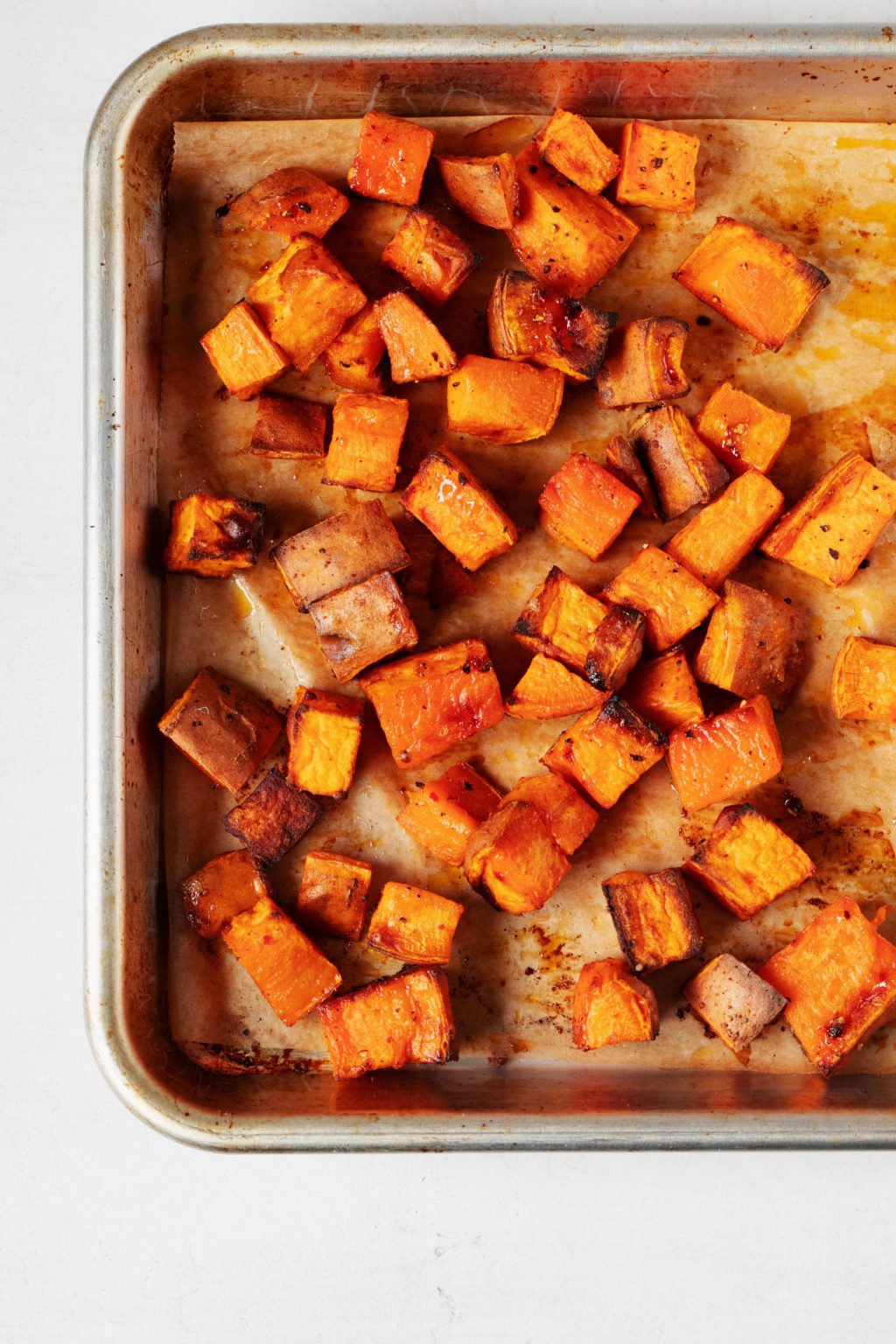 While the potatoes roast, you can warm up your seasoned, salsa chickpeas. You can also use this time to chop up the vegetables you'll need for assembling the bowls.
By the time the sweet potatoes are ready, you can put the bowls together, drizzle the dressing all over them, and eat.
If you're back in the office or busy with a fresh semester of school, the bowls make a nice, make-ahead lunch. Pile the ingredients into an airtight container and pop them in the fridge overnight. Store a small container of the dressing separately and pack it up with the rest of your meal in the morning.
Burrito bowl storage
All of the components here—the chickpeas, roasted sweet potatoes, dressing, and rice—can be stored for up to five days in the fridge. This means that they can easily be prepared in advance of bowl assembly.
The chopped greens and shredded cabbage will keep well for at least 3 days, and up to 5. Grape tomatoes can be halved right before you serve or pack up the bowls.
You can use your freezer to help with the recipe, too. The cashew queso, roasted potatoes, chickpeas, and rice can all be frozen for up to six weeks.
Variations & substitutions
The chickpea burrito bowl, like most bowls, is easy to adapt. Here are some fun and easy substitutions to try:
Instead of cashew queso sauce:
Instead of rice:
Quinoa
Millet
Barley
Bulgur
Cauliflower rice
Instead of roasted sweet potatoes:
Steamed or roasted new potatoes
Roasted carrots or parsnips
Grilled or roasted zucchini
Steamed or roasted broccoli or cauliflower florets
Roasted plaintains
Instead of chickpeas:
In addition, you can add some extra texture in the form of toasted nuts or seeds or crumbled corn chips. You can also throw in leftover roasted veggies or other odds and ends that need to be used up. Make the recipe your own!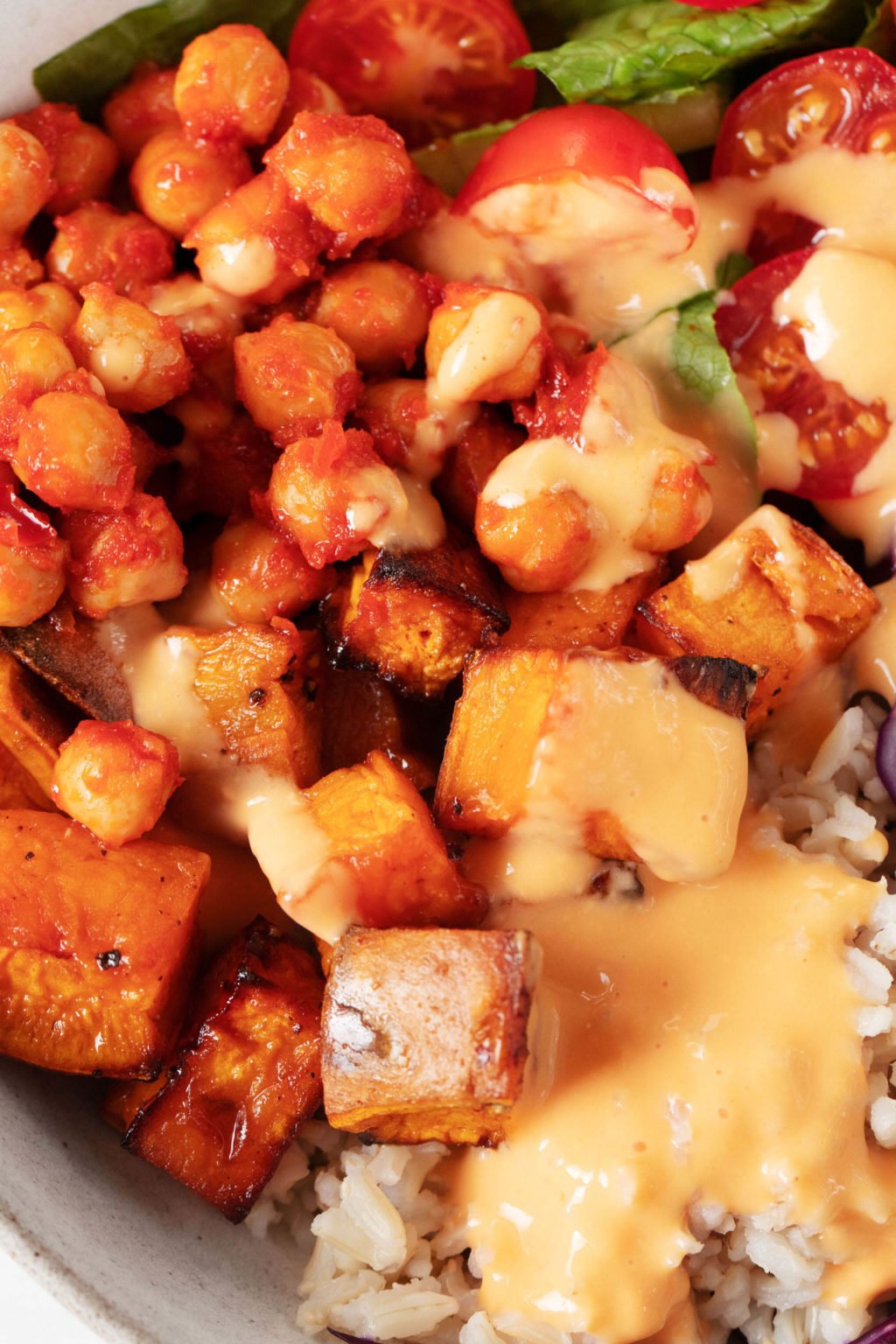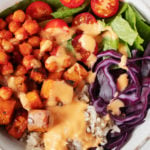 Print
Chickpea Burrito Bowls
These vegan chickpea burrito bowls are easy to meal prep and so delicious! They feature chickpeas that have been seasoned with salsa for almost instant flavor. Top them with my creamy cashew queso sauce for a vibrant and filling meal.
Course
Main Course
Cuisine
American
Diet
Gluten Free, Vegan, Vegetarian
Keyword
brown rice, cabbage, cashews, chickpeas, romaine, sweet potatoes
Prep Time
10
minutes
Cook Time
35
minutes
Total Time
55
minutes
Servings
4
bowls
IngredientsFor the roasted sweet potatoes
3

medium

or 2 large sweet potatoes, scrubbed and cubed

(about 1 1/4 lb)

1 1/2

tablespoons

avocado oil

Kosher salt and freshly ground black pepper
For the seasoned chickpeas
For the bowls
4

cups

packed, chopped romaine lettuce

2

cups

packed, shredded purple cabbage

2

cups

cooked brown rice or quinoa

1

cup

halved cherry or grape tomatoes

1

cup

cashew queso or all-purpose cashew cream 
Instructions
Preheat your oven to 425F. Place the sweet potatoes on a parchment or foil-lined baking sheet. Drizzle the potatoes with the oil and sprinkle them with salt and pepper. Use your hands to stir the potatoes, coating them with the oil. Transfer the potatoes to the oven. Roast for 30-35 minutes, or until the potatoes are tender and browning and crisping at the edges. Stir the potatoes on the sheet after 15 minutes of baking, and check them for doneness starting at 25 minutes. 

While the potatoes roast, heat a skillet or frying pan over medium low heat. (Nonstick is best for this, but well-seasoned cast-iron will work, too!) Add the chickpeas and the salsa to the skillet. Cook the chickpeas, stirring every couple of minutes, until the salsa has reduced and the chickpeas are warm and coated with the salsa, about 5-7 minutes. Remove the chickpeas from heat.

Layer the romaine and purple cabbage in four bowls or storage containers. Add about a half cup of the cooked grain (brown rice or quinoa) to each bowl. Divide the cooked chickpeas and sweet potatoes between the bowls. Top each bowl with a quarter cup of the tomatoes. Then, drizzle each bowl with about a quarter cup of the cashew queso or cashew cream. If you're prepping the bowls ahead of time, wait to add the sauce until you're ready to eat. Enjoy!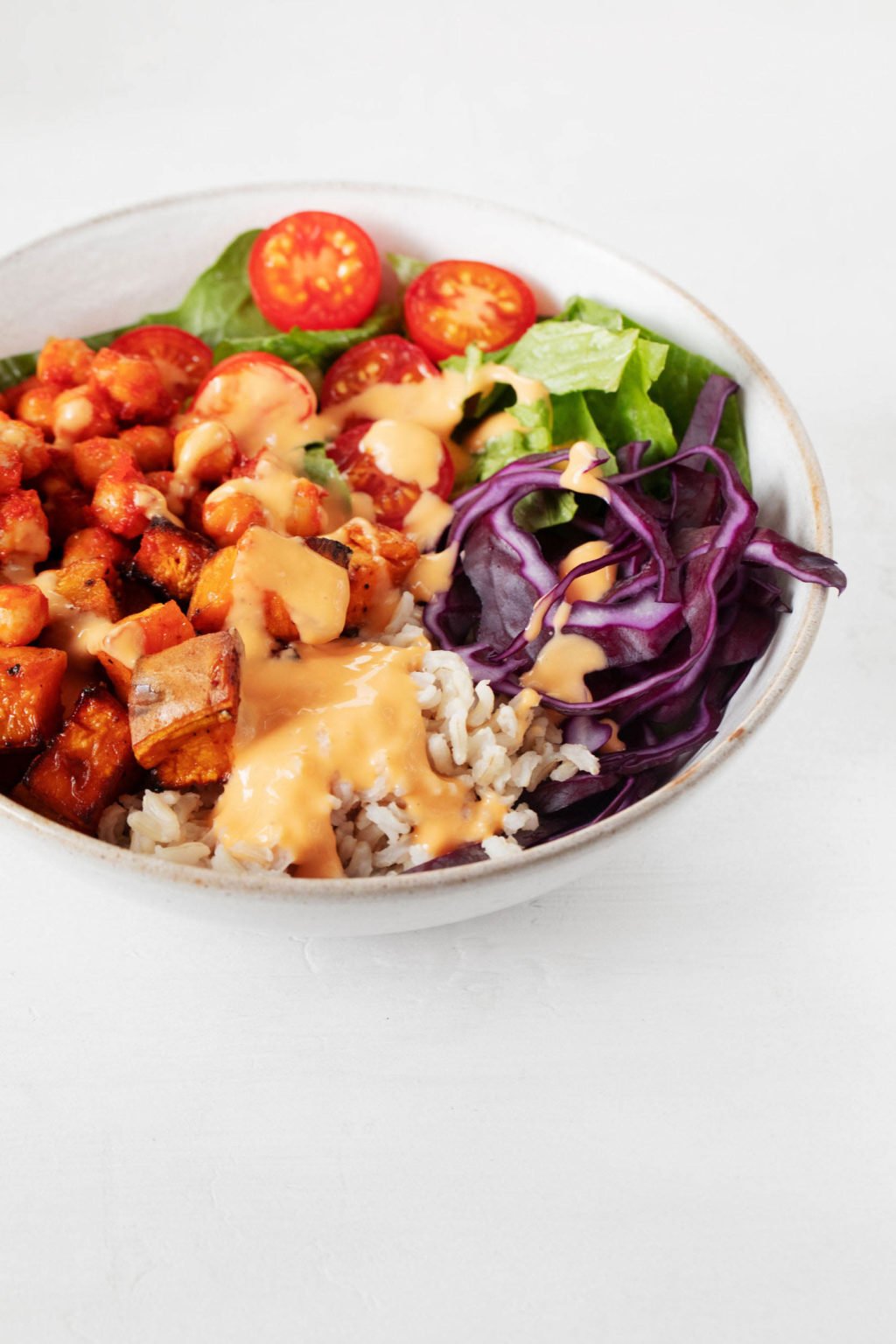 My cooking was the least organized it has ever been through most of quarantine. While much of the world seemed to embrace home cooking with gusto, I was heating up frozen food and failing to do the preparation and planning that I often try to help my clients with.
Had I not been trying to write a cookbook, I would have been at peace with this. It was a wild time, and we all got through it however we could.
Still, it feels nice to be getting back to my normal kitchen routines. I feel calmer about cooking than I have in a while. I wouldn't say I'm organized, but I have more of a rhythm going than I did a year ago. I've been using my weekends wisely and enjoying the ability to eat leftovers during the week. Little by little, right?
Maybe these bowls will help to make your own food routine a little easier. I hope that they do.
xo
The post Chickpea Burrito Bowls appeared first on The Full Helping.
přeložit | Thu, 07 Oct 2021 21:22:19 +0000
Date BBQ Sauce
This vegan date BBQ sauce is perfectly tangy, smoky, and sweet. It's a no-sugar added, homemade BBQ sauce that's incredibly easy to make. Just blend, heat, and enjoy!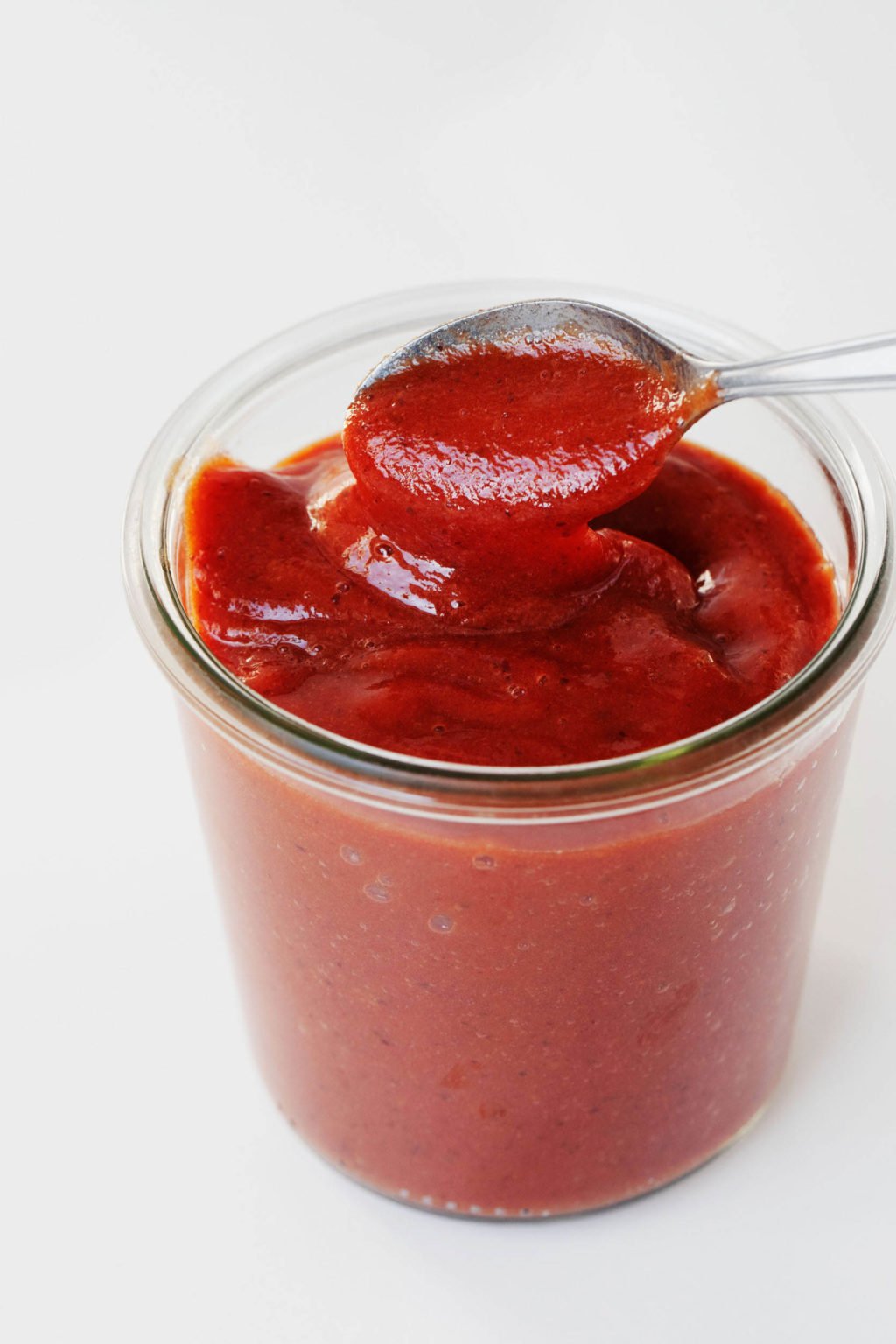 Given all of the commotion of the last few days, I've been grateful for any and every simple recipe.
This homemade vegan sauce couldn't be simpler. It's a date-sweetened BBQ sauce that's tangy, sweet, and has a thick texture. You can use it as a marinade, as seasoning, or as sauce for bowls.
My inspiration for the sauce was the tangy BBQ from Haven's Kitchen, a local sauce brand that I love. I sampled their date BBQ sauce over the summer. It was irresistibly tangy, and my curiosity was piqued when I saw that the sweetener was dates.
Dates are one of my favorite delights. They're nature's candy, and I'll take any opportunity to use them in recipes. I started to wonder if I might try making my own date BBQ sauce at home, inspired by what Ali and her team had created.
I'm so happy that I tried it! This sauce is very, very yummy and versatile. Moreover, it's fast and easy to prepare.
A no-sugar added BBQ sauce
While I'm certainly not opposed to baking or cooking with sugar, I also welcome opportunities to experiment with other sweeteners. I love the flavor of maple syrup, which finds its way into a lot of my muffins and cakes.
Coconut sugar is another favorite of mine. I think it tastes a little burnt, and I mean that in the best way possible. It's not unusual for me to swap it 1:1 for brown sugar in my baking.
Although I blend soaked dates directly into this sauce, I'm also a great fan of date syrup and date caramel. They're both easy to make at home, and since dates taste a little like caramel anyway, the latter recipe doesn't require many ingredients.
All of these sweeteners add more depth of flavor to baking and cooking. When they work in a recipe, they help to deepen and enhance flavor, rather than diminishing it.
This date BBQ sauce demonstrates that perfectly: I think that the dates add more character than brown sugar or even maple syrup would.
Health benefits of dates
It's easy to love the way dates taste, but they've also got some nutritional benefits to offer.
First, dates are packed with dietary fiber. This is a good thing in general, since fiber is associated with digestive health and cardiac health. But it's especially good news in sweetened foods. Fiber helps to blunt how quickly sugar is absorbed into the bloodstream. Maximizing dietary fiber at mealtimes can be an important part of dietary management for those who are keeping an eye on blood sugar.
Dates are also a good source of numerous minerals, including potassium and magnesium. Potassium and magnesium are electrolytes, which means that they help with fluid balance. They also play a role in muscle and nerve function.
Finally, dates are a good source of vitamin B6, or pyridoxine, which is important for immune function and energy maintenance.
Dates are so unbelievably delicious to eat that I'd reach for them even without these benefits. Still, I don't mind knowing that the benefits are there when I use dates in a recipe.
The best type of dates for BBQ date sauce
The type of dates that I use in this recipe—and most all of my recipes—are pitted Medjool dates.
Medjool dates are bigger than the Deglet Noor dates that are also widely available in US grocery stores. They're softer, too, and they have a caramel-like flavor that I think is totally irresistible. I do sometimes use Deglet Noor dates if they're what I can find—they tend to be cheaper than Medjool—but Medjool dates are my go-to.
You can find good Medjool dates all over the place. They're easy to locate at Middle Eastern markets. There are also a number of US date farms that produce them and ship them nationwide.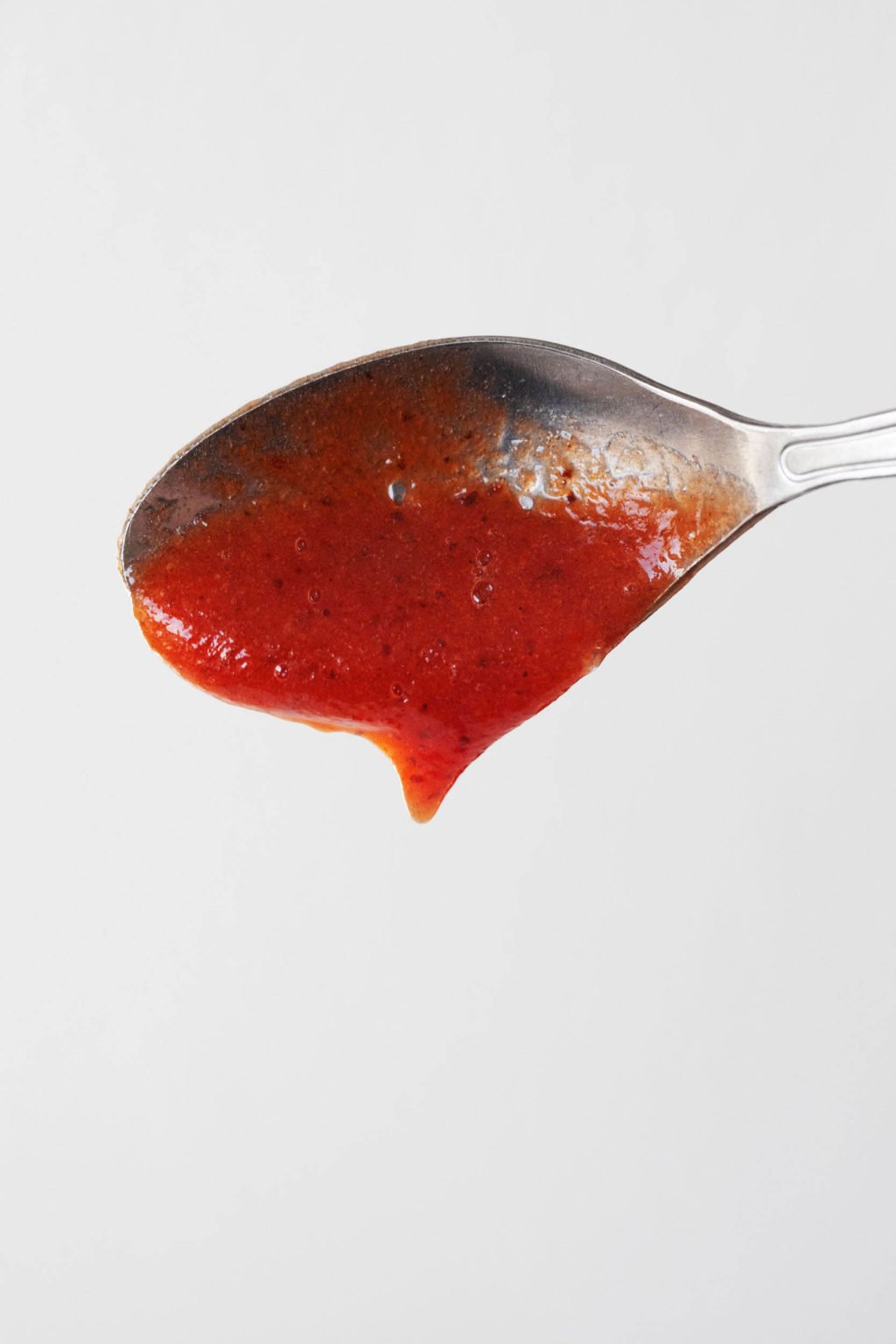 BBQ date sauce ingredients
The ingredients for this sauce are pretty simple.
Dates
You'll need about six medium-sized, pitted Medjool dates to make the date BBQ sauce. Dates can vary wildly in their size, so you may also wish to measure. I use about 90 grams of dates, which is a scant 3/4 cup.
You'll see that the sauce doesn't call for maple syrup, molasses, or sugar. Dates are the only sweetener here! This is intentional, and I really like the result. The sweetness is very present without being cloying.
However, if you love the flavor of molasses in BBQ sauce, you can certainly trade one date for a tablespoon or two of molasses.
Tomato sauce or puree
You can use a fifteen-ounce can of tomato sauce or fifteen ounces (that's just shy of two cups) of tomato puree for this recipe.
Tomato paste
The tomato puree is the base of the date BBQ sauce, but tomato paste also plays an important role. It intensifies the flavor of the sauce, and it gives the sauce some thickness, too.
Seasonings
I use a few seasonings in the sauce:
Onion powder
Garlic powder
Smoked paprika
Mustard powder
I love using powdered alliums here! It adds a lot of flavor, but it saves me the work of having to sauté onion or garlic for the recipe.
I like the way mustard powder works in the recipe, but if you don't have it at home, you can use a tablespoon of Dijon or yellow mustard instead.
Apple cider vinegar
Tart flavor is part of what I love about BBQ sauce, and the date BBQ sauce is no exception. I use apple cider vinegar to achieve that, and I think four tablespoons is just right. Tomatoes add a lot of acidity to the recipe as well. If you want more tangy flavor, feel free to add an extra splash of the vinegar.
Tamari (or coconut aminos)
I love the flavor and little umami kick of using tamari for saltiness in the date BBQ sauce. That said, I've now tested the recipe once with tamari, once with soy sauce, and once with coconut aminos. I love the subtlety and hint of sweetness in the coconut aminos!
If you have coconut aminos at home, it's worth a try here. You'll need either two tablespoons of tamari or three tablespoons of coconut aminos (which is slightly less salty than either tamari or soy sauce).
How to make date BBQ sauce
The date BBQ sauce recipe is so easy. You begin by soaking your dates. Boiling water is fastest for this—it's the same technique that I use in my much loved vegan sticky toffee pudding. After ten minutes, the dates will be soft enough for blending.
Next, you'll drain your dates and add them to a blender with all of the other ingredients. Blend for a minute, or until the sauce is smooth.
At this point, you can use the sauce. I think it becomes a bit more flavorful when you simmer it on the stovetop for about five minutes, causing it to reduce just a little. So, I recommend transferring the blended sauce to a saucepan, bringing it to a gentle simmer, and then letting it cook for about five minutes, uncovered. Stir the sauce as it simmers.
After this, the sauce is ready to use.
Storage and freezing
The date BBQ sauce will keep in an airtight container in the fridge for up to six days. It can also be frozen for up to six weeks. I usually store my sauce in a larger mason jar.
Things to do with your date BBQ sauce
This sauce works nicely in so many recipes! Here are some things you might want to use it for:
Basically, use the date BBQ sauce anyplace you'd use regular BBQ sauce. Or even some fun, creative places you wouldn't.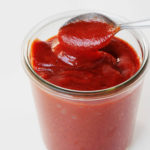 Print
Date BBQ Sauce
This date BBQ sauce is perfectly tangy, smoky, and sweet. It's a no-sugar added, homemade BBQ sauce that's incredibly easy to make. Just blend, heat, and enjoy!
Course
dressing, sauce
Cuisine
American
Diet
Gluten Free, Low Fat, Low Lactose, Vegan, Vegetarian
Keyword
BBQ, dates, tomatoes
Prep Time
10
minutes
Cook Time
5
minutes
Total Time
15
minutes
Servings
8
servings
Equipment
Ingredients
6

pitted

Medjool dates

(90 g, or a scant 3/4 cup)

15

ounces

tomato sauce

(substitute a scant 2 cups tomato purée)

1/4

cup

tomato paste

1/4

cup

apple cider vinegar

1 1/2

teaspoons

smoked paprika

1

teaspoon

mustard powder

1/2

teaspoon

onion powder

1/4

teaspoon

garlic powder

3

tablespoons

coconut aminos

(or 2 tablespoons tamari or soy sauce)

1/8

teaspoon

freshly ground black pepper

pinch

cayenne pepper (optional)
Instructions
Pour boiling water over the dates. Allow them to soak for ten minutes. Drain them.

Add the dates and all remaining sauce ingredients to a powerful blender. Blend till smooth.

At this point, you can use the sauce or simmer it to intensify its flavor. If you wish to do that, transfer the date BBQ sauce to a medium saucepan. Bring it to a simmer and simmer, uncovered, for five minutes, stirring frequently. Serve or store.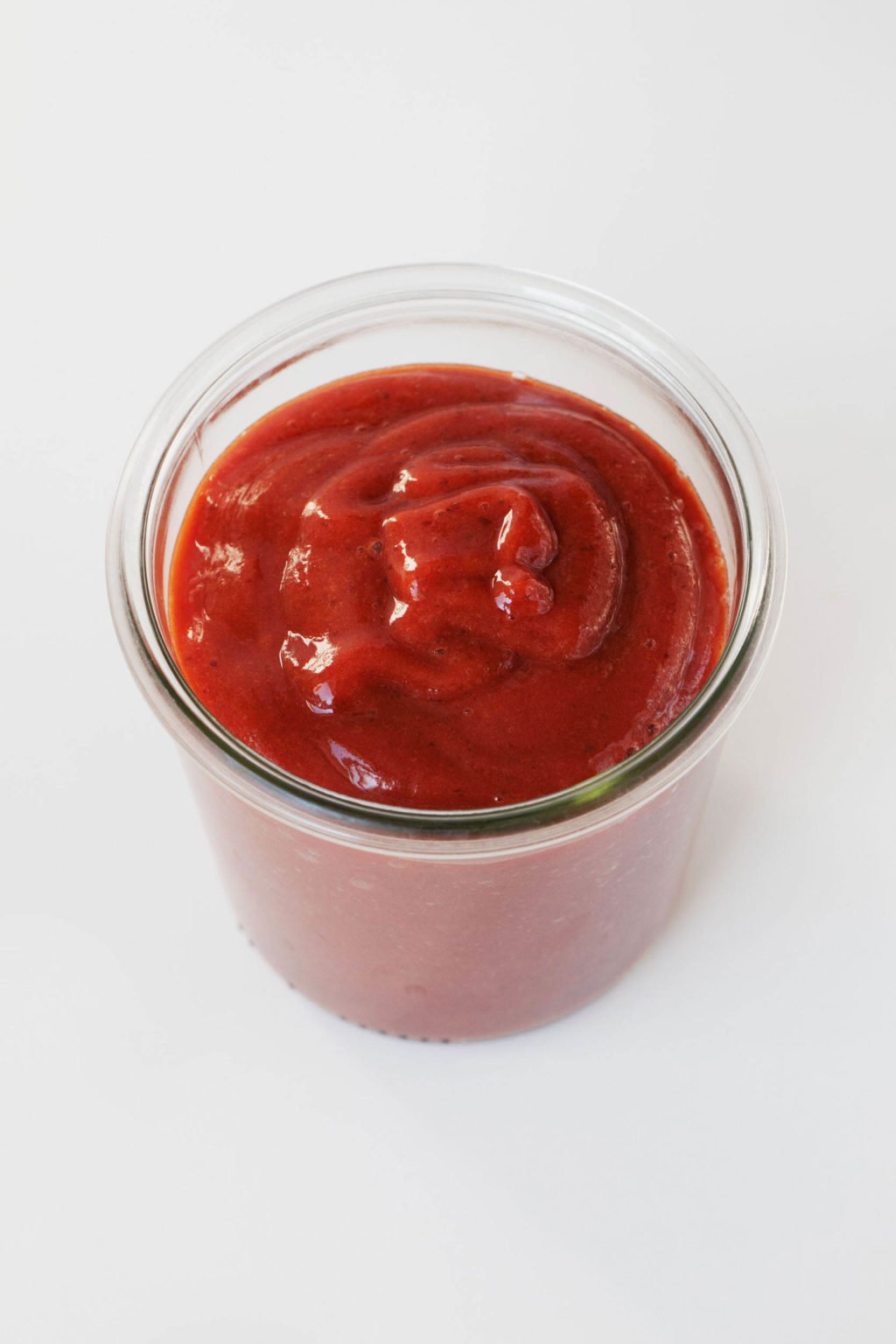 I know that BBQ sauce is one of those recipes that evokes strong opinions. Many people have cherished family recipes, which are regional and time-honored. I don't pretend that this simple, quick version can compare to those.
For a homemade condiment that's flavorful, fast, and relatively nutritious, though, this date-sweetened BBQ sauce is a keeper. I hope you'll get a chance to try it sometime!
xo
The post Date BBQ Sauce appeared first on The Full Helping.
přeložit | Wed, 29 Sep 2021 13:19:05 +0000
7 Protein-Packed Tofu Scramble Recipes
Tofu scramble is the ultimate high-protein vegan breakfast! It's a quick and adaptable meal that can be modified in countless ways. Here are seven of my go-to, protein-packed tofu scramble recipes.
I'm all about breakfast this month, as back-to-school season kicks off.
For me, September isn't just about the literal return to school—though I do get excited to watch my friends' kids enter new grades. Early fall is all about getting back to business. It's a time to refocus. I'm hoping that the crisp weather and change of seasons will give me fresh energy to create.
School, work, and all of our other commitments demand good fuel. September and October always encourage me to look after my nutrition. They remind me to plan, prep, and keep a fridge stocked with wholesome staples, like dressings, whole grains, and beans.
The fall season also inspires me to try new recipes. I'm really hoping that's the case this year, given how tough cooking was for me this summer. No matter what, I can count on cooler weather to inspire new baking projects.
None of the creative energy or industriousness that I'm hoping for will be possible with a steady rotation of nutrient-dense vegan breakfasts. Breakfast is a cornerstone of my routine, the food that powers my day. I love my morning meals—and there's no breakfast I love more than tofu scramble.
Why tofu scramble is my number one breakfast
If I had to pick a favorite breakfast, tofu scramble would be it. Yes, I love many other breakfast foods. But tofu scramble wins for the intersection of flavors that I enjoy, satiety that lasts me hours, and nutrition that warms my vegan registered dietitian's heart.
Do I always make scramble in the morning? Honestly, no. If frequency of eating were proportional to enjoyment, I'd have a scramble four or five times each week. But even though it's quick by most recipe standards, tofu scramble is more hands-on than, say, toast. Or oatmeal.
As it is, I probably make myself a tofu scramble every other week. One of my favorite things about this meal is the fact that the leftovers keep well. When I do prepare it, I always enjoy it for the next few days in leftover form.
A versatile morning meal starter
Here's what else I love about tofu scramble: versatility! It's is a meal unto itself, but it can also be a meal starter.
Here is a short list of the many, many things I like to do with my tofu scramble:
Put it into breakfast tacos
Layer it on toast
Serve it with a (vegan) buttered English muffin
Use it as the protein component of a vegan bowl
Add it to vegan fried rice
Use it as an ingredient in vegan nachos
I'm sure I'm missing a lot of creative ideas. But the options above are enough to illustrate that one batch of tofu scramble has a lot of utility.
Tofu scramble nutrition
From a morning nutrition standpoint, tofu scramble can't be beat.
All of the recipes that follow are great sources of plant protein. Tofu is an excellent vegan protein source, and nutritional yeast, which is a common ingredient in these scrambles, is also high in protein. You can enhance the protein of your scramble by adding beans or a vegan meat (such as tempeh bacon).
Tofu is also a nutritional superstar in other respects. It's a good source of iron, and some varieties of tofu are also good sources of calcium. It provides thiamin, otherwise known as Vitamin B1, which plays a role in energy metabolism and cell growth.
Moreover, the phytonutrients in tofu may play an important role in disease prevention. Plant compounds in soy foods called isoflavones are associated with a decreased risk of breast cancer and breast cancer recurrence, especially when they're consumed early in life.
Those same isoflavones may also have a cholesterol-lowering effect. Consumption of them is associated with reduced rates of heart disease. They may also improve cognitive function in women who are post-menopausal.
What kind of tofu is best for tofu scramble?
I recommend using firm or extra firm tofu for your scramble recipes. Either will work. I used to always prefer my scrambles with a chunky texture and extra firm tofu. Lately, I'm preferring to use firm tofu and crumble it more finely.
I don't recommend soft or silken tofu for scrambling. It turns into mush in the warm pan, and you'll miss that crumbly texture.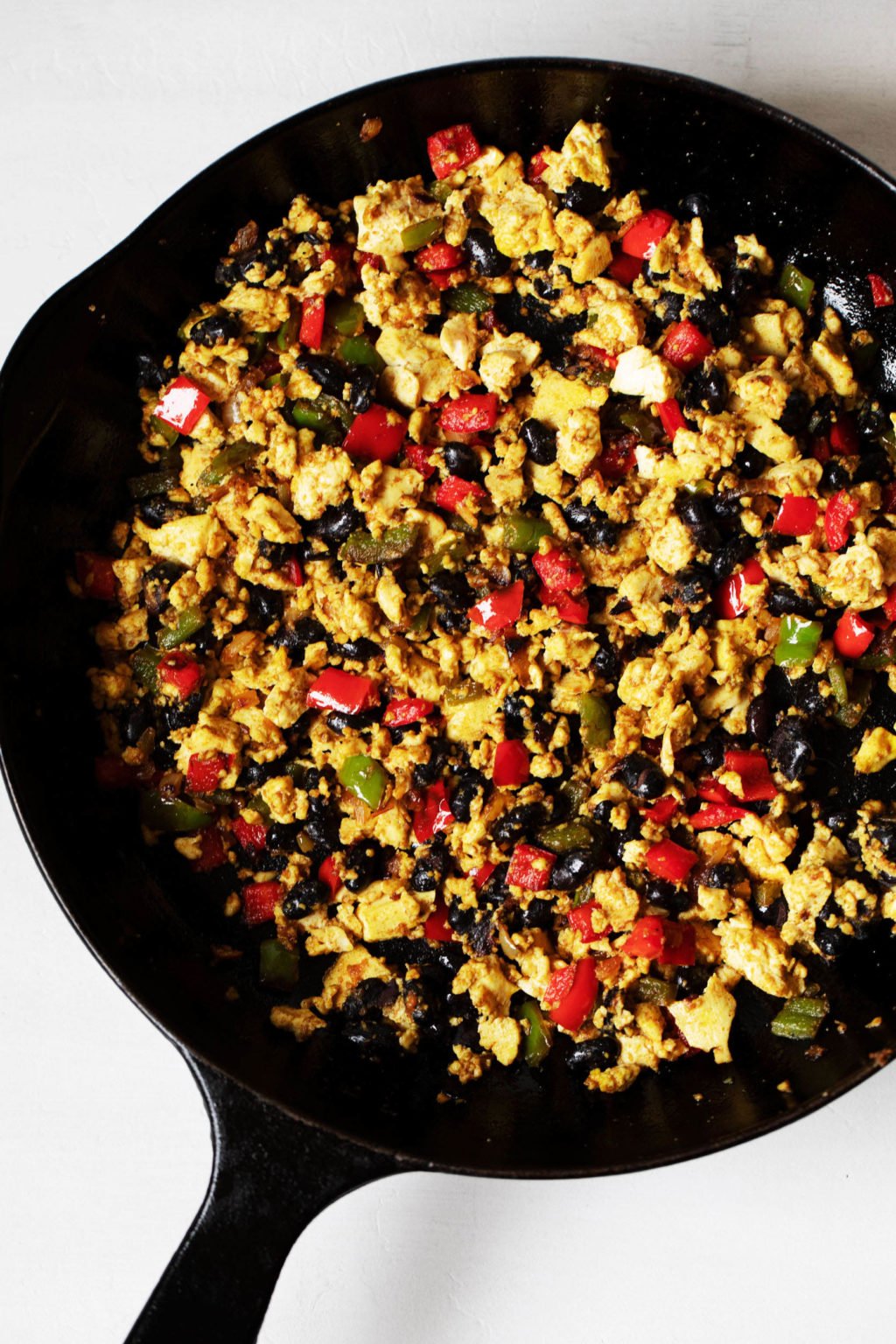 How to make tofu scramble
Tofu scramble is easy to make. So easy, in fact, that it was one of the very first recipes I taught myself to cook and cooked regularly when I first became vegan. There are really just a few steps.
Press
I recommend pressing your tofu gently before you crumble it. You don't need to press it for long or use a tofu press. Simply squeeze it with gentle pressure between two tea towels. This is enough to remove excess moisture, which helps the tofu to absorb flavor.
Crumble
Use your hands to crumble your tofu in preparation of scrambling. Again, you can choose to leave it in bigger pieces or to crumble it somewhat finely. Both are good choices. Think about the texture you want, and crumble accordingly.
Sauté your vegetables
Some scramble recipes call for a lot of add-ins and vegetable additions. Others are more pared down. You can make a tofu scramble as complex or as simple as you want it to be.
Before you add tofu to your hot frying pan or skillet, you'll want to sauté any vegetables that you're using until they're tender. I do this in olive oil, but you can choose to sauté with water or broth as well.
My customary vegetables additions are onions, peppers, and chopped tomato. However, I also like to add grated carrots, scallion, and chopped broccoli. Tofu scramble is a great vehicle for using up leftover bits.
Add tofu
Next, you'll add your crumbled tofu to the skillet. Stir it together with any vegetables you have.
Add seasonings
Now it's time to season your scramble. There are so many spices, herbs, and sauces to choose from. Here are the seasonings that I add regularly:
Turmeric (this gives the scramble a yellow color, similar to eggs)
Nutritional yeast (this adds savoriness)
Tamari or salt (I prefer tamari, which deepens the scramble's flavor and distributes evenly
Freshly ground black pepper
Mustard (I think this gives the scramble a slightly spicy, but not hot, kick)
Freshly squeezed lemon juice
Here are seasonings that I add when I'm in the mood for them:
Cumin
Smoked paprika
Sweet paprika
Oregano
Italian seasoning
Cajun seasoning
Curry powder
Hot sauce
There's nothing authoritative about this list! It's just a sampling of flavors that I've added to scrambles and liked. Once you grow accustomed to scrambling tofu, you can start to experiment with different flavor combinations that appeal to you.
Stir and heat through
Once the vegetables, tofu, and seasonings are in your hot skillet or frying pan, your scramble will almost be ready. I recommend stirring everything gently but thoroughly, so that the seasonings are evenly and well distributed. Then, continue to heat the scramble until it's nice and fragrant. You can do this over medium low heat.
At this point, your tofu scramble will be ready to eat or store.
My secret weapon ingredient
There's one ingredient that I add to my scrambles for a perfectly creamy texture and extra flavor: tahini!
Tahini isn't necessarily a traditional tofu scramble addition. But I think it makes a big difference. The fat in the tahini helps to carry flavor. I also think that the tahini gives scrambles a slightly creamy texture and helps to bring everything together.
I like the addition of tahini so much that I have a dedicated tofu tahini scramble recipe. More on that below.
Storage
Tofu scramble can be stored in an airtight container in the fridge for up to five days. Most of these recipes make four servings, so you likely won't need to store it that long.
The scrambles are excellent make-ahead breakfast options for busy work or school days. To make the scramble more portable, you can stuff it into a wrap or combine it with black beans and brown rice to make a breakfast burrito.
Can I freeze tofu scramble?
You can absolutely freeze tofu scramble, and I often do. Most scrambles can be frozen for up to six weeks. Freeze them in individual portions if you think you might like to defrost one meal at a time.
I am always so grateful when I find these little protein-rich breakfast care packages in my freezer. I thaw them overnight and give thanks for something nutritious and ready-to-eat in the morning.
7 protein-packed tofu scramble recipes
I could go on and on about the flexibility, usefulness, ease, and wholesome features of this morning meal! But food speaks louder than words.
Here are seven protein-packed tofu scramble recipes to make, adapt, and use as a starting point for your own scrambling adventures.
Classic Tofu Scramble Recipe
My all-time favorite vegan scramble! Packed with plant-protein and veggies, this is a foolproof twenty minute meal.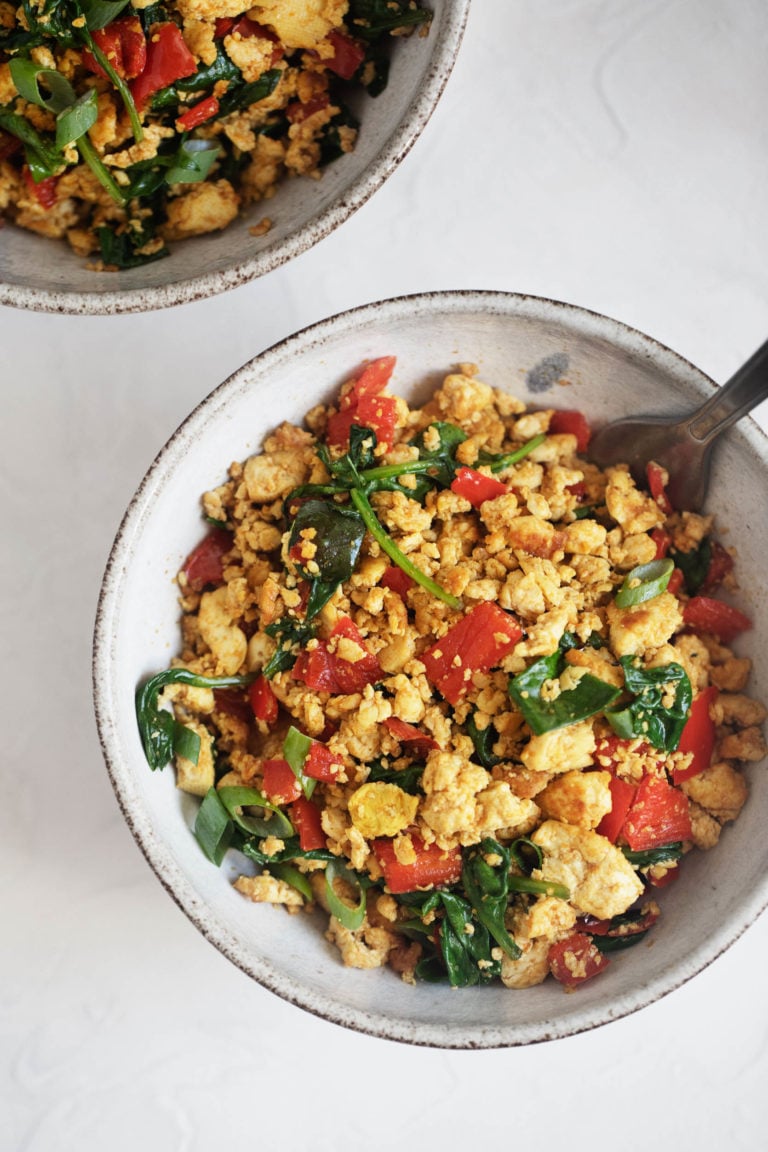 Get the recipe
Tofu Scallion Black Bean Scramble
This scallion black bean tofu scramble is a fiber-filled and protein-packed vegan breakfast! Scallions add tons of flavor and are quick-cooking.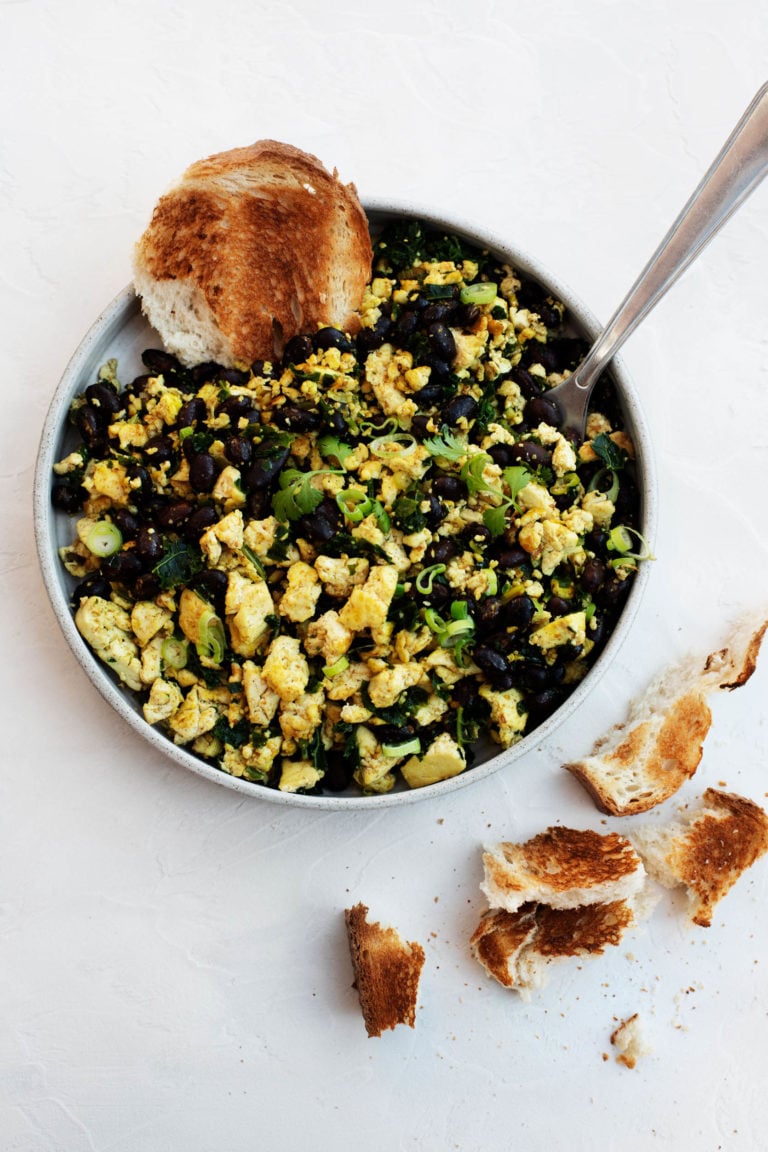 Get the recipe
Tofu Quinoa Veggie Scramble
This tofu quinoa veggie scramble combines the best of both worlds: protein-rich tofu and cooked whole grains. It's a hearty, healthy, one-dish vegan breakfast recipe that's easy to make.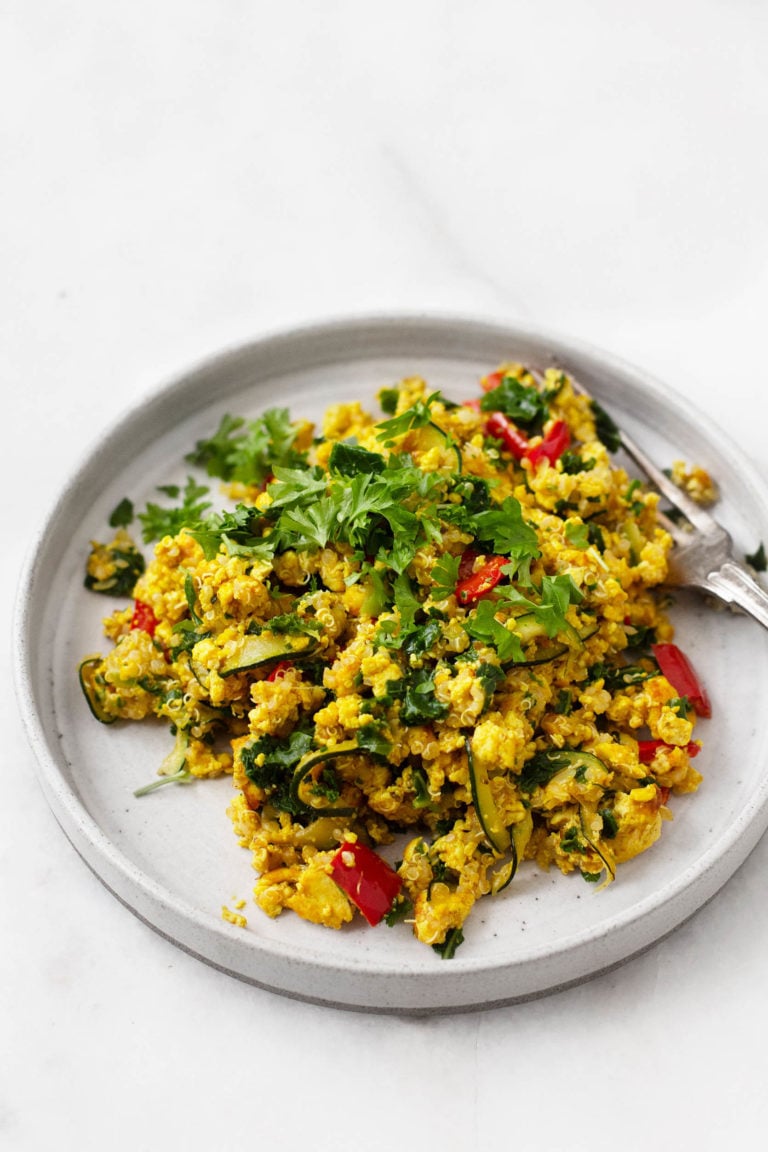 Get the recipe
Tofu Scramble Black Bean Vegan Breakfast Enchiladas
These black bean and scrambled tofu enchiladas are a make-ahead, savory vegan breakfast that's packed with plant protein! They're also freezer-friendly and great for serving a crowd.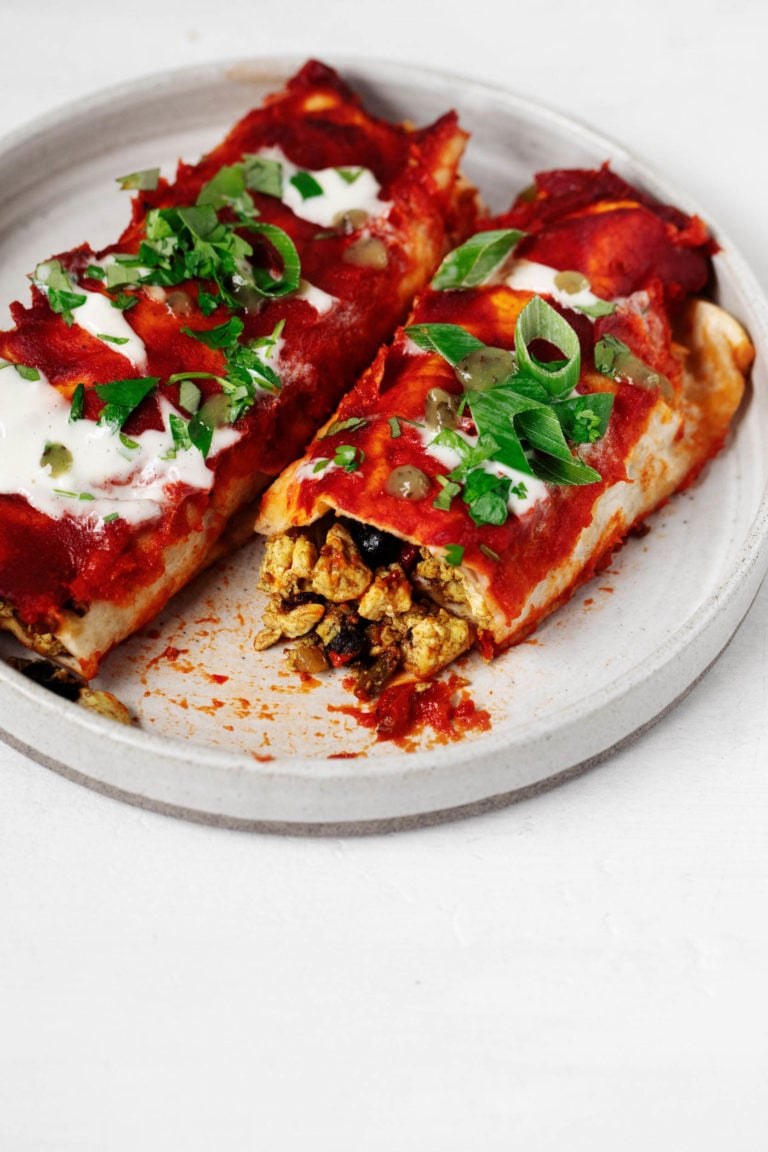 Get the recipe
Basic Tofu Breakfast Scramble
One of my simplest, most basic tofu scramble recipes, which is included in Food52 Vegan. An easy, crowd-pleasing answer to scrambled eggs!
Get the recipe
Green Tofu Scramble
This green tofu scramble is exactly what it sounds like! It's a high-protein vegan breakfast scramble that's loaded with green vegetables. It's a nutritious breakfast option that can be made ahead for morning nutrition on-the-go.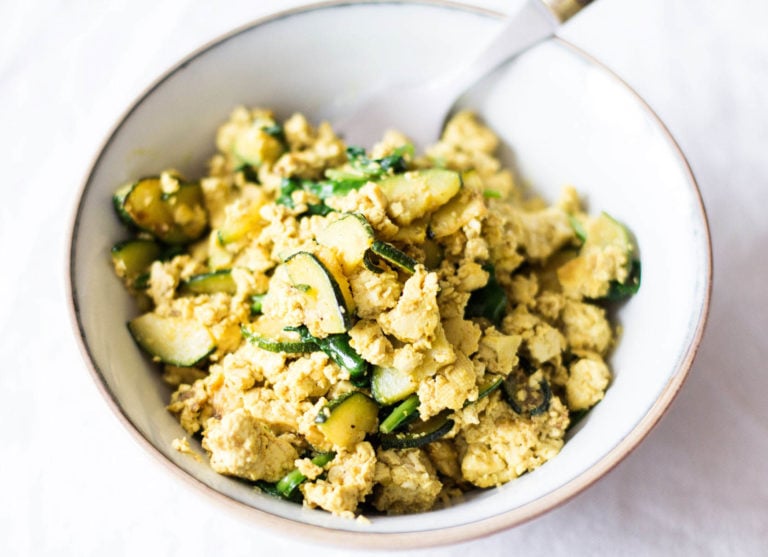 Get the recipe
Tofu Tahini Scramble
This tofu tahini scramble is deeply savory and flavorful. A combination of tahini and hummus create a creamy texture, while chickpeas add extra nutrition to the dish.
Get the recipe
Tofu tahini scramble recipe
It's worth sharing a little bit more about the tofu tahini scramble above. It's an old recipe that I've returned to many times, and it's different from your run-of-the-mill scramble in a few ways.
First, the tofu is cut into small cubes, rather than crumbled. This makes the dish not traditionally "eggy," but it still eats and tastes like a tofu scramble. I enjoy the different texture, which is enhanced by the addition of chickpeas (extra protein!) and cherry tomatoes.
The scramble incorporates tahini, as some of my other scrambles do. But it also uses hummus. More chickpeas, more tahini, more flavor. The hummus is bright and tangy and adds something special to the meal.
Because the tofu tahini scramble is not super egg-like, it's an especially good recipe to enjoy at any time of day: breakfast, lunch, or dinner. You could even turn it into an appetizer for friends by serving it with endive or romaine leaves for dipping.
Here's the recipe!
Print
Tofu Tahini Scramble
This tofu tahini scramble is deeply savory and flavorful. A combination of tahini and hummus create a creamy texture, while chickpeas add extra nutrition to the dish. Plus, 6 other tofu scramble recipes to power your day!
Course
Breakfast, main, Main Course
Cuisine
Mediterranean, middle eastern
Diet
Diabetic, Gluten Free, Low Lactose, Low Salt, Vegan, Vegetarian
Keyword
chickpeas, tahini, tofu, tomatoes
Prep Time
15
minutes
Cook Time
10
minutes
Total Time
25
minutes
Servings
4
servings
Ingredients
2

teaspoons

olive oil

15

ounces

extra firm tofu

1

clove

garlic, minced

3/4

cup

cooked chickpeas

(half of a 14.5-ounce can)

3/4

cup

halved grape or cherry tomatoes

2

tablespoons

tahini

1/4

cup

hummus

(homemade or any brand you like)

1

tablespoon

tamari

1 1/2

tablespoons

freshly squeezed lemon juice
Instructions
Heat the oil in a deep skillet over medium high heat. Add the tofu cubes and cook till they're browning, stirring frequently (about 5 minutes). Add the garlic and cook for 1 minute longer, stirring the mixture constantly.

Add the chickpeas, cherry tomatoes, tahini, hummus, tamari, and lemon juice to the pan. Fold everything together and heat till the ingredients are all warmed through. Serve, with our without some greens on the side.
Fall has two effects on me, and I feel them by turns: it can make me feel focused and motivated, and it can also make me feel scattered and un-grounded. Returning to my kitchen and getting back into the rhythms of making wholesome, filling food contributes to my focus and helps to ground me.
May these savory vegan breakfasts do that for you, too. Happy scrambling.
xo
The post 7 Protein-Packed Tofu Scramble Recipes appeared first on The Full Helping.
přeložit | Thu, 16 Sep 2021 14:26:47 +0000
Cauliflower Alfredo Sauce and Easy Pasta
Cauliflower Alfredo sauce turns a nutritious crucifer into the base of a delightful, creamy dairy-free pasta sauce. You can store it or use it to make an easy vegan Alfredo pasta with spinach. The pasta dish features prebiotic foods, which may benefit digestive health.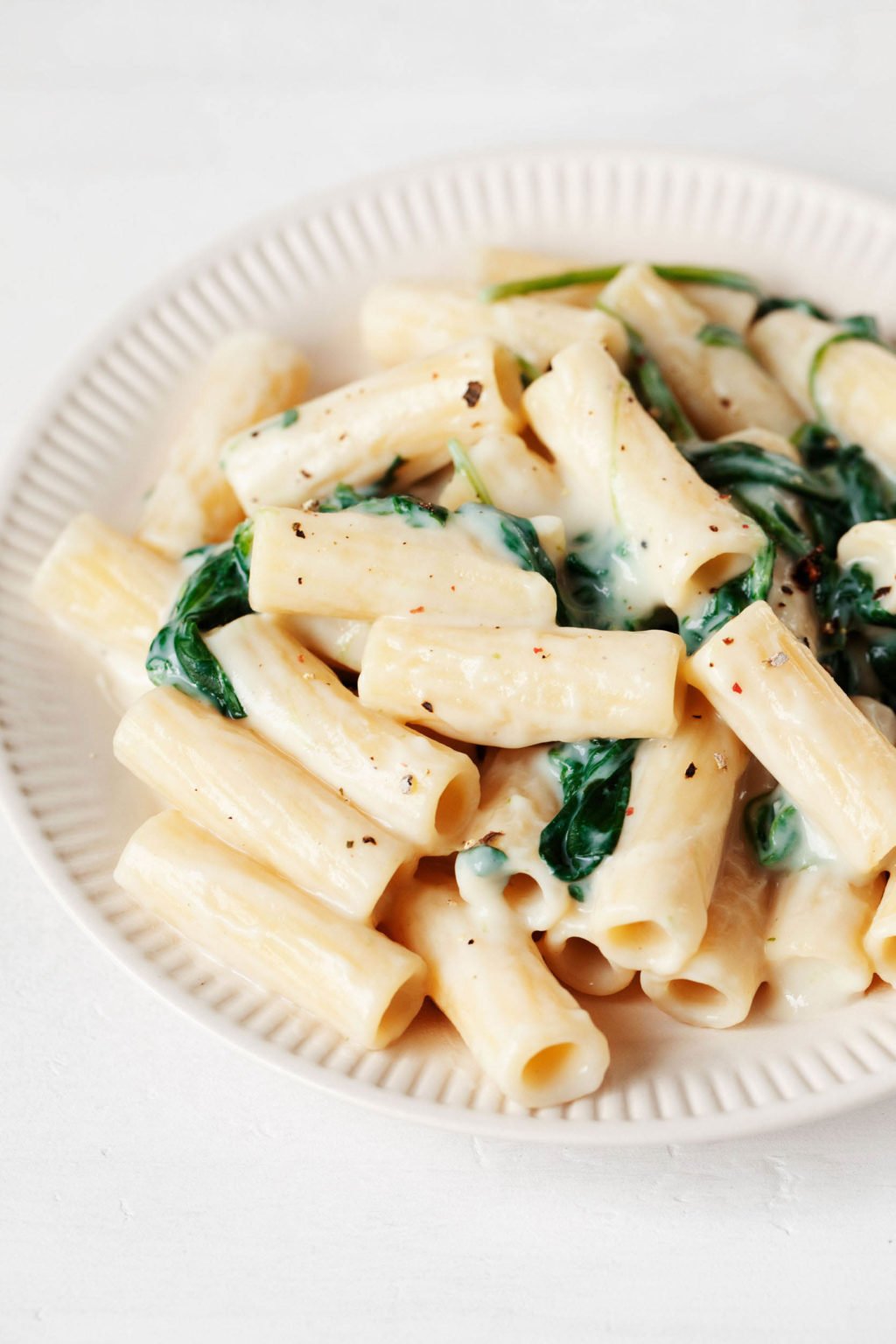 Hi friends! Thank you for the kind responses to Sunday's post. I'm happy to say that a new oven has been installed and inspected and deemed safe to use.
Speaking of that, I've moved into the dessert phase of my recipe testing endeavors. After long days of trialing batches of baked goods, it's a relief to have an easy, comforting, and nutrient-dense plate of pasta for dinner. The creamy cauliflower Alfredo sauce that I'm sharing today has made many such meals possible.
I've seen a bunch of recipes for cauliflower Alfredo sauce over the years. Most recently, I stumbled on this one from the folks at Purple Carrot, which looked great. I loved the idea of adding spinach to the finished pasta. I try to add greens to my meals whenever I can, and pasta is such a good vehicle for them.
In the last few weeks, I've experimented with a few batches of creamy, cauliflower Alfredo sauce. I decided to add a nut or seed to the sauce—more on that below—and I'm really happy with the result.
A pasta with prebiotics
Do you hear more and more about prebiotic foods these days? I sure do, and I'm glad that these foods are getting attention.
Prebiotic foods contain types of dietary fiber that feed probiotics. Probiotics are strains of bacteria that have been associated with health benefits, including digestive regularity, skin health, and immunity. Prebiotic fibers and probiotic bacteria have a synergistic relationship.
Prebiotic foods include garlic and onions, chicory root, Jerusalem artichoke, asparagus, pulses, spinach, and cruciferous vegetables. The crucifer family includes the cauliflower featured in the cauliflower Alfredo sauce.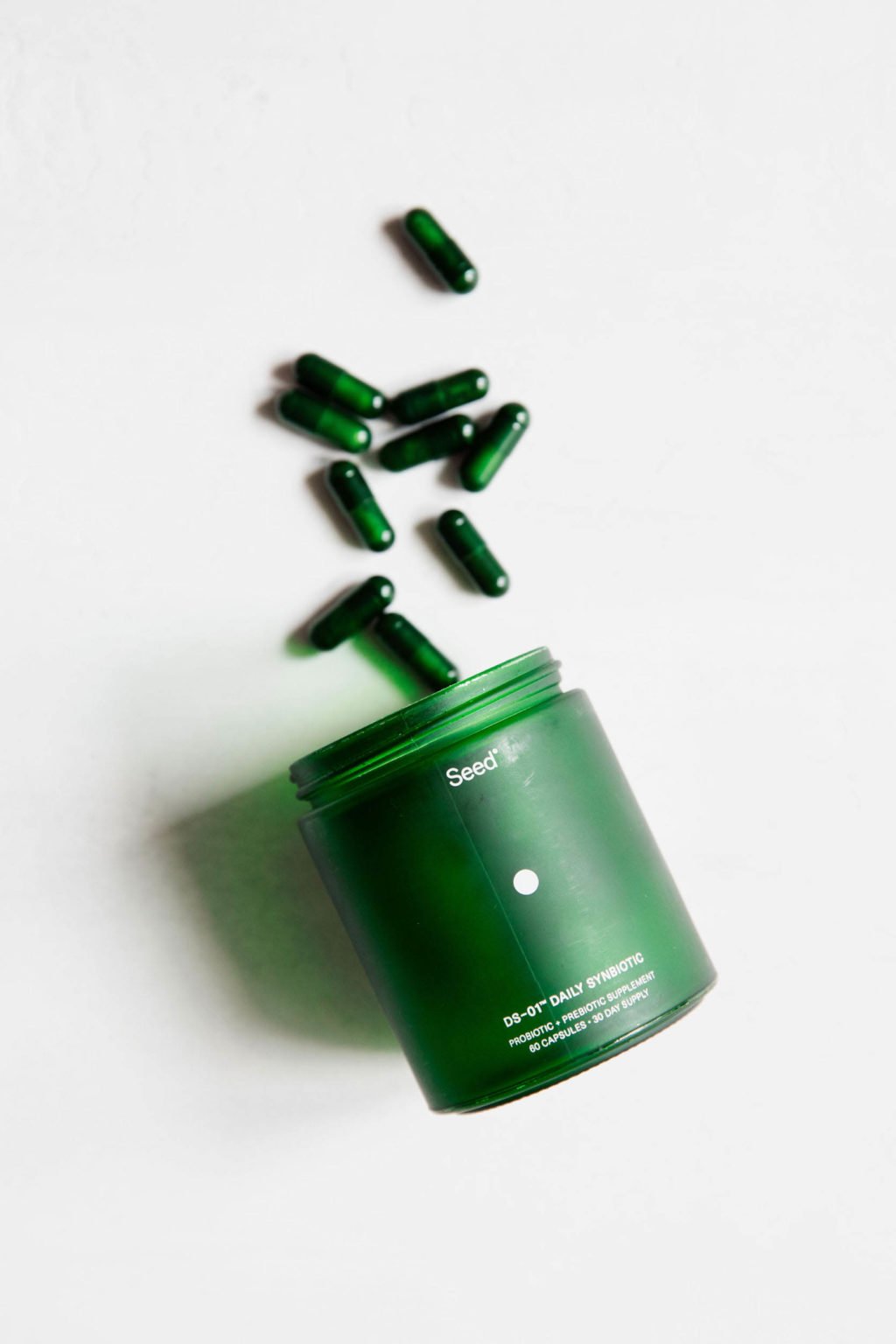 The Daily Synbiotic from Seed
I've learned a lot about prebiotic foods and the bacterial strains that they sustain this summer. Why? Because I've spent time getting to know the vegan Daily Synbiotic from Seed.
A synbiotic is a prebiotic + probiotic combined. Seed's Daily Synbiotic is a 24-strain, broad spectrum probiotic and prebiotic. It's formulated for digestive, gut immunity, and additional systemic benefits. I wrote about the Synbiotic earlier this summer, when I shared it in the company of a refreshing, kombucha berry smoothie.
Months later, I can report that I'm still taking and loving the synbiotic. It has supported me and contributed to my wellness through a summer that was a lot of fun, but also full of work stress and disruption. The Daily Synbiotic is now the probiotic+prebiotic that I recommend to clients and friends.
There are so many factors that make the Seed Daily Synbiotic unique. My favorites:
Sustainability
The Daily Synbiotic is delivered and packaged in a way that is gentle to the earth. The shipping boxis made from algae that would otherwise damage delicate marine ecosystems. The synbiotic arrives in a (very beautiful) reusable glass bottle. And refills arrive in bio-based pouches that are home-compostable, edible, and dissolve in water!
2-in-1 ViaCap Delivery Technology
The Daily Synbiotic is designed as a capsule-within-a-capsule. It has a prebiotic outer capsule made from Indian pomegranate that protects the inner probiotic capsule from stomach acid, bile salt, and digestive enzymes, ensuring 100% survivability to your colon. This prebiotic also protects the probiotic against moisture and heat. As a result, you don't need to store the synbiotic in the fridge.
The probiotic inner capsule contains Seed's proprietary formula of clinically and scientifically studied bacterial strains that support healthy regularity, gut barrier integrity, skin health, heart health, and so much more.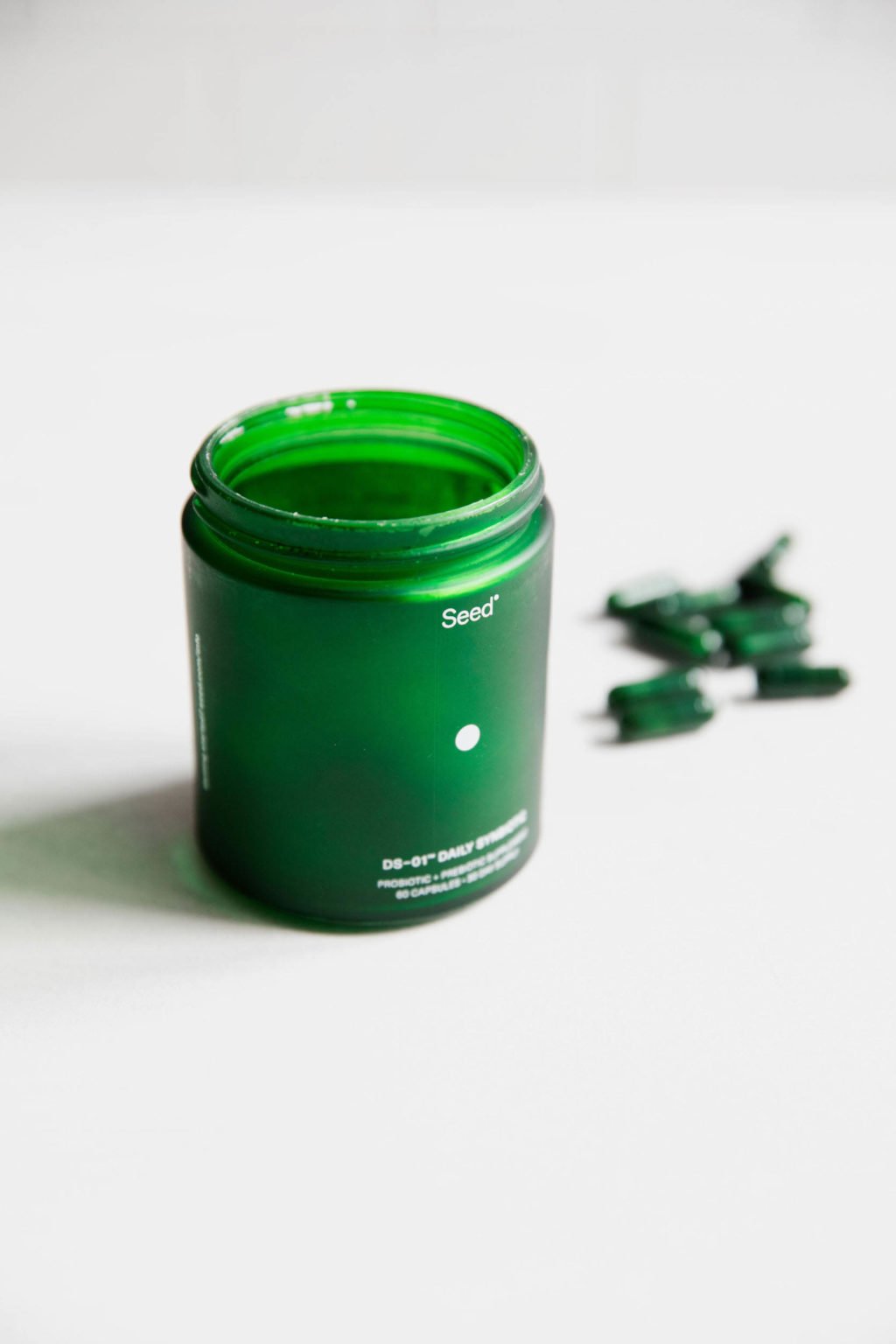 Responsibility
Seed's reference library contains information on the research that was called upon in the synbiotic's development. The synbiotic is currently being studied in two clinical trials. The reference library also includes information on the synbiotic's rigorous allergen, pesticide, and thermostability testing.
Seed is also passionate about clear communication. As part of my experience working with the brand, I needed to complete Seed University, a free online course on Instagram that outlined the science behind the product, the gut microbiome, and probiotics in general.
Some of it was familiar to me and some wasn't. I was very glad for an opportunity to learn. And I appreciated that the team at Seed is committed to evidence-based discourse.
Daily Synbiotic offer
If you'd like to try this earth-friendly, vegan Daily Synbiotic out for yourself, you can get 15% off your first month's supply of Seed's Daily Synbiotic by using code GENA15 at checkout on the Seed website.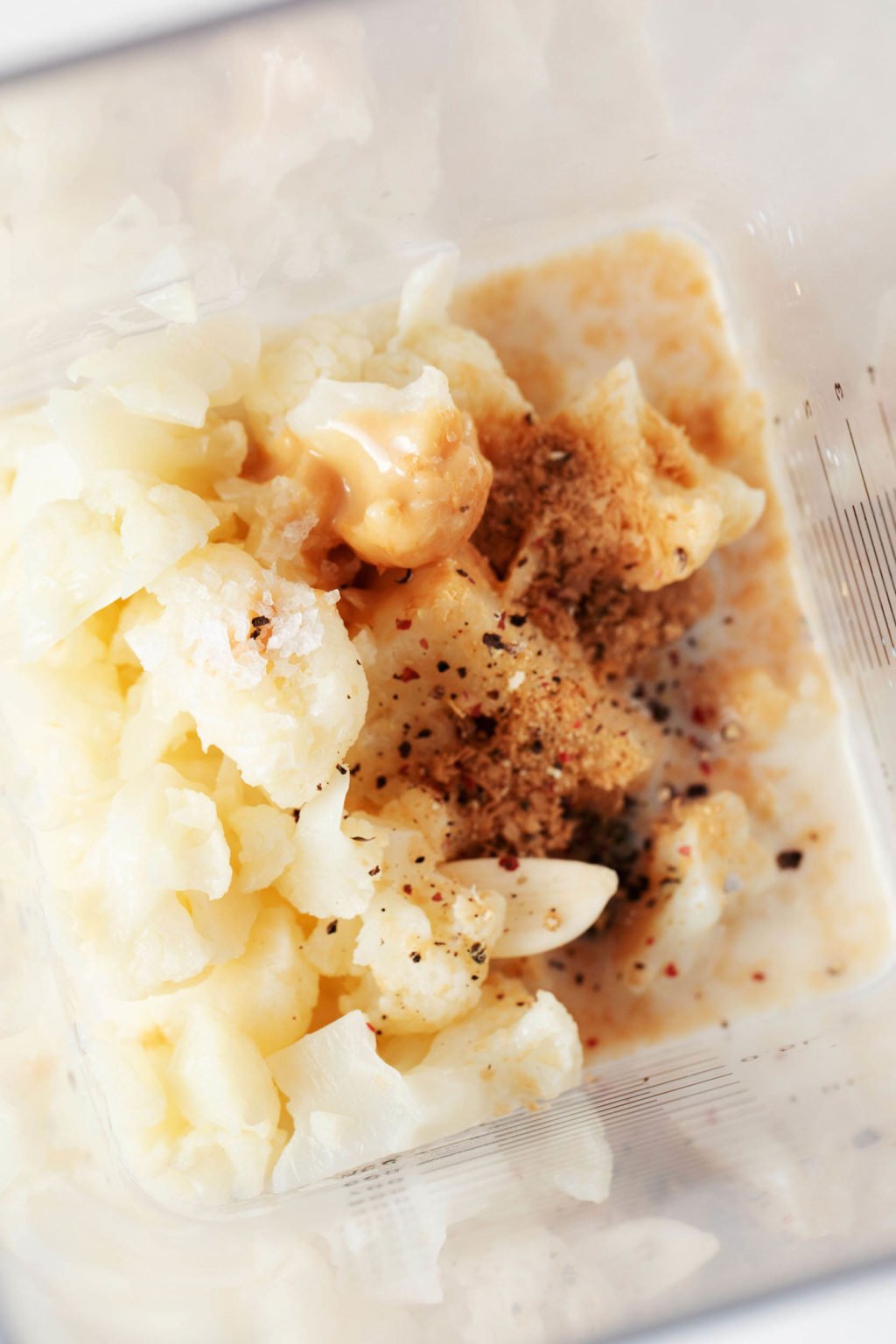 Cauliflower Alfredo sauce ingredients
This cauliflower Alfredo spinach pasta is created in partnership with my friends at Seed. I love this recipe for its nutrition and flavor. However, I also love the simplicity of its ingredients.
Cauliflower
Is there anything cauliflower can't do? Here, it provides a creamy and nutrient-dense base for a garlicky sauce. I'd love to try the cauliflower Alfredo sauce with broccoli in place of cauliflower at some point, but the color would of course be very different!
Nuts or seeds
I've made this sauce a few times, which means that I've had a chance to add different nuts and seeds. They increase the creaminess of the cauliflower Alfredo sauce, and they also add healthful fat and good nutrition.
For example, I've added tahini and cashew butter to the sauce. Each works well for creaminess. Cashew butter is a little sweeter, while tahini is slightly more bitter. I've also tried adding a few tablespoons of shelled hemp seeds, which are a great source of protein.
Finally, I've tried the cauliflower Alfredo sauce with soaked, raw cashews. Cashews are the basis of my simple cashew cheese and cashew cream. They work magic in creamy, dairy free recipes.
Nutritional yeast
Nutritional yeast adds a "cheesy" flavor to the cauliflower Alfredo sauce.
Garlic
The garlic in this recipe can be adjusted to taste. I'm sensitive to strong garlic flavor in cooking, so I have a light touch with it. If you love garlic, you should certainly add as much as you'd like.
White miso
Miso adds both saltiness and some umami to the cauliflower Alfredo sauce. If you don't have white miso at home, you can omit it and add a little extra salt to the sauce instead.
Non-dairy milk
Unsweetened plant milk is another source of creaminess for the Alfredo pasta. I like to make this recipe with unsweetened oat or soy milk; the latter will add some protein. Unsweetened cashew milk is also a good choice for the recipe.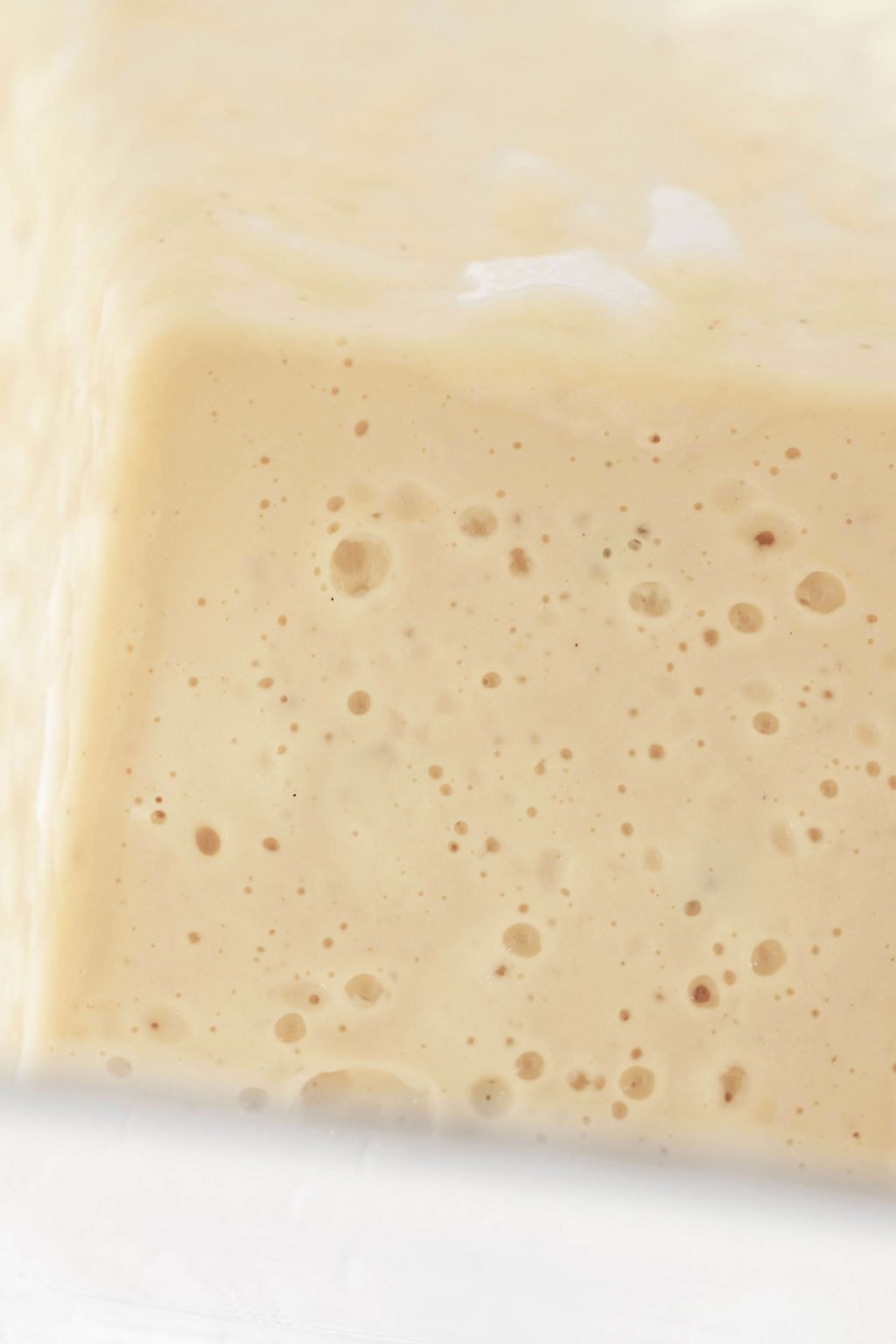 How to make cauliflower Alfredo sauce
Ease of preparation is one of the best things about this pasta. My goal when I made it was to combine as many steps as possible.
With that in mind, I used the same pot of boiling water to steam the cauliflower, boil the pasta, and cook the spinach. The cauliflower steams first. Then, you'll salt the cooking water and add the pasta. When the pasta is almost ready, you'll add the spinach to it.
The sauce itself is a breeze to make. Simply add your steamed cauliflower and other sauce ingredients to your blender and blend away.
Preparation & storage
You can use the cauliflower Alfredo sauce with pasta immediately after you make it. You can also store it for future use. The sauce will keep in an airtight container in the fridge for up to four days after you prepare it.
Can cauliflower Alfredo sauce be frozen?
Yes, you can definitely freeze the cauliflower Alfredo sauce. I like to do this in large, wide-mouthed mason jars. I'm careful to leave some head space at the top of the jar, which prevents the jar from cracks as the liquid inside freezes and expands.
The sauce can be frozen for up to six weeks.
Variations & additions
Spinach adds color and nutrition to an already wholesome pasta. However, you can add additional vegetables as you like. Broccoli florets, additional steamed cauliflower florets, cut green beans, peas, steamed zucchini or summer squash, and steamed kale would all make wonderful additions.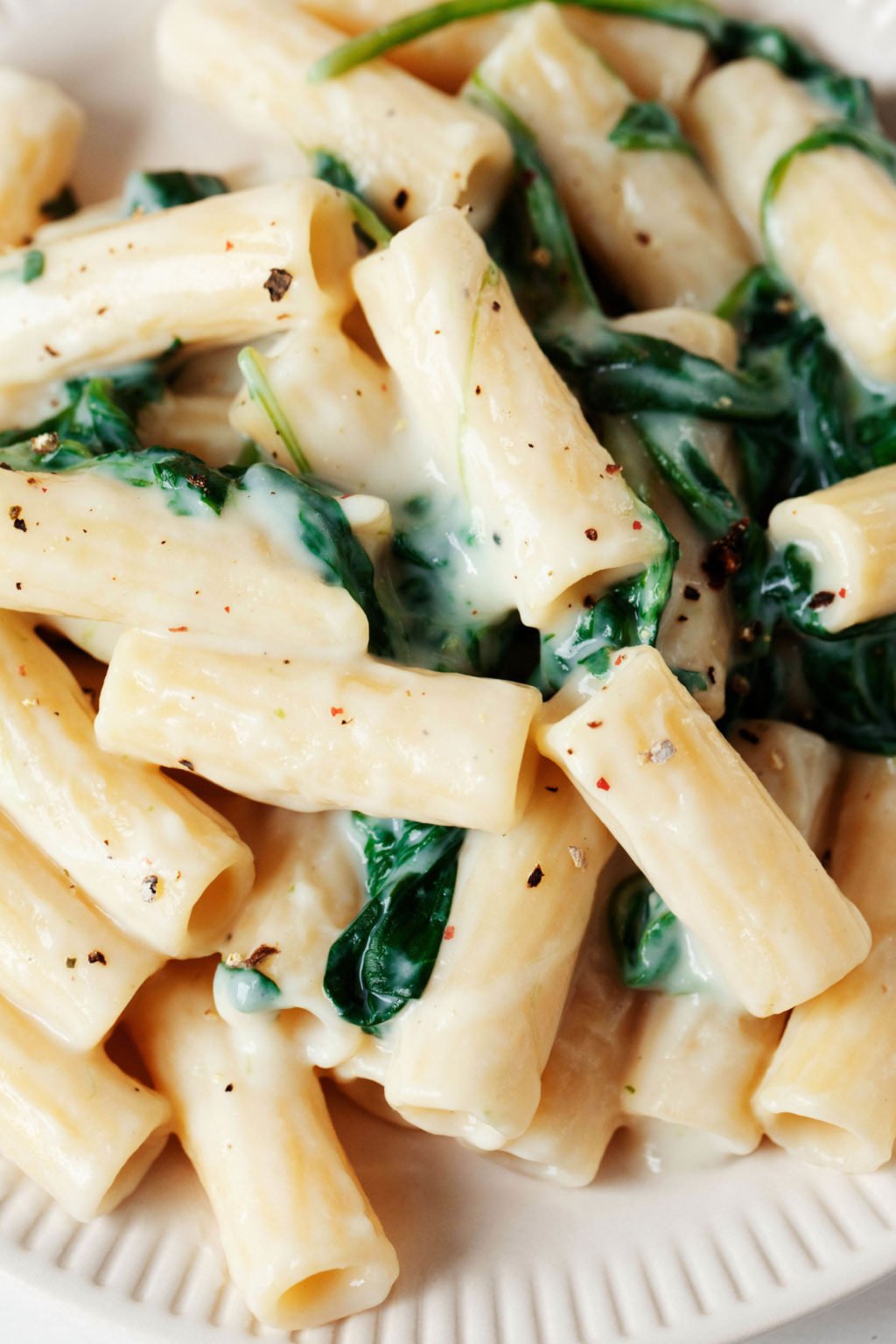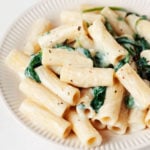 Print
Cauliflower Alfredo Sauce
Cauliflower Alfredo sauce turns a nutritious crucifer into the base of a delightful, creamy dairy-free pasta sauce! You can store it or use it to make an easy vegan Alfredo pasta with spinach.
Course
main, sauce
Cuisine
American, Italian
Diet
Gluten Free, Low Calorie, Low Fat, Low Lactose, Vegan, Vegetarian
Keyword
cauliflower, pasta, spinach
Prep Time
10
minutes
Cook Time
30
minutes
Total Time
40
minutes
Servings
4
servings
Equipment
IngredientsCauliflower Alfredo sauce
1

small head cauliflower, thick stem removed and cut into florets and pieces

(about 1 lb after preparation)

1

cup

unsweetened oat, cashew, or soy milk

1/4

cup

nutritional yeast

1

tablespoon

white miso

1 1/2

tablespoons

freshly squeezed lemon juice

2

tablespoons

raw cashew butter, tahini, or shelled hemp hearts

(alternatively, you can use 1/4 cup soaked and drained raw cashews)

1

clove

raw garlic

1/2

teaspoon

fine salt

(extra for the pasta water, if making)

Freshly ground black pepper or crushed red pepper flakes, to taste
Pasta & spinach
8

ounces

medium pasta shape of choice

(I like penne, fusilli, casarecce, and rigatoni for this recipe)

A few big handfuls of baby spinach or washed and chopped kale leaves

cashew parmesan cheese

(optional, for serving)
Instructions
Bring a large pot of water to a boil. Fit the pot with a steamer attachment. Steam the cauliflower till fork tender (about 10 minutes). If you're preparing the cauliflower Alfredo spinach pasta, reserve the boiling water.

To prepare the cauliflower Alfredo sauce, add the cooked cauliflower, milk, nutritional yeast, miso, lemon juice, nut/seed butter, hemp hearts, or cashews, garlic, and sea salt to a powerful blender. Blend till smooth. Taste and add freshly ground black pepper or crushed red pepper to your liking.

To prepare the pasta: remove the steamer attachment from the boiling water once the cauliflower is ready. Salt the water. Add the pasta and cook according to package instructions. In the last 3 minutes of cooking time, add the spinach or kale to the pasta and simmering water. 

Drain the pasta and greens and return them to the pot. Add the blended cauliflower Alfredo sauce. Mix everything and adjust salt as needed; add freshly ground black pepper to taste. Serve, topped with cashew parmesan if desired.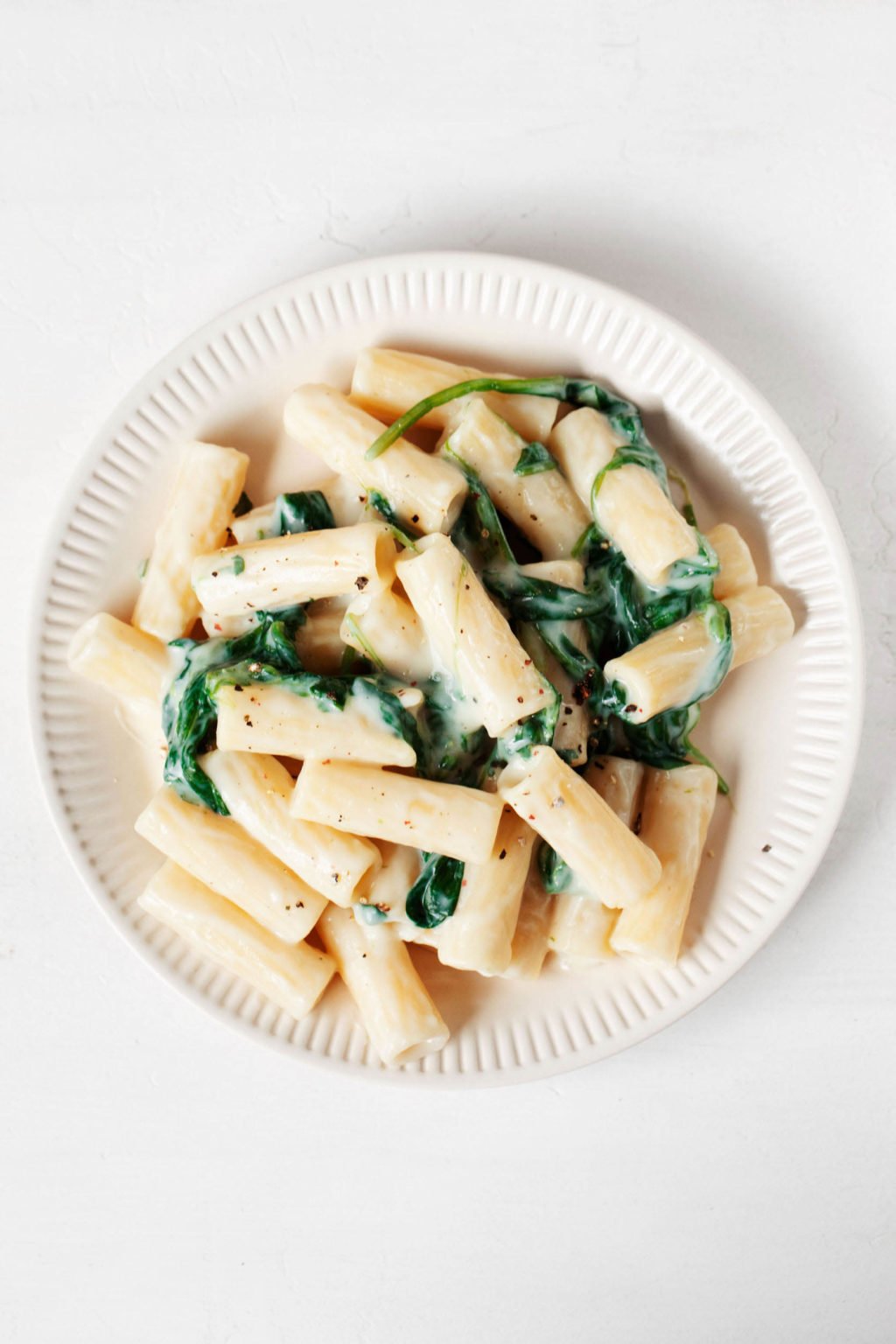 I hope that this simple pasta meal will bring you the same comfort and good nutrition it has brought me in the past few, hectic weeks.
The cauliflower Alfredo sauce itself is a versatile keeper. Use it with any pasta shape, drizzle it over baked potatoes or steamed greens, and so on. It'll deliver on nourishment and creamy goodness no matter what.
xo
This post is sponsored by Seed Daily Synbiotic. All opinions are my own. Thanks for your support!
The post Cauliflower Alfredo Sauce and Easy Pasta appeared first on The Full Helping.
přeložit | Thu, 02 Sep 2021 17:58:49 +0000
Protein Peanut Butter Stuffed Dates
These vegan protein peanut butter stuffed dates taste like a Snickers bar. But they're made with wholesome, plant-based ingredients, including medjool dates, peanut butter, melted dark chocolate, and pea protein.
Hot summer days rarely deter me from turning on my oven, but July had enough super warm days that I often hesitated to bake. This left me in the position of seeking out no-bake treats instead. These protein peanut butter-stuffed dates are the best one of those that I've tried. 
The dates are sweet, gooey, and feature the completely irresistible combination of chocolate and peanut butter. They're easy to make with wholesome, simple ingredients, plus they incorporate pea protein as an added bonus!
Snacking on these treats has given me a lot of joy throughout this summer of frantic (and often tricky) recipe testing. I'm glad to be sharing the recipe today.
For the love of plant protein
Plant-based protein is part of the reason that the peanut butter-stuffed dates make such a great, filling snack.
Honestly? I never thought I'd become a "vegan protein dietitian," as I now jokingly refer to myself with clients. But I've come to see how important protein contributes to satiety, energy, and immunity.
This is true in general, but it's especially important for those who are transitioning away from, or reducing, animal protein in their diet. Sourcing protein on a plant-based diet can be a learning curve. 
I lean on legumes, soy foods, and vegan meats for protein in my meals, but I also love adding a high-quality protein powder to my smoothies and snacks.
My favorite vegan pea protein
My number one plant-based protein powder is Clean Lean Protein by Nuzest.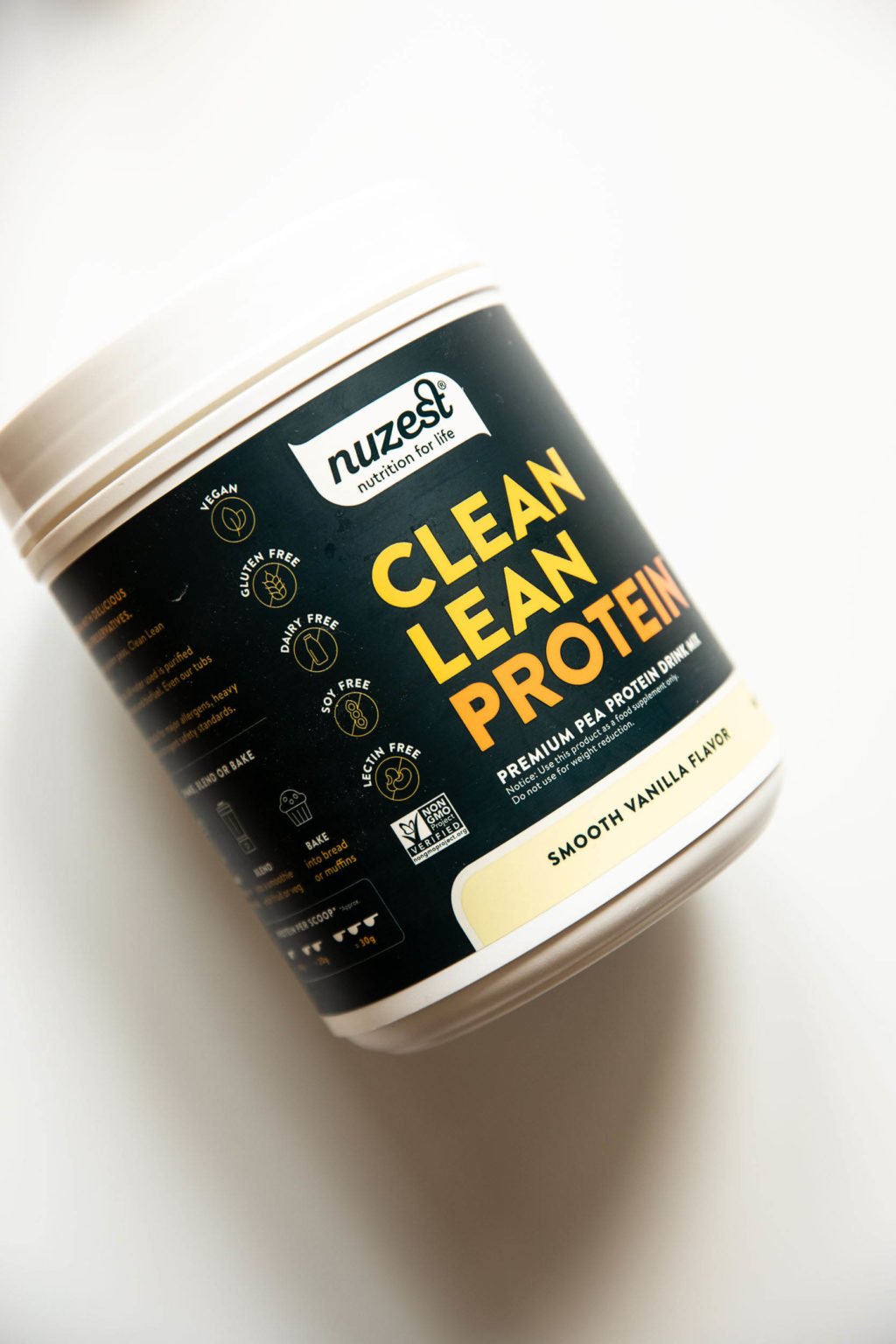 I first tried Clean Lean Protein in 2016. I was immediately impressed by its non-gritty texture and awesome flavor.
Clean Lean Protein is sourced from peas. It's free from common allergens like gluten, soy and dairy, along with being easy to digest (read: easy on the stomach and less bloating), plus it's rigorously tested for gluten, so it's allergy-friendly.
Most importantly, it tastes great, and there are a wide-variety of flavors to choose from. Nuzest is the smoothest protein powder I've tried, and I've been a devoted fan since I sampled it years ago. 
I've now sampled four of the Clean Lean Protein flavors: Smooth Vanilla, Rich Chocolate, Real Coffee, and Chai Turmeric + MACA. They're all fantastic; from a flavor perspective, they're probably the best-tasting vegan protein powders that I've tried. They add sweetness to recipes without being aggressively sweet or artificial-tasting, which is key.
I spent much of the summer making a cold brew and frozen banana smoothie with Real Coffee Clean Lean Protein by Nuzest. For these stuffed dates, I used Smooth Vanilla, but the Rich Chocolate would also work very well in the recipe.
Vegan protein can be a useful addition to baked goods, snacks, smoothies, banana soft serve, energy bites, and more. If you'd like to give Clean Lean Protein a whirl, you can get 20% off your first purchase on the Nuzest website by entering the code GENA at checkout.
How to make stuffed dates
The first step in making the stuffed dates is to cut each medjool date open and remove the pit. To do this, simply make a lengthwise cut in the date with a paring knife. It should be easy to find and retrieve the pit. 
Next, you'll combine the ingredients for stuffing the date: protein powder, peanut butter, and maple syrup. It's a soft, but slightly sticky mixture that you'll stuff into each date by the heaping tablespoon.
Next, you'll melt vegan dark chocolate (morsels, chips, or chopped chocolate bar) in the microwave (or over a double boiler). Use a tablespoon to drizzle each date generously with melted chocolate.
Finally, you'll sprinkle flaky sea salt on top of the dates. Just for a touch of that wonderful, sweet and savory, dark chocolate-meets-sea-salt alchemy.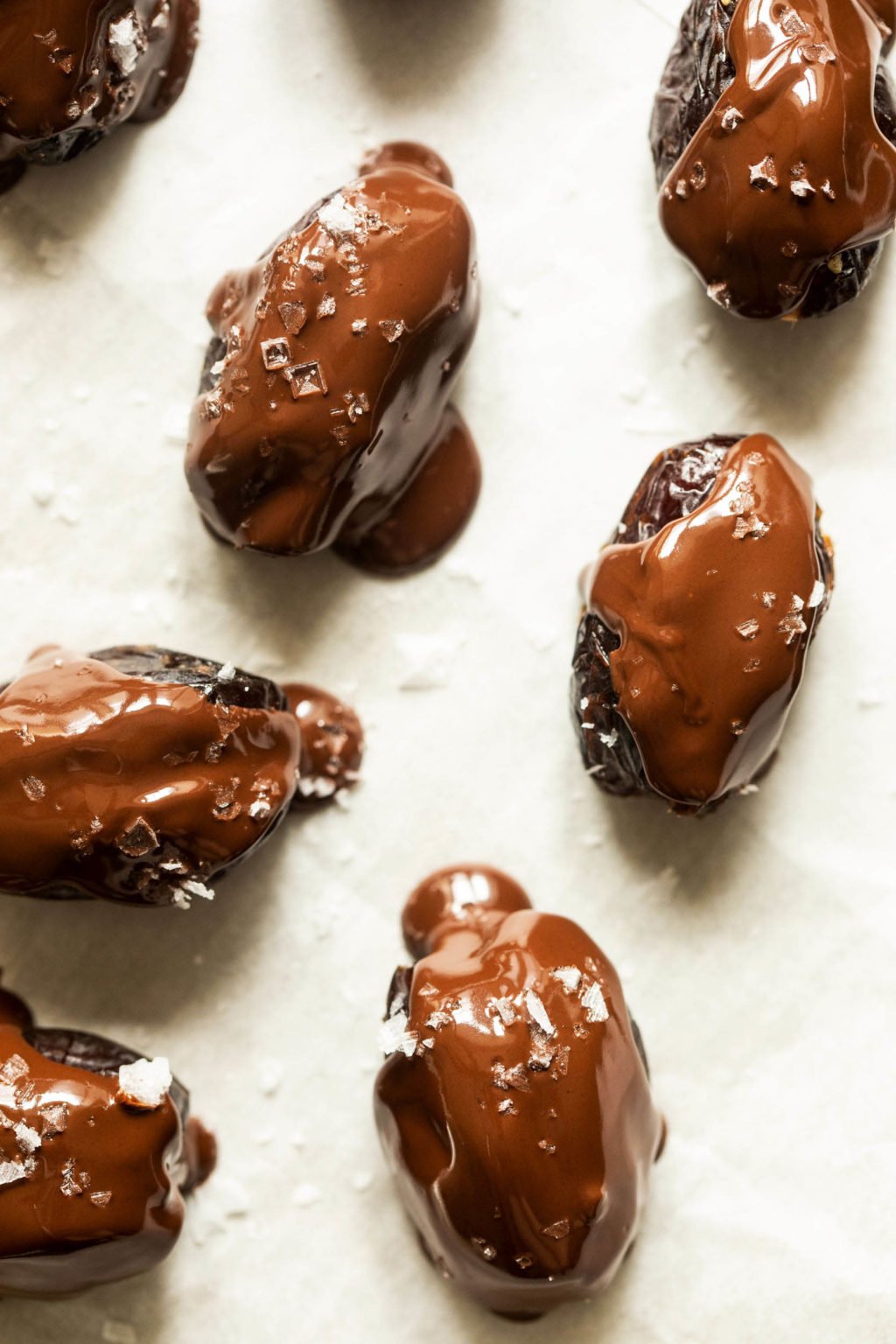 Finally, you'll chill or freeze the dates until the chocolate and sea salt is set. At that point, you can bite right into them and delight in how good they are.
The best dates for stuffed dates
I definitely recommend using medjool dates in the recipe! Deglet Nour dates can be great for using as a sweetener or using in raw energy bites, but they're missing the caramel-like, super-soft texture of medjool dates.
That texture is what helps to make the stuffed dates as satisfying as they are.
Melting chocolate
The melted dark chocolate is what takes the stuffed dates to the next level. Without it, the dates are sweet, salty, nutritious, and very tasty.
With the chocolate, however, they become amazing. 
I melt chocolate in a Pyrex bowl in my microwave in 30-second intervals. If you microwave longer than that, the chocolate may overheat and lose its glossiness. Stir between each interval.
You can also make a double boiler to heat the chocolate in the recipe.
Once melted, the chocolate needs an addition of a little coconut oil (just two teaspoons). This helps to make it a good texture for drizzling. It also helps to harden the chocolate once the dates are chilled.
Can I substitute peanut butter in the recipe?
Yes, you can absolutely prepare the stuffed dates without peanut butter. Almond butter is a fine substitute if that's your preference.
If you're allergic to all tree nuts, you can substitute sunflower seed butter for peanut butter in the recipe.
Storing protein peanut butter stuffed dates
Once prepared, the peanut butter stuffed dates can be stored in the fridge in an airtight container for up to ten days.
Though there's a very, very good chance that you'll polish them off before that!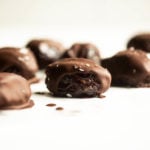 Print
Protein Peanut Butter Stuffed Dates
These vegan protein peanut butter stuffed dates taste like a Snickers bar. But they're made with wholesome, plant-based ingredients, including medjool dates, peanut butter, melted dark chocolate, and pea protein.
Course
Dessert, Snack
Cuisine
American
Diet
Gluten Free, Low Fat, Low Lactose, Vegan, Vegetarian
Keyword
chocolate, dates, peanut butter
Servings
18
dates
Ingredients
Instructions
Use a paring knife to cut the dates open lengthwise. Remove the pits.

In a small mixing bowl, mix the peanut butter, protein powder, and maple syrup. Use a tablespoon to stuff the dates with the peanut butter protein mixture by the heaping tablespoon. Transfer the dates to a parchment lined baking sheet.

Melt the chocolate in 30 second intervals in a microwave or use a double boiler to melt it. Stir in the coconut oil. Drizzle the dates with the coconut oil so that they're almost entirely covered. Then, sprinkle them with flaky sea salt.

Transfer the dates to the fridge and chill for at least one hour, or freeze for at least fifteen minutes before enjoying.
Snack time is rarely this enjoyable or worth anticipating!
I hope you'll give the stuffed dates—and the awesome vegan protein that inspired them—a try. The world of plant-based food is rich in protein options, but it never hurts to have some wholesome assistance in getting more. Nuzest is a great way to make that happen!
xo
This post is sponsored by Nuzest USA. All opinions are my own. Thanks for your support!
The post Protein Peanut Butter Stuffed Dates appeared first on The Full Helping.
přeložit | Fri, 27 Aug 2021 16:18:44 +0000
Lentil Tahini Wraps
These lentil tahini wraps are a simple, tasty, and nourishing plant-based lunch! They incorporate nutritious vegetables and legumes, and they're easy to customize.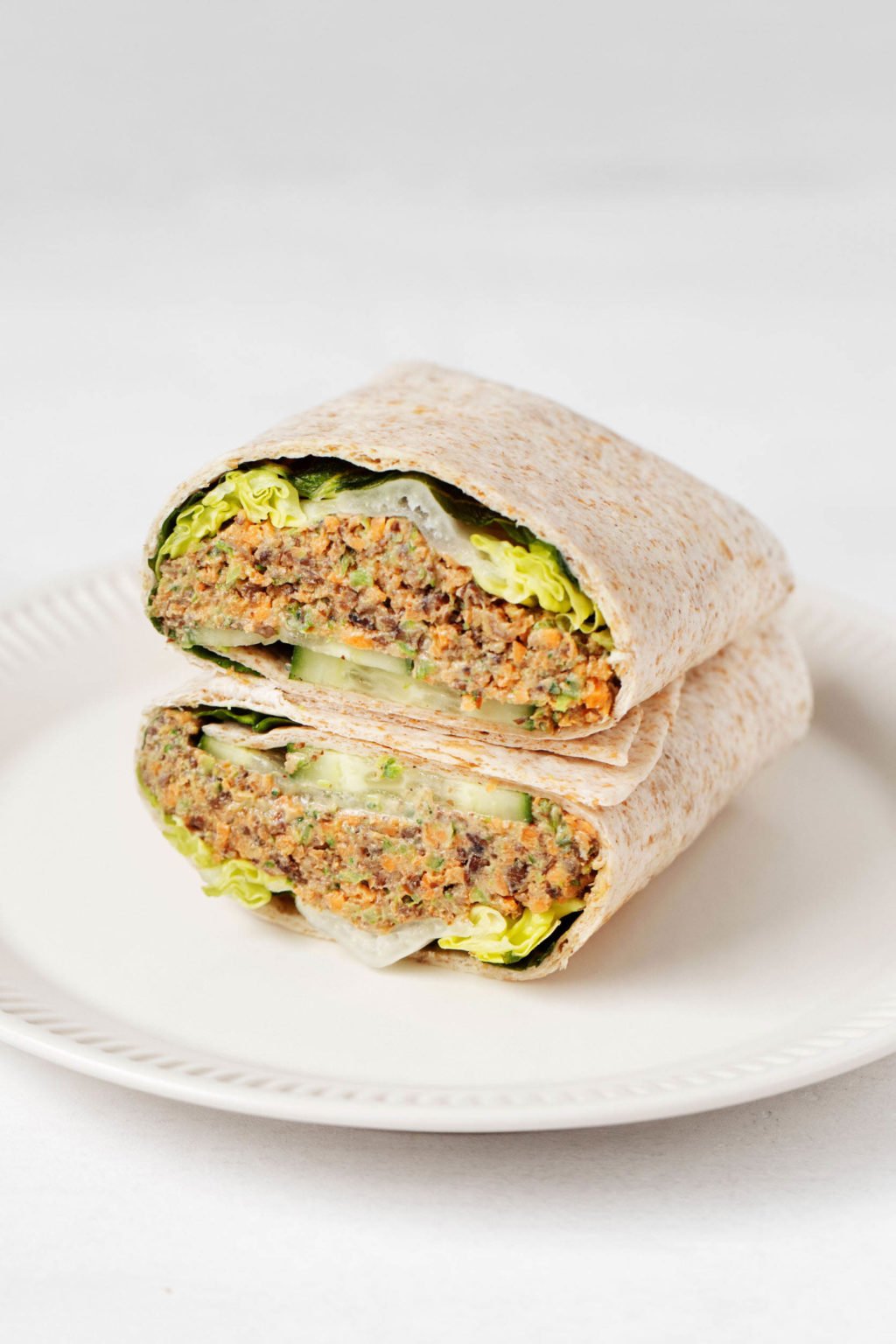 Feels like a while since I've checked in—because it has been!
I'm just back from a really special week with my oldest friend and her family. I got away at a moment when I needed to get away. And the little escape was exactly what I needed to recharge, regroup, and feel like myself again.
This is one of many special weekend trips that I've taken to be with friends this summer. I'm making an effort to live and connect in a way that is truly new for me. I'm less attached to routine, less solitary, and less fixated on work. It feels good.
Amid these weekends of connection and the feelings and desires that drive them, I've been taking it really easy with food.
These lentil tahini wraps are a perfect example of the kind of simple, nourishing meals that have sustained me this summer.
If quarantine was the year of Gardein meatballs and spaghetti, then the summer of 2021 has been my summer of sandwiches and wraps.
Wraps are quick, easy, and satisfying to me. They're a canvas for endless possibility, but they never stress me out, which is an important consideration during the cookbook development process. And it's easy to pack them with healthful ingredients, like the lentils, tahini, and vegetables in this recipe.
A quick, nutritious lunch
What are lentil wraps? Quite simply, they're whole grain wraps that are filled with lentils. In this lentil tahini wrap recipe, the lentils are joined by finely chopped vegetables and tahini for creaminess.
I was first inspired to make the lentil tahini wraps when I purchased something similar at a local health food store. A spinach wrap was filled with a mixture of shredded vegetables, tahini, and cooked lentils.
I grabbed the wrap before hopping on a train to go upstate, too short on time to prepare something myself. And I was so glad to try it, not only because it tasted great, but also because it was convenient and healthful.
I was inspired right away to try a version of my own. I've made countless hummus wraps, and I also love my chickpea caesar wraps. But in spite of how much I love the mighty lentil, it took me until now to try lentils in a wrap.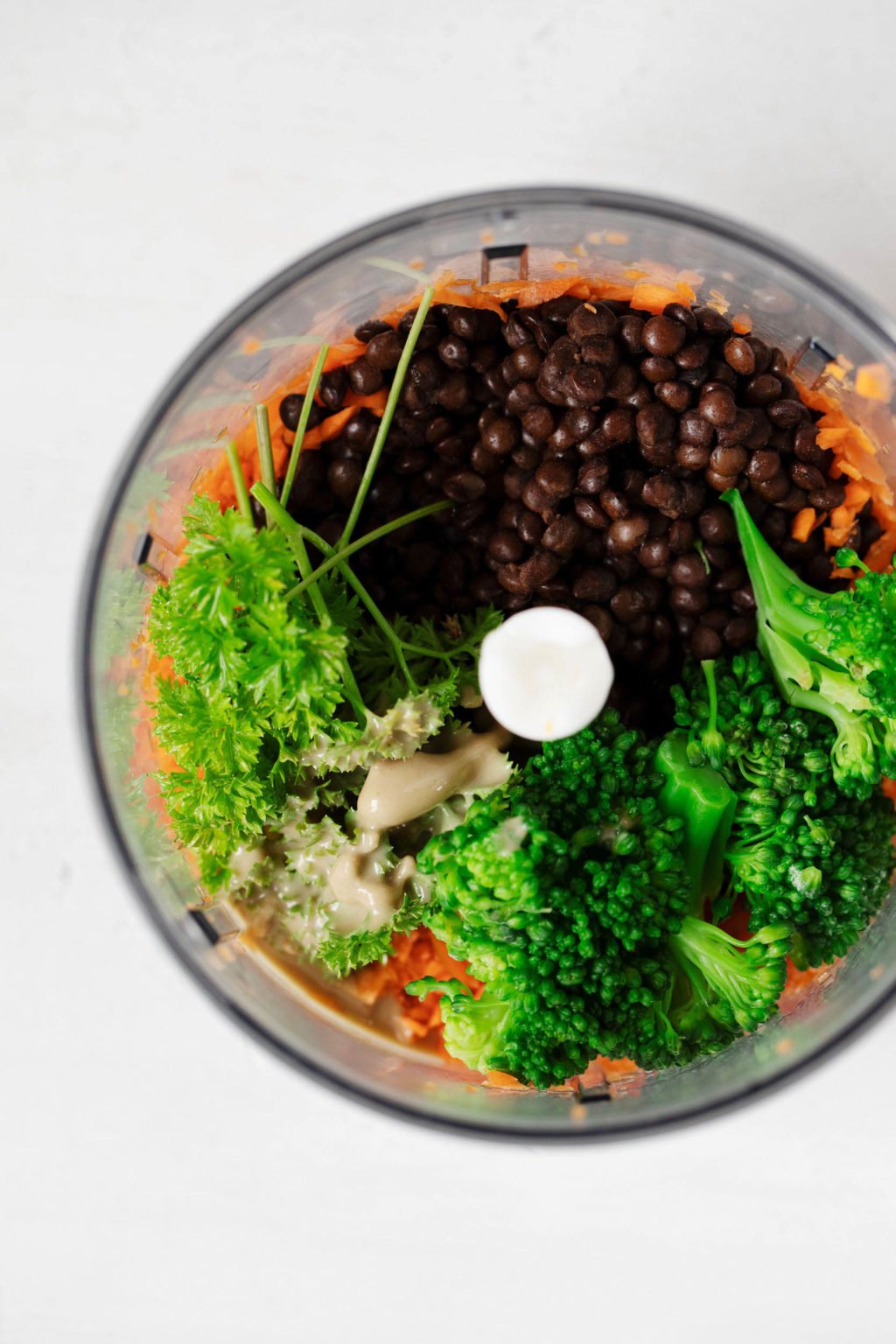 How to make lentil wraps
To prepare the lentil tahini wraps, you'll first shred some carrots into the bowl of a food processor. You could also grate the carrots by hand, but so long as you're using the processor, you may as well use it to grate the carrots.
Next, you'll put the S blade into the processor. Add cooked lentils and broccoli, tahini, lemon juice, herbs, and seasoning. Then, pulse until all of the ingredients are finely mixed.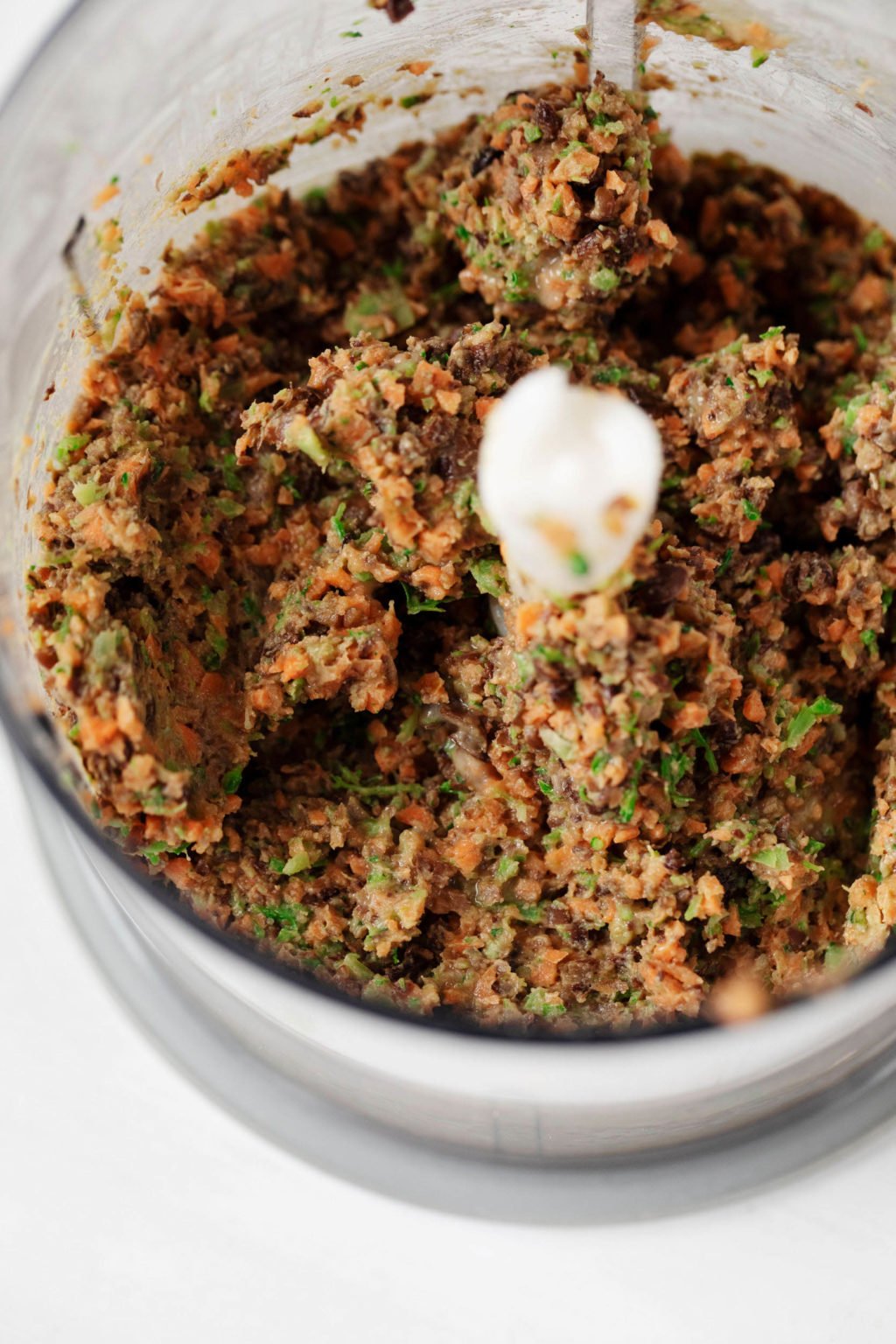 Just look at that nutritious mixture!
Honestly, I think the filling of the wraps is delicious in its own right. It would work well as a tasty, nutrient-dense dip or snack. But it's also great in these wraps, and it's also really good on a sandwich—especially with my multigrain or maple oat bread.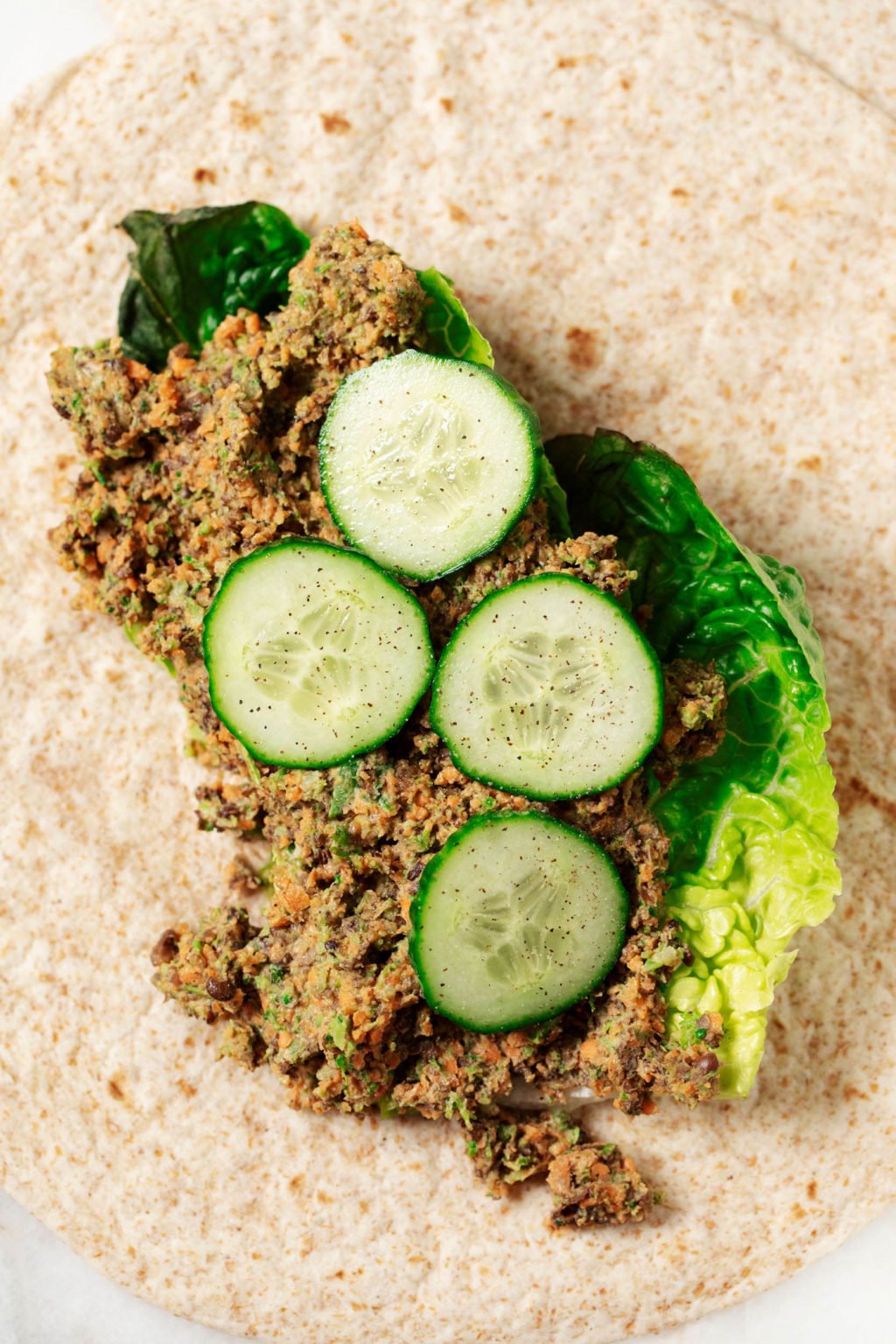 Filling lentil tahini wraps
Once the lentil tahini filling is ready, it's time to assemble your wraps.
You can add any vegetables you like to the wraps—in addition to the vegetables that are already in the filling, of course. I love to add cucumber slices and lettuce leaves. Tomato slices, thinly sliced radish, red onion, and additional fresh herbs would all make nice additions.
If you'd like to add more plant protein to the wraps, you could add smoky tempeh slices, strips of smoked tofu, soy curls, or a vegan bacon of choice.
It's also worth saying that the broccoli in the wrap filling can be substituted as well. I can never get enough broccoli, but steamed kale, cauliflower rice, or shredded collard greens would be nice, too.
As for the wraps themselves, I love using a whole grain wrap here. But it's hard to beat the fun color of spinach wraps, if you have them on hand 🙂
Best lentils for lentil tahini wraps
I most often use black or green lentils in the lentil tahini wraps. But most types of lentils, including brown and pardina lentils, will work in the recipe.
The only type of lentil that I don't recommend for the wraps is red lentils, which become a little too mushy to work in the filling.
Make ahead & storage options
The lentil tahini wraps can be incorporated into a meal prep routine in a number of ways.
First, you can prepare the lentil vegetable filling up to three days before storing your wraps. Once made, it can be frozen for up to four weeks.
You can also prepare the wraps themselves up to two days before eating. If you do this, I recommend adding vegetables that aren't too juicy—like shaved carrots and lettuce—to the filling, rather than tomatoes.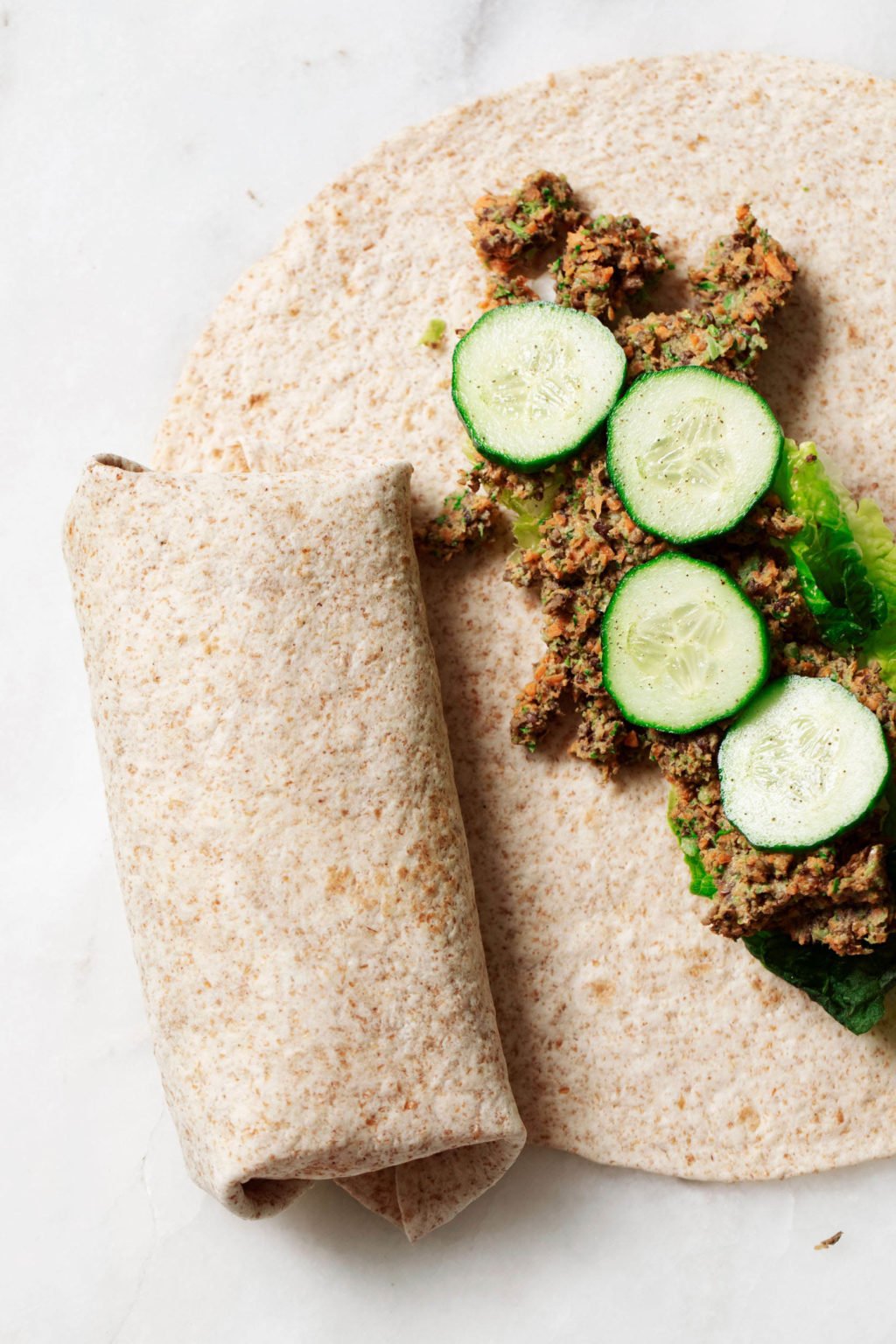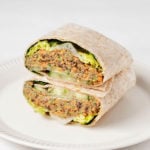 Print
Lentil Tahini Wraps
These lentil tahini wraps are a simple, tasty, and nourishing plant-based lunch! They incorporate nutritious vegetables and legumes, and they're easy to customize.
Course
Main Course, main dish
Cuisine
American
Diet
Diabetic, Gluten Free, Low Calorie, Low Fat, Vegan, Vegetarian
Keyword
broccoli, carrots, lentils
Servings
4
servings
Ingredients
1

cup

green, black, or brown lentils

(200 g)

3

carrots

1

cup

steamed broccoli

(or another green, such as raw or steamed kale, spinach, or arugula)

5

tablespoons

tahini

2 1/2

tablespoons

freshly squeezed lemon juice

1

clove garlic

(or 1/4 teaspoon garlic powder)

1/4

cup

parsley leaves

1/2

teaspoon

fine salt

freshly ground black pepper to taste

4

wraps of choice

lettuce leaves, tomatoes, cucumber slices, or any other wrap fillings you like
Instructions
Bring a medium sized pot of water to a rolling boil. Add the lentils. Boil the lentils for 25 minutes, or until tender. Drain the lentils and set them aside—you should have about 3 cups.

Peel and trim the carrots. Use a food processor to grate them. Switch the grating attachment to the S blade. Place the cooked lentils, broccoli, tahini, lemon juice, garlic, parsley, and salt into the food processor. Pulse about 20-30 times, or until the mixture is broken down significantly, but not pureed. 

Taste the lentil mixture. Add freshly ground black pepper to taste. Adjust the salt and lemon juice to your liking. 

Pile about 3/4 cup of the lentil mixture into a wrap. Add lettuce leaves and any other fillings you like. Fold in the sides and bottom of the wrap and wrap it up snugly. Slice and serve. Enjoy!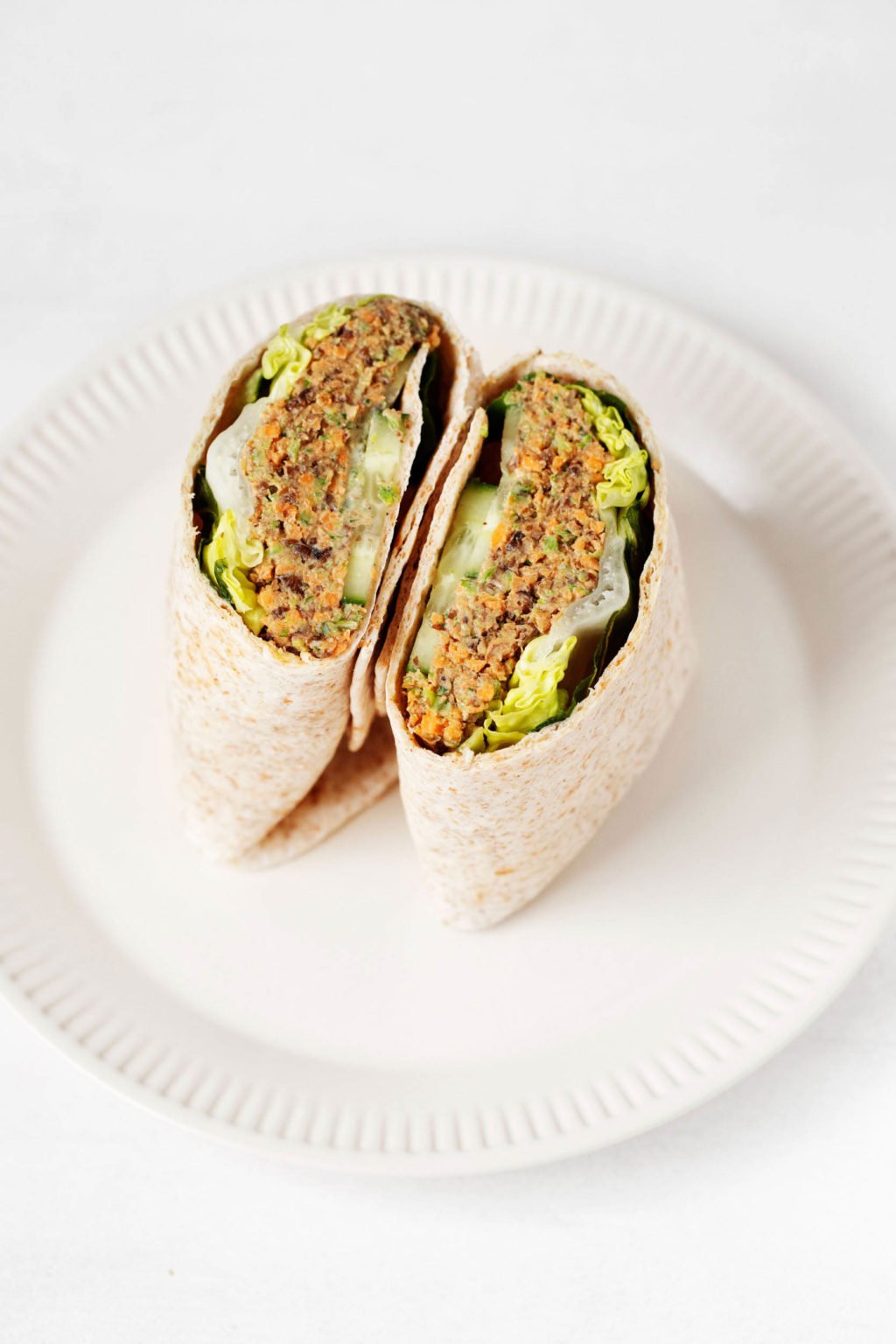 The lentil tahini wraps are really simple, but they're a refreshing departure from the vegan BLTs, Tofurky mixtures, and hummus sandwiches that I lived on during lockdown. I love that they're an easy vehicle for greens, and I know that I'll be making them often through the seasons.
I hope that the wraps find their way into your lunch routine sometime soon!
xo
The post Lentil Tahini Wraps appeared first on The Full Helping.
přeložit | Wed, 18 Aug 2021 14:00:00 +0000