food news
Fragrant Vanilla Cake
Vegan Pumpkin Bars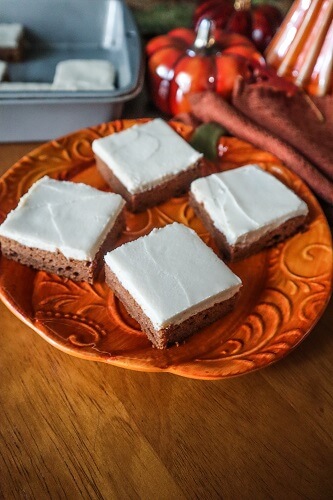 I bought my first can of pumpkin last week. I have been wanting to make something with pumpkin since the beginning of September which is considered pumpkin season start to me!  I have made a few pumpkin spice lattes, but a dessert sounded nice. I will make a pumpkin pie later in the season, since that is more Thanksgiving like, but I decided to make some vegan pumpkin bars. I made some raw ones many years ago, but I have never actually made baked ones so I figured I would give that a go.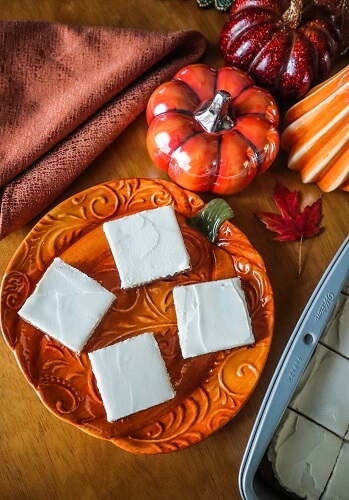 I always liked pumpkin bars back in the day, those cakey ones with the sweet cream cheese frosting on top!  For these, I used something similar to my pumpkin cake base, and baked them in a bigger pan. This batter uses dates as a sweetener, to keep them nice and moist and give them an almost caramel like flavor that I love.  The batter is actually oil free too, I use almond butter instead to give it richness.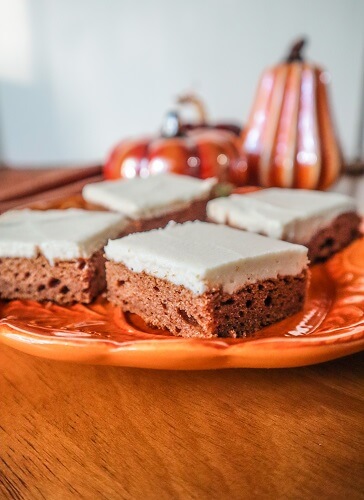 I used whole wheat pastry flour for these, but if you wanted to make them gluten free, I can recommend Bob's Red Mill All Purpose Baking Flour instead and subbing it 1:1.  I have used this brand before and it comes out just as delicious with the same texture.  This batter is super delicious.  Yes, of course I sampled it!  That is one of my favorite parts of the baking process after all! They baked up nicely, and made my kitchen smell amazing! I have to say, pumpkin spice is one of my favorite aromas in the world!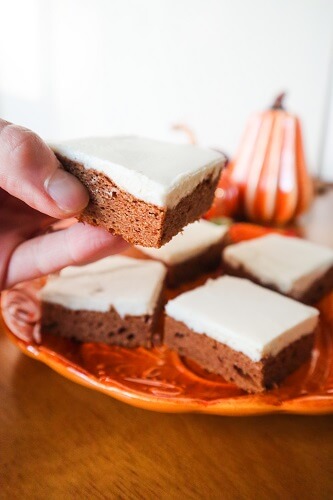 Lastly, I made a rich cream cheese frosting to spread over them, because that is an essential part of these bars as far as I am concerned.  They turned out so heavenly!  The soft lightly spiced sweet pumpkin cake was perfect with the luscious smooth vanilla cream cheese frosting!  If you are in a pumpkin dessert eating mood like I am, definitely give these a try!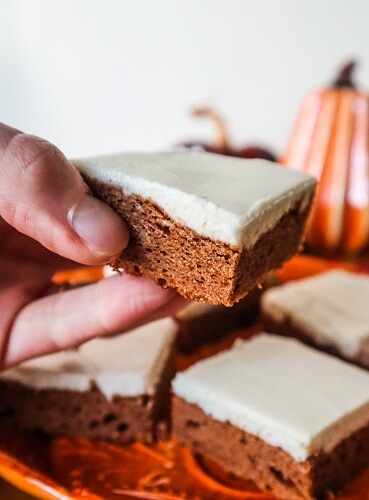 Vegan Pumpkin Bars
Makes 16 bars
Ingredients:
8x8 inch square pan
Cake:
3/4 cup organic whole wheat pastry flour*
3/4 tsp baking soda
1/2 tsp baking powder
1/4 tsp sea salt
1 1/2 tsp cinnamon
1/2 tsp ginger
1/4 tsp nutmeg
1/4 tsp cloves
2/3 cups packed soft medjool dates, pitted, soaked in water for 30 minutes and 1/2 cup of the soaking water reserved
2 Tbsp almond butter
1 tsp pure vanilla extract
1/2 cup pumpkin puree
1 Tbsp apple cider vinegar
Frosting:
3/4 cup canned full fat organic coconut cream  (you want a brand that is mostly the thick cream like Thai Kitchen full fat coconut milk or coconut cream or it will not work), chilled
1/4 cup raw cashew butter
2 Tbsp maple syrup
1/2 tsp pure vanilla extract
1/8 tsp sea salt
1/8 tsp lemon juice or apple cider vinegar
1/4 cup plus 2 Tbsp cup melted coconut butter (warmed to liquid)
Directions:
Preheat the oven to 350F degrees and position rack in center of oven.
Line an 8x8 inch square pan with parchment paper.
Coat parchment paper and pan sides lightly with oil so that the cake doesn't stick.
Whisk flour, baking powder, baking soda, spices and sea salt in a large bowl to blend well.  Set aside.
Place dates, reserved water, almond butter, pumpkin puree, and vanilla extract into a blender, and blend until smooth, then whisk this blended mixture into the flour mixture until well blended. Whisk in the cider vinegar until bubbles form.
Transfer batter to prepared pan and bake until tester inserted into center comes out clean, about 20 minutes.
Cool bars completely.
To make the frosting, combine all ingredients in a high speed blender and blend until completely smooth.  Pour into a bowl and place in the freezer until the consistency of stiffly whipped cream (about 30-45 minutes depending on how warm it has gotten.  Once it is ready place in the refrigerator until ready to frost.
When ready to assemble, spread frosting over the top of the bars, cut into bars and enjoy!
Keeps for up to 1 week covered in the refrigerator.
*If you would like to make this gluten free, swap the whole wheat flour for Bob's Red Mill Gluten Free All Purpose Baking Flour (I have tested this brand and know it works, but have not tried other brands so I am not sure if they would turn out the same).
translate | Mon, 21 Sep 2020 23:53:57 +0000
Butternut Squash, Chickpea and Kale Soup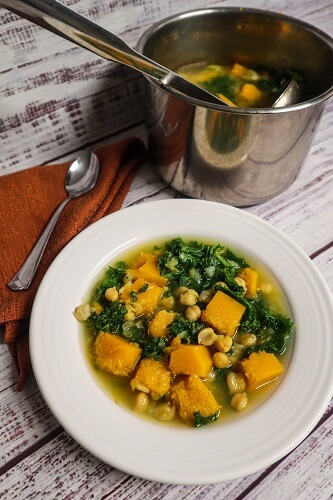 The weather is starting to cool off here, I am seeing a touch of color starting on some of the maple trees, and I am getting the comfort food cravings.  So I thought I would make some warming soup last week.  We had a few rainy days here, and it was just the thing to warm me up.  Especially the day Eric and I decided to go for a bike ride then got rained on half way through and had to ride an hour in the cold rain. I made some butternut squash, chickpea and kale soup!  One thing I am super excited about right now is squash coming into season. It is one of my favorite veggies ever!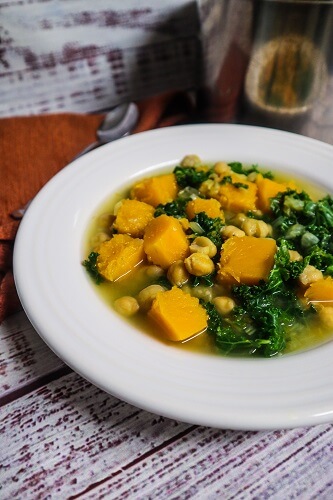 For this I used half my butternut squash for soup and I used the other half to roast and stuff for dinner another day.  I love making home made soup. I don't think I have actually bought any soup at the store, especially canned since my Mom taught me to make soup when I was in college.  The flavor is so much better, and there is just no comparison.  Plus most soup is pretty cost effective to make anyhow, especially if it lasts for a few meals!  This one did for us!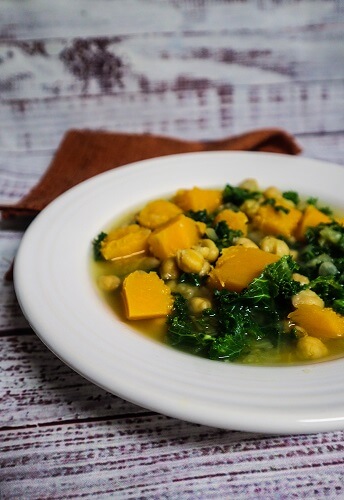 This is really simple to make!  I used my favorite soup base, which is just celery, onions and garlic with a little thyme.  If you use a flavorful broth for this, it makes it even more delicious. I used some home made broth, but you can use store bought if there is one you like!  After the less tender veggies simmered, I added the squash and let it cook for the last 10 minutes or so just so it didn't get too mushy. Lastly the beans and kale. I like to add the kale at the last minute so that it retains more nutrients.  This is something I do often, add greens to my soup at the last minute to add extra goodness!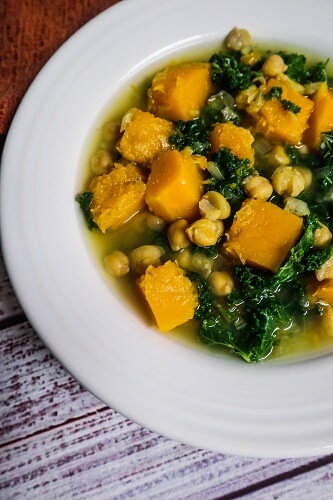 This soup turned out super delicious! I served it with some home made bread to dunk in it, and the broth was nice and flavorful. I love the sweet squash with the other savory veggies!  Which fall vegetable or fruit are you most excited about?  I love the squash but I am also excited for apple season!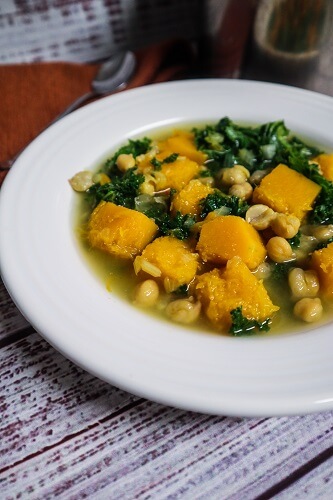 Butternut Squash, Chickpea and Kale Soup
Serves 3-4
Ingredients:
1 tsp olive oil
1/4 cup diced red onion
4 stalks celery, sliced
2 garlic cloves, minced
1 tsp thyme
1/4 tsp red pepper flakes
1/2 tsp sea salt
4 cups flavorful vegetable stock
sea salt
4 cups cubed butternut squash
1 1/2 cups cooked chickpeas
2 cups fresh kale, torn into small pieces
Instructions:
Heat the olive oil in a medium pan.
Add onions and celery and sauté until tender.
Add the garlic, tomatoes, thyme, sea salt, pepper, and filtered water.
Bring to a simmer, and allow to cook until the veggies are very soft and the flavor has melded, about 20 minutes.
Add the squash to the pot, and let cook for about 10-15 minutes.
When the squash is tender, stir in the beans and kale until kale has just wilted.
Serve!
translate | Wed, 16 Sep 2020 01:19:11 +0000
Vegan Chocolate Hazelnut Latte Cookies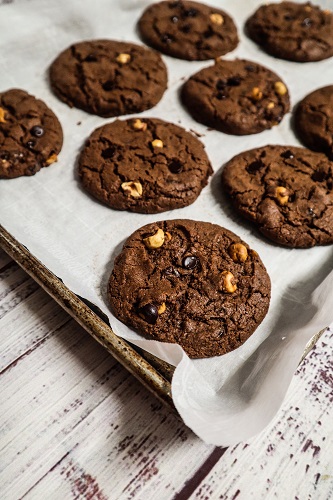 I have been really into coffee flavored things lately.  I do love my oat milk lattes, but coffee is so amazing in desserts as well!  Even when I was a kid, and I hated actual coffee I loved tiramisu and chocolates that were flavored with a little coffee. So I was excited when Raw Guru sent me some Rawmio Hazelnut Latte Spread.  It is like really good vegan nutella with a hint of coffee.  I love their nut butters!  So I decided it would be delicious in some cookies.  Well, I was hinted at by one of my family members who wanted me to make cookies actually and I loved that idea!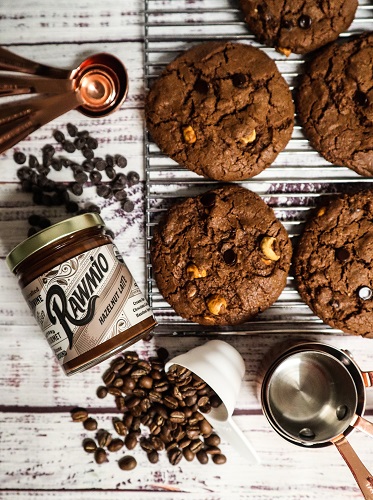 Nut butter cookies are one of my favorite things, peanut butter cookies, almond butter cookies and hazelnut butter cookies.  These ones are just taken up a notch with the chocolate and a bit of coffee!  I love that they are one of the easiest cookies to make, no fancy mixing or chilling required!  I used the hazelnut latte spread in them, along with some cacao powder and espresso powder to give them even more of a coffee flavor.  If you can't get the spread no worries, I have included directions on how to make it with plain hazelnut butter or another nut butter.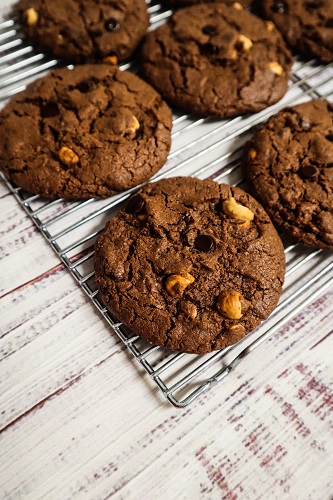 I also mixed toasted hazelnuts and dark chocolate chips into the dough to make it extra good.  And it was so delicious that I had a hard time not eating too much of it before it was made into cookies. That is my favorite part of making cookies though, eating the dough.  It has to be sampled right?!  They smelled amazing while baking!  I could not wait to try them!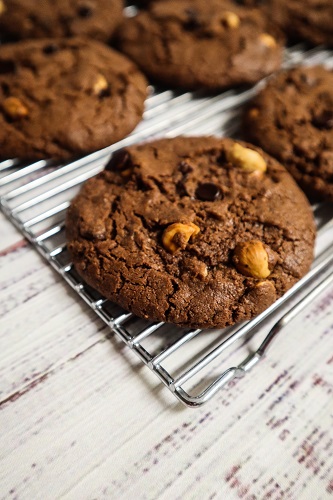 I did not have to wait long for them to cool. These are the perfect type of cookie to eat while the chocolate chips are still warm and gooey!  They are rich and decadent tasting packed with chocolate flavor, a hint of coffee and crunchy hazelnuts!  They would be amazing with a hot cup of coffee for dunking!  I am totally going to try that tomorrow!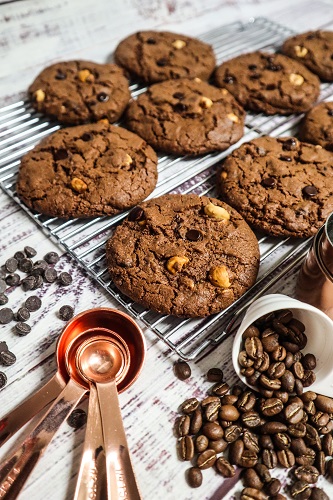 Vegan Chocolate Hazelnut Latte Cookies
Makes 12 cookies
Ingredients:
1 Tbsp ground flax seed
3 Tbsp filtered water
1 cup Raw Guru coconut sugar
3/4 cup Rawmio hazelnut latte spread (or hazelnut butter)*
1/2 cup coconut oil, warmed to liquid
1 cup whole wheat pastry flour
3 Tbsp cacao powder
1 Tbsp espresso powder
¾ tsp baking soda
½ tsp baking powder
½ tsp sea salt
¾ cup vegan dark chocolate chunks or chips
3/4 cup chopped toasted hazelnuts 
Instructions:
In a small bowl, whisk together the flax seeds and water. Set aside for 15 minutes.
Preheat the oven to 350F degrees, and line a sheet pan with parchment.
In a large bowl, with a wooden spoon, mix together the coconut sugar, hazelnut latte spread (or hazelnut butter), coconut oil, vanilla and the flax seed mixture until smooth.
Mix in the flour, cacao powder, baking soda, baking powder, and sea salt and stir until completely combined.
Mix in chocolate chips and hazelnuts
Shape the cookie dough into 12 balls, and spread out evenly on the pan. Flatten them slightly with your hand.
Place in the oven and bake for about 15 minutes until they are starting to brown slightly and are just set.
When they are done baking, remove the pan from the oven and let cool on a rack.
Enjoy!
  *If you don't have the hazelnut spread and are using hazelnut butter, then add 1 tsp espresso powder, and an additional Tbsp cacao powder to the recipe. Also, if you would rather use almond butter or another type of nut butter if you can't find hazelnut you can use that as well.
translate | Fri, 11 Sep 2020 01:15:37 +0000
Maple Pumpkin Seed Butter Cups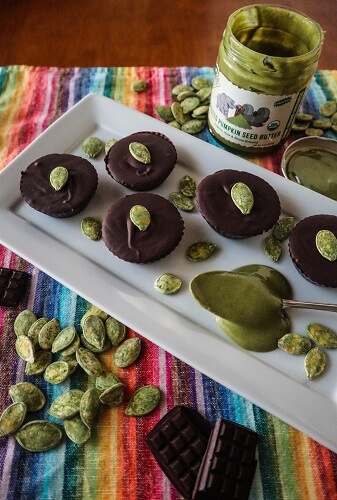 Pumpkin seed butter is something that is totally under appreciated. I actually really like it!  Its lovely green color, slightly nutty flavor and rich texture! Raw Guru recently sent me some Dastony sprouted pumpkin seed butter and I was excited.  I tend to get stuck in the rut of eating peanut butter and almond butter or using tahini but pumpkin seed butter is actually really delicious and really healthy!  Pumpkin seeds are high in antioxidants and magnesium, and have a good amount of fiber.  I am trying to get more of a variety in the things I eat and get out of those ruts so pumpkin seed butter is the perfect thing to switch it up with.  Plus I feel like we are getting into pumpkin seed season here.  I know it is not technically fall, but September is fall as far as I am concerned.  Next month we will be carving pumpkins and toasting the seeds!  Which is actually something I look forward to every year.  My Mom used to roast the seeds when I was little for us to enjoy as a snack, so I continue on with the tradition.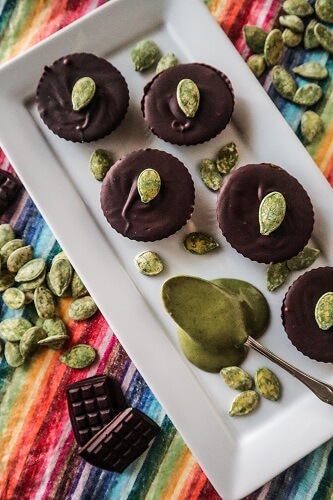 Back to that pumpkin seed butter though, I thought it would be good to include it in a recipe, especially since some of my readers may have a nut allergy and this would be suitable for them. The first thing I made is some pumpkin seed butter cups.  Because I was craving nut butter cups and I figured the beautiful green pumpkin seed butter would be perfect in some!  It has to be one of the prettiest nut butters there is.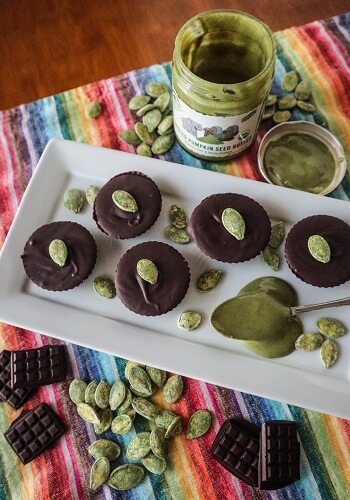 I could have just put it into the cups as it was just plain with a little sea salt and that would have been good, but I thought it would be even better with a touch of maple syrup added to it.  It was a delicious combination and I could have just eaten it that way with a spoon but I knew it would be even more crave worthy with the dark chocolate.  They were totally heavenly.  I love peanut butter cups, but these are just as good!  The pumpkin seed butter is rich and just sweet enough with a hint of maple flavor and the intense dark chocolate is the perfect pairing with it!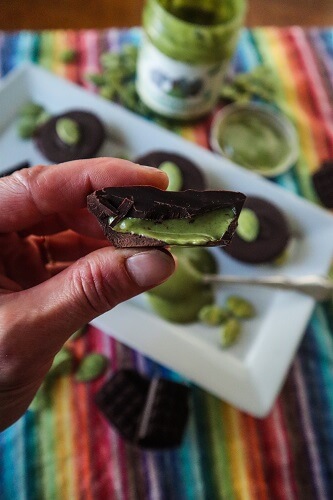 I am one of those people who likes really intense dark chocolate with a high cacao content, so I usually mix a regular dark chocolate with some unsweetened chocolate to achieve this balance.  But if you are more of a sweet (vegan) milk chocolate person go for it with that!  That is what making things like this is about, enjoying the process of making them, modifying them to your tastes and enjoying your work!  Although, these are pretty easy not too much hard work involved.  If you get your hands on some pumpkin seed butter, give these a try!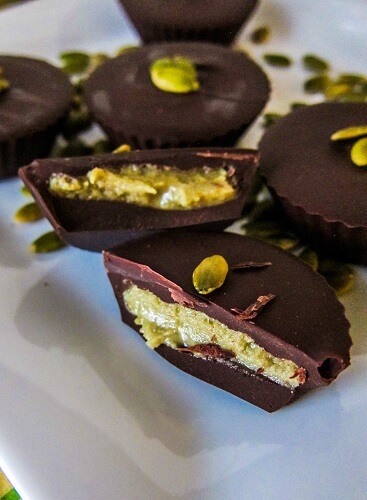 Maple Pumpkin Seed Butter Cups
Makes 6 large cups
Chocolate:
1 1/2 cups vegan dark chocolate chips, or vegan dark chocolate chopped
Filling:
Instructions:
Melt the dark chocolate in the top of a double boiler until smooth.
Spoon a little chocolate into the bottoms of 6 peanut butter cup molds set on a plate or tray, filling them about 1/4-1/3 full.  Place in the freezer until hard, about 10 minutes.
Mix together the pumpkin seed butter, maple syrup and sea salt until smooth.
Spoon a heaping 1 tsp of the pumpkin seed butter mixture over the hardened dark chocolate layer, then pour the remaining dark chocolate over it in the cups until the pumpkin seed butter is covered, and tap the tray on the counter to level it.
Place them in the freezer until set, about 20 minutes.
Enjoy! Store any extra in the refrigerator.
*If your pumpkin seed butter is particularly runny, you may want to mix a Tbsp of coconut butter with it to thicken it up a little bit.
*If you can't find pumpkin seed butter, you can make your own by blending up 4 cups of raw pumpkin seeds with about 1/2 tsp sea salt in a high speed blender and using the tamper to press them down into the blades until smooth.  It is a bit thicker and less spreadable than store bought, but if you want it more smooth, you can add a few Tbsp avocado oil to it while blending.
translate | Mon, 07 Sep 2020 15:21:55 +0000
Vegan Blueberry Sweet Rolls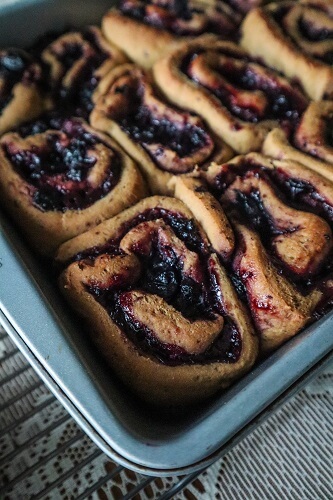 We are at the tail end of summer, so I am enjoying all of the berry deliciousness that I can!  Which includes desserts, and other creations besides just eating them plain.  Like these vegan blueberry rolls! When we visited Eric's Dad in July he sent us home with lots of his home made jam, and I had something specific in mind for the blueberries.  These rolls!  I love sweet rolls of any kind.  Of course everyone thinks to make the caramel rolls or cinnamon rolls but I like to switch it up and use other fillings sometimes.  I have been wanting to make blueberry for a while because they just sounded good.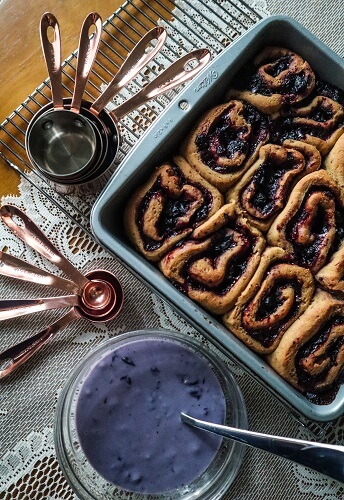 It is funny, back in the day the thought of making sweet rolls intimidated me. Or just yeast breads in general, because they are a little more work than a quick bread and whatnot. But I soon got used to them and actually enjoy making them now!  They are so worth the effort, especially sweet rolls like these babies. I made my dough with a little coconut milk to give it a bit of richness and sweetened it with maple sugar since it goes so well with blueberries. The dough came together and kneaded up nicely!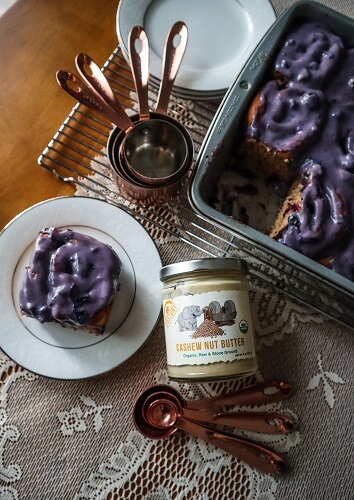 I used that blueberry jam from Eric's Dad along with some fresh blueberries and they were so pretty with the colorful filling even before baking! They smelled so good I could not wait to try one when they came out of the oven. But I had to put a glaze on them first, because what is a sweet roll without a little glaze?  At least I think it is important. So I made a sweet blueberry glaze with Dastony coconut butter and raw cashew butter from Raw Guru.  It is a cream cheese style glaze, and you would swear it has dairy because it tastes rich and creamy.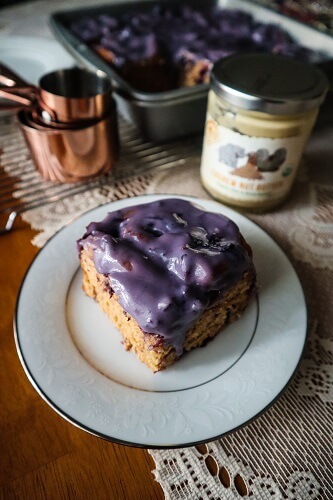 These rolls turned out sooo good!  I love gooey sweet blueberry jam inside of a soft, warm sweet roll!  These are a nice switch up from cinnamon or caramel rolls when it is blueberry season. I am going to have to try making them with other fruit as well. Maybe some apple ones, since apple season is now here! Anyways, if you are looking for a sweet weekend treat, why not whip up a batch of these blueberry rolls!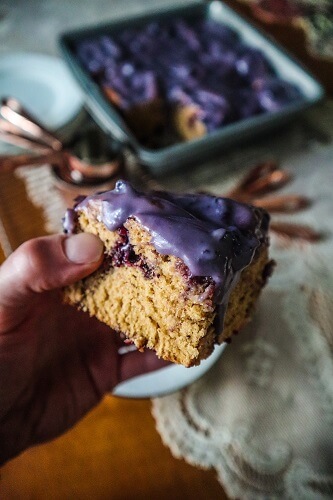 Vegan Blueberry Sweet Rolls
Makes 12
Dough:
1/2 cup warm water ( 105-110F degrees)
1 packet active dry yeast (1/4 oz)
3/4 cup warm coconut milk (I warmed it up on the stove)
1/4 cup maple sugar or coconut sugar
1 tsp pure vanilla extract
1 tsp sea salt
1 Tbsp ground flax seed, mixed with 3 Tbsp filtered water
3 1/2 cups whole wheat pastry flour or as needed
Filling:
3/4 cup blueberry jam
1 cup fresh (or frozen, thawed and drained) blueberries 
Glaze:
Instructions:
To make the dough, combine the yeast and the warm water (about 110F degrees, you don't want to kill the yeast) plus a pinch of maple sugar and stir to dissolve. Let sit 5-10 minutes until it starts to foam.
In a large bowl, combine the coconut milk, maple sugar, vanilla extract, salt and flax mixture and mix together to combine.
Add the yeast, and 2 cups of flour and mix to combine.
Add the remaining 1 1/2 cups of flour and mix until you have a smooth dough (you may need to use your hands at the end to mix it in).
Turn out onto a lightly floured surface, and knead for 5-10 minutes until smooth and supple. If it is too sticky add a little flour but you want to add as little as possible because if you add too much the dough gets tough.
Place in an oiled bowl, and cover. Let rise for about 1 1/2 hours until doubled in size.
When it is ready, turn out onto the counter or a board and roll out into a 9x15 inch rectangle.
Mix together the filling ingredients and spread it evenly over the dough.
Roll it up, then cut the roll into 12 pieces.
Oil an 8x8 inch square baking pan, and place them in the pan.
Cover and let rise for 45 minutes.
Meanwhile heat the oven to 350F degrees.
When the rolls have risen for 45 minutes, place them in the preheated oven and bake for about 30 minutes until starting to brown and cooked through.
Remove from the oven and let cool 15 minutes.
Whisk the glaze ingredients together, adding a little bit more coconut milk if it seems too thick.
Pour the glaze over the rolls, and enjoy!
These keep covered at room temperature for up to 3 days, or refrigerated for up to 1 week. 
translate | Fri, 04 Sep 2020 00:56:29 +0000
Vegan Cream Cheese Apple Pie Bars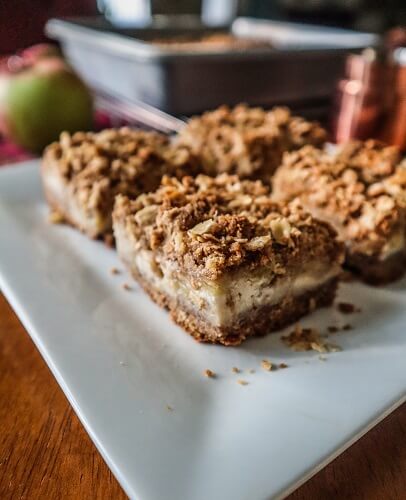 I know it isn't technically fall yet, but the weather has been feeling more like fall, and I am super excited about enjoying all of the delicious fall foods.  Especially the sweet ones involving pumpkin apples and spices.  I am looking forward to visiting the apple orchards soon!  I was gifted some apples and was in the mood for apple pie, but decided to make some apple pie bars instead because they can be shared more easily.  Also, I have been wanting to try making some apple cream cheese bars since last year.  I have made an apple cream cheese pie before, but I have been meaning to try making it in bar form.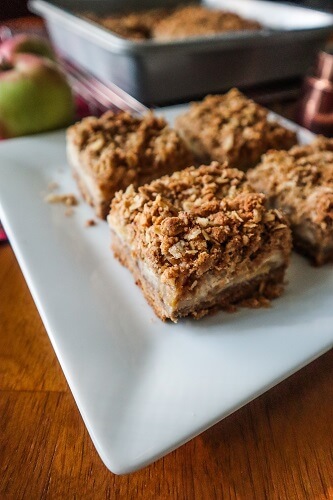 I decided to make these oil free, and use pecan butter instead of coconut oil in the crust and topping. It is one of the richest nut butters, so it works just as well plus gives these bars a nutty flavor. I make my own in a high speed blender.  If you don't have access to it don't worry you can use almond butter instead (or see the bottom for a coconut oil variation if oil free isn't your thing).  The apples in the filling werea local variety, the Haralson, so they were nice and tart and perfect for apple pie! I prefer the tart ones in baked desserts, because then once you add the sugar the flavor is nicely balanced.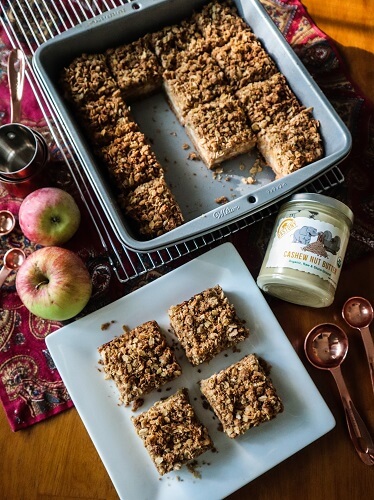 Raw Guru recently sent me some of their Dastony raw cashew butter and I knew it would be perfect in the cream cheese layer of the bars.  I combined it with coconut cream and maple syrup for a rich and delicious tasting vegan cream cheese that set up nicely once baked thanks to the cornstarch I added.  Lastly I topped the bars off with a crunchy oat streusel topping.  They smelled sooo delicious while baking!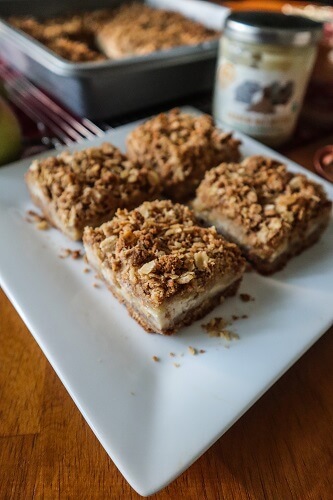 I could not wait to try them!  They were sooo good!  They had a crunchy buttery tasting crust, the cream cheese layer was smooth and rich, a perfect partner for the sweet tart cinnamon scented apples and the crispy streusel on top! My taste testers loved them as well!  If you are in the mood for apple pie, give these babies a try! They are completely heavenly!  Like the best apple pie ever but in bar form!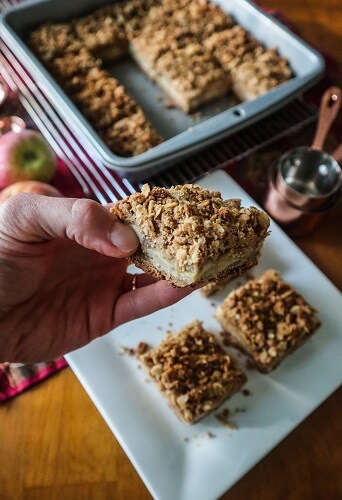 Vegan Cream Cheese Apple Pie Bars
Makes 16
Crust:
1/2 cup pecan butter or almond butter
1/4 cup coconut sugar
1/4 tsp sea salt
1 cup whole wheat pastry flour*
Cream Cheese Filling:
3/4 cup unsweetened coconut cream (the thick part from the top of a chilled can)
1/2 cup Dastony raw cashew butter
2 Tbsp maple syrup
2 Tbsp cornstarch
1/8 tsp sea salt
1 tsp pure vanilla extract
Filling:
3 medium or 4 small apples, sliced 1/4 inch thick
1/4 cup whole wheat pastry flour
2 Tbsp maple syrup
1 tsp cinnamon
1 tsp lemon juice
Topping:
1 cup gluten free old fashioned oats
1/4 cup coconut sugar
1/4 tsp ground cinnamon
1/4 cup whole wheat pastry flour
3 Tbsp pecan butter or almond butter
Instructions:
Preheat the oven to 350F degrees, and line a 9x9 inch square pan with parchment.
Mix together the crust ingredients, and press into the bottom of the prepared pan.  Place in the oven and bake for 15 minutes until set.
To make the cream cheese, combine all ingredients in a blender and blend until smooth, then pour over the crust.
Mix together the apple filling and arrange over the cream cheese layer so that the apples are flat.
Mix together the streusel filling in a bowl, and scrunch together with hands until it clumps up.  Sprinkle over the apples.
Place in the oven and bake for about 45-50 minutes until the streusel is lightly browned and apples are tender.  Note, since some ovens vary in temperature, check the bars after about 30 minutes and if they are starting to get too dark, tent them with foil so that they do not burn.
Once the bars have finished baking, remove them from the oven and allow to cool completely.
When the bars are cool, cut into 16 bars, and enjoy!
*Notes:
If you would like to make these gluten free, you can swap in Bob's Red Mill GF baking flour (or your favorite similar flour, I just have used this brand and know it works well) for the whole wheat pastry flour in this recipe 1:1.
If you would like these bars to be a little more rich, you can use coconut oil in the crust and crumble portions of this recipe in place of the pecan butter.
translate | Wed, 02 Sep 2020 00:46:24 +0000