food news
Fragrant Vanilla Cake
Vegan Strawberries and Cream Mini Loaf Cakes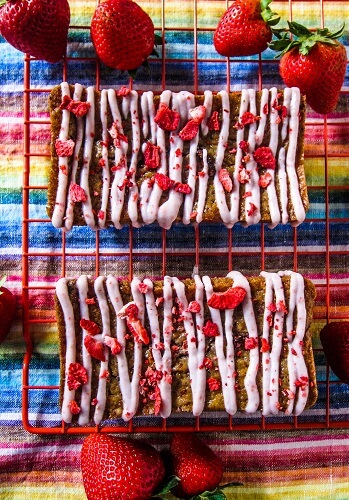 I was planning on making something strawberry rhubarb last weekend but I wasn't able to get rhubarb, so I just went with the strawberry instead! I wanted to make something I hadn't made before, so I decided on a loaf cake. I don't usually make them, since a lot of times I want cakes with frosting, but a strawberries and cream cake with a sweet glaze sounded just as good plus a whole heck of a lot easier!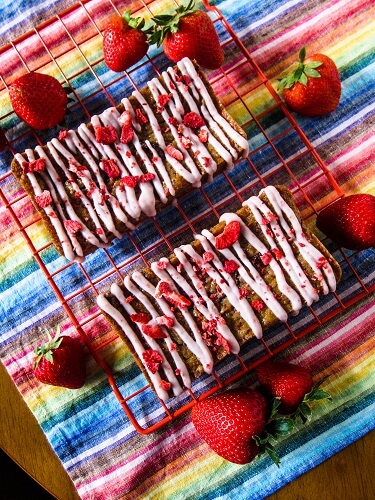 I already had strawberries on hand, so that was an added bonus! I love it when I have all of the ingredients for a recipe that I randomly think up, and I don't have to spend extra money to buy more. It is just a good feeling! Anyways, these cakes were really easy to make. I use smaller loaf pans, because I like to be able to share them, they bake up a lot faster and they are so cute! I mean, who doesn't love having their own whole little mini cake?
No fancy tools required to make this cake either, you just whisk them all together in a bowl, pour into the pans and bake! Your kitchen will smell heavenly while they are baking too, like strawberry shortcake. Unfortunately they have to cool before you un-mold them if you want them to look nice so you will have to wait until they cool to take them out unless you don't mind messy cake. Which by the way would totally be ok if you didn't have to photograph them like me, because I can dig messy cake with the glaze poured on in the pan and eating it out of there.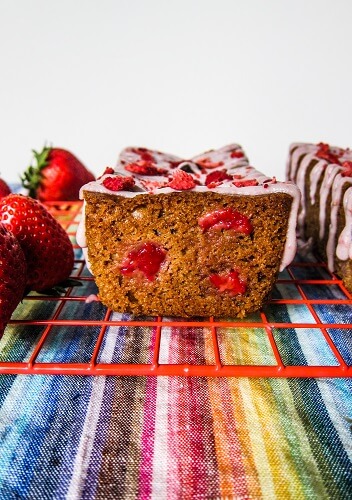 For the glaze I kept it simple. I am not a fan of refined sugar so no powdered sugar here, just a simple glaze made from Dastony coconut butter from Raw Guru, a little lemon juice, maple syrup and strawberry powder. Once the glaze was poured over the cake, it was totally heavenly! Soft and sweet, packed with strawberry and vanilla flavor and just the pick me up I wanted on the weekend to go with my tea!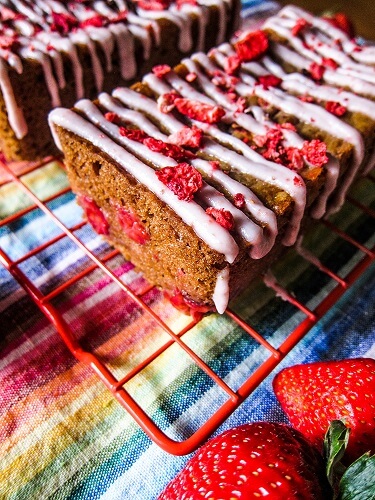 Vegan Strawberries and Cream Mini Loaf Cakes
Makes 4 mini loaf cakes
4 mini (5x3 inch) loaf cake pans
Cake:
1 1/2 cups Bob's Red Mill All Purpose Gluten Free Flour
1 1/2 tsp baking soda
1 tsp baking powder
1/2 tsp sea salt
1 cup coconut sugar
1/2 cup virgin coconut oil, warmed to liquid
1 cup coconut milk (at room temperature)
1 Tbsp pure vanilla extract
2 Tbsp lemon juice
1 cup sliced strawberries
Glaze:
3 Tbsp Raw Guru coconut butter, warmed to liquid
1 Tbsp lemon juice
1 Tbsp maple syrup
2 tsp strawberry powder (I took freeze dried strawberries and ground them to powder for this)
filtered water as needed
Instructions:
Preheat the oven to 350F degrees and position rack in center of oven.
Oil 2 mini loaf pans lightly so that the cake doesn't stick.
Whisk flour, baking soda, sea salt, and sugar in a large bowl to blend well.
Whisk oil , coconut milk, vanilla extract together in small bowl to blend well, then whisk into the flour mixture until well blended.
Transfer cake batter to prepared pans and bake cakes until tester inserted into center comes out clean, about 25-30 minutes.
Cool cakes completely in pans on rack, about 1 hour. Let cool completely, then un-mold.
To make the glaze, whisk together all ingredients, adding a little more water if it is too thick (you want to be able to drizzle it over the cakes).
Drizzle the glaze over the cakes, and enjoy!
*My mini loaf pans are 5x3 inches and 2 1/2 inches tall. If yours are smaller, you will get 8 loaves, and decrease the baking time by half.
translate | Tue, 04 Jun 2019 01:52:23 +0000
Roasted Spring Vegetable Buddha Bowl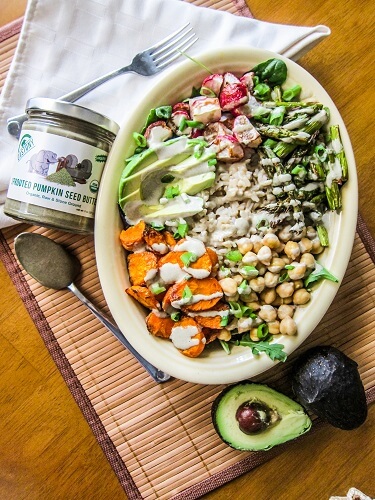 I tend to eat the same 4 things every week for dinner. Unless I am creating a new recipe then I will vary what I make. But the rest of the time when I make the same things it is mostly just because I know what I like, and because it ends up being a no brainer to make those recipes once I do it so many times. One of those items I make all the time is buddha bowls. I sometimes use different vegetable ingredients based off of what time of the year it is and what is in season or what I have on hand. I switch off quinoa and brown rice for the grain usually. But my current favorite is this one involving Spring vegetables.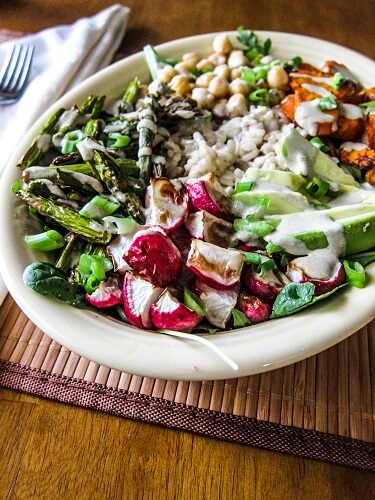 I get kind of excited about the different types of produce that can be found in the store in the Spring, Summer and Fall. But in the Spring I feel like I have been kind of deprived for a while of all of the super fresh vegetable type stuff since here in Minnesota we can't really grow anything unless it is indoors. So it is awesome to see things like asparagus and radishes. I like to eat radishes raw but the other day when I made this bowl I thought to myself, how would they be roasted? The answer to that is super delicious. They kind of lose that peppery bite that they have and become a bit sweeter, kind of similar to roasting turnips.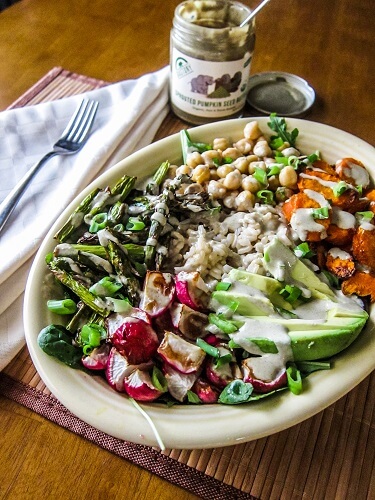 I combined them with asparagus, which I could not resist buying since it is so springy. As well as carrots, chickpeas and avocado in my bowl over brown rice and it was sooo good! But the part that made it really all come together was the creamy pumpkin seed butter sauce that I put over it all. I made it with Dastony Pumpkin Seed Butter from Raw Guru and you would swear it had dairy or cream or something in it it is nice and rich tasting.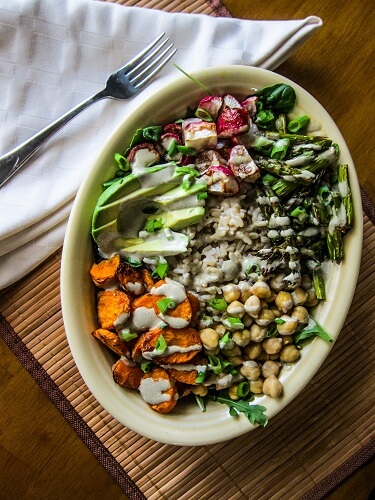 I added a little cumin, chipotle, lemon garlic and salt to it so that it was similar to a classic tahini dressing, but it was even more delicious since the pumpkin seeds don't have that bitterness that tahini sometimes has. This bowl was so good I will probably be making it for the rest of Spring. If you are in need of a hearty healthy dinner that tastes like comfort food, give this a try!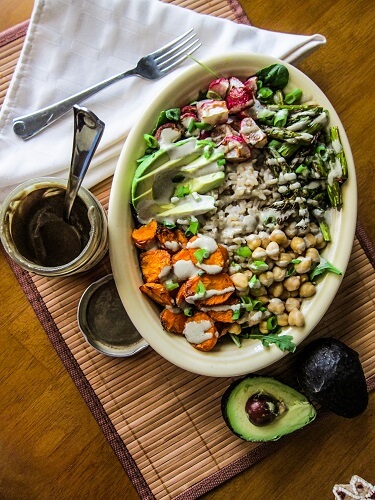 Roasted Spring Vegetable Buddha Bowl
Serves 2-3
2/3 cup brown jasmine rice
1 1/3 cups filtered water
2 cups sliced carrots
2 cups asparagus, cut into 2 inch pieces
2 cups radishes, quartered
avocado oil
sea salt
Sauce:
1/2 cup Dastony pumpkin seed butter
1/4 cup lemon juice

1/4 cup filtered water (or as needed)

1 garlic clove, minced

1 tsp ground cumin

1/8 tsp dried chipotle pepper

1/4 tsp sea salt or to taste
To assemble:
organic greens, such as arugula, spinach or spring mix
1 1/2 cups cooked chickpeas
1 avocado, diced
Instructions:
Place rice and water in a medium saucepan and bring to a simmer. Reduce to a low simmer, cover and cook until all the water is absorbed about 25-30 minutes, or when the rice is tender.
Meanwhile, to cook the veggies, toss them with just enough oil to coat them lightly, then spread out on a sheet pan and sprinkle with sea salt.
Whisk together the sauce ingredients, adding water to achieve your desired consistency.
To assemble, put some greens into the bottom of each bowl, then top with the rice, the chickpeas, the veggies, and avocado. Drizzle the sauce over the contents of the bowl. Serve!
translate | Sat, 01 Jun 2019 23:00:57 +0000
Vegan Raspberry Pop-Tarts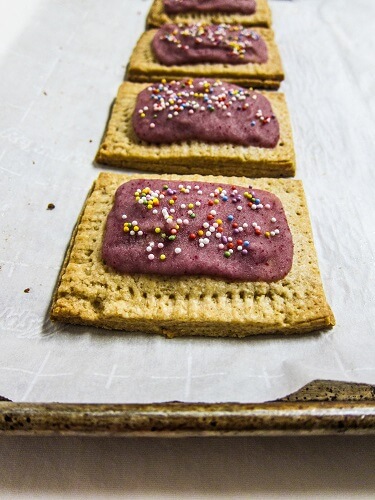 It was hard for my Mom to get me to eat breakfast when I was little. I just wanted to go to school or daycare and hated cereal so I would either eat Nutrigrain bars or Pop-Tarts so I didn't have to sit down and take a lot of time to eat. The Raspberry Pop-Tarts were my favorite. But looking back on it, now that I have had plenty of pastries and real fruit they really didn't taste like real pastries or raspberry at all even if they were amazing at the time. They had sort of a weird raspberry paste inside. I did however like the fact that they were iced and had sprinkles.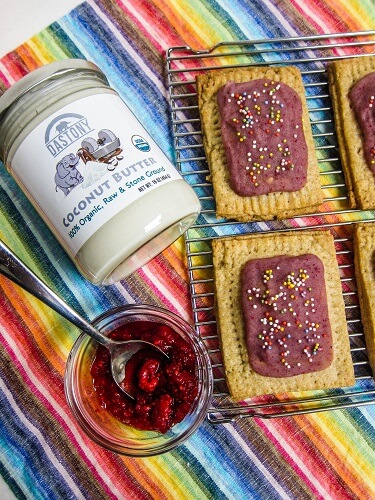 I probably haven't eaten an actual Pop-Tart since high school, but I have made my own at home with some success. No raspberry ones though until last weekend surprisingly. I had some raspberries on hand and was thinking that it would be awesome to make home made raspberry pop-tarts that were way better than those store bought ones I grew up eating. I am all for veganizing things and making them better.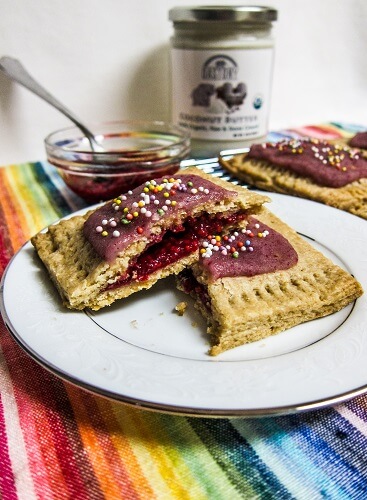 I was excited about these! I made a gluten free classic pie crust and used some home made raspberry jam as the filling. But of course you could use store bought if you have a favorite brand. These are actually pretty simple to make, although they do involve some mixing dough correctly and rolling it out and cutting it. But that is the fun part! Besides eating the finished ones of course. I wanted to put a glaze on them too, like the ones I ate as a kid.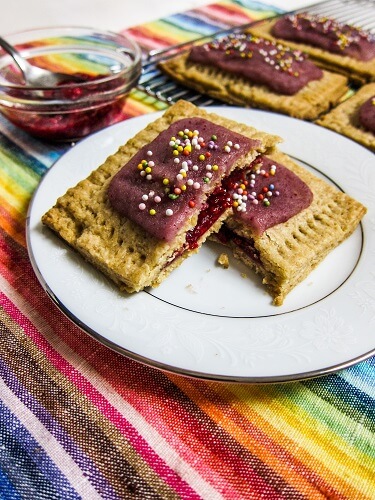 So, I used some Dastony coconut butter from Raw Guru to make a simple but delicious glaze. The finished product was super delicious! Jammy, gooey raspberry filling and a flakey buttery crust with a sweet glaze! They were waaayyyy better than any of the Pop-Tarts I grew up eating! I definitely recommend you try these next time you are craving the Pop-Tarts of your childhood.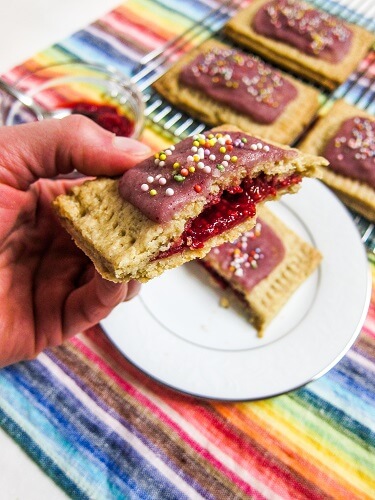 Vegan Raspberry Pop-Tarts
Makes 8
Crust:
1/4 cup coconut sugar or maple sugar
1/2 tsp sea salt
3/4 cup coconut oil in its solid state
about 6-7 Tbsp cold water (or as needed)
Filling:
about 1/2 cup raspberry jam
Glaze:
3 Tbsp coconut butter, warmed to liquid
1 Tbsp raspberry powder (I ground up freeze dried raspberries with a mortar and pestle)
1 Tbsp maple syrup
pinch sea salt
3-4 Tbsp filtered water or as needed
Instructions:
To make the crust, in a large bowl, mix together flour, sugar, sea salt, and spices. Cut in coconut oil with a pastry blender or 2 knives until it is in pea sized pieces. Mix in just enough water to create a smooth dough that holds together but isn't too sticky. Add more water if needed, and knead slightly until a smooth dough is created.
Roll out into a large rectangle and cut into 16 identical rectangles. Chill if too soft before assembling. You want the dough a little pliable, but not so warm that it will break. Preheat oven to 375F degrees.
To assemble, spread about 2 Tbsp jam over half of the dough rectangles (leaving a boarder so you can attach the dough at the sides). Cover with the remaining pieces of dough (I used a small spatula to carefully move them), pressing the edges and crimping with a fork or the edge of something with a flat edge, like a spatula. Bake for about 30 minutes until the crusts are starting to brown lightly. Remove from oven and let cool on a wire rack until warm.
Whisk glaze ingredients together until smooth (adding more water if too thick, you want it to be pour-able). Spoon some of the glaze over each pop tart, and smooth it out to cover the top. Let set before serving.
*If you would rather not make these gluten free, just use the same amount of organic whole wheat pastry flour.
translate | Thu, 30 May 2019 01:07:51 +0000
Vegan Chocolate Dipped Raspberry Lavender Ice Cream Pops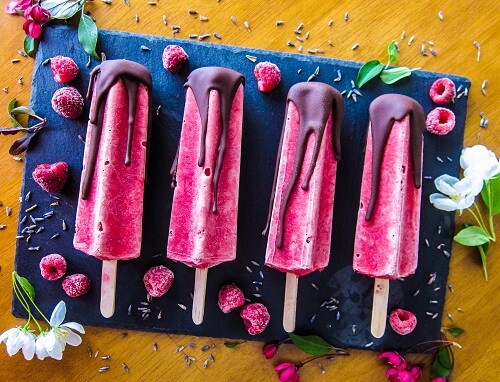 Warmer weather is approaching and they said it was supposed to be nice last weekend so I figured I would make some ice cream. Not the scoop-able kind though, some ice cream popsicles! I love that they are portable, and easily shareable and it is always nice to be able to take them along on a walk outside when it is warm. I made some chocolate dipped cherry ones a few years back and they were pretty bomb, so I decided to make some raspberry lavender ice cream ones dipped in chocolate this time.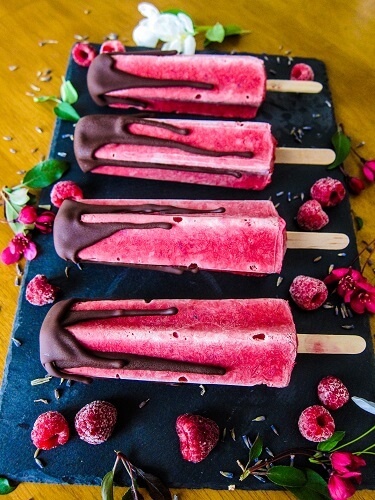 Raspberries have always been my favorite fruit. We always had raspberry jam at my Mom's house when I was little, and my Mom used to make these really good cheesecake tart things topped with raspberries, and I feel like we bought them the most often just to snack on. I think what I love about them is the balance of tart and sweet that they have. It is perfect for my tastes. In the Summer here, there are woods close to where I live where you can pick wild black raspberries and they are amazing! We are not quite to that season yet, but I am still craving them! Hence using them in the popsicles.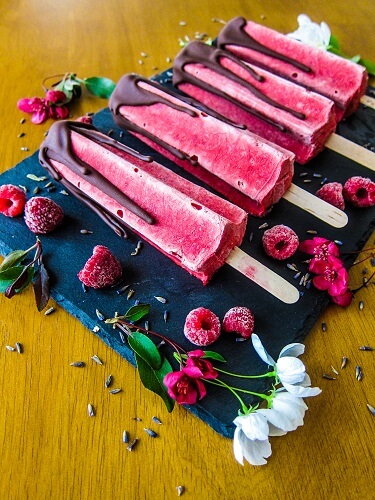 I decided to add the lavender because I am also loving that lately in desserts and drinks. It is so calming and heavenly. Also it pairs perfect with berries. The base for this ice cream was pretty simple, but tasted so good. Just coconut milk, maple syrup, vanilla, a touch of bright lemon, fragrant lavender and of course the sweet berries. I could not wait to try it in its finished form.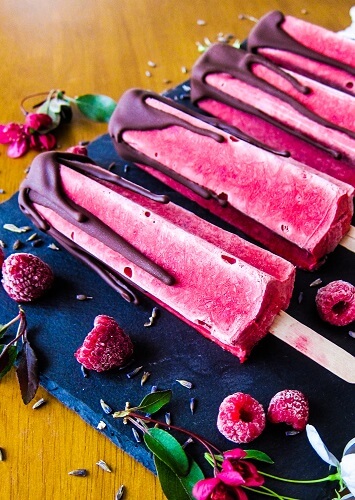 Unfortunately I had to wait overnight because I was making these after work, but it was so worth the wait. I dipped them in good quality vegan dark chocolate, and they were so heavenly! They were rich and creamy thanks to the coconut milk, and the sweet raspberries and fragrant lavender were so good together! The dark chocolate put them over the top to crave worthy status! You can't go wrong with berries, chocolate and ice cream. If you are looking for a cooling treat to make when the warm weather hits, give these a try!
Vegan Chocolate Dipped Raspberry Lavender Ice Cream Pops
Makes 8
Ingredients:
2 cups full fat coconut milk
1/4 cup maple syrup
1 tsp pure vanilla extract
pinch sea salt
2 Tbsp lemon juice
2 tsp dried lavender flowers
2 cups organic raspberries
3/4 cup chopped vegan dark chocolate
Instructions:
Combine the full fat coconut milk, syrup, vanilla, sea salt, lemon juice lavender, and berries in a blender and blend until smooth.
Pour into popsicle molds (I got 8 popsicles, but you may get more or less depending on the size of your molds.
Place sticks into the molds, leaving about 1 inch at the top, then place in the freezer until completely hard, about 4-6 hours (or overnight).
Remove from the molds then place back in the freezer on a parchment lined tray until completely hard (you don't want them melty when you put the chocolate on).
Meanwhile, melt the chocolate in the top of a double boiler, then quickly dip each popsicle into it, then place back onto the tray and put back in the freezer until hard.

Enjoy! Store any leftover pops in a sealed container in the freezer.
translate | Tue, 28 May 2019 01:33:45 +0000
Mocha Dark Chocolate CBD Truffles
Back when I was in high school, my Mom and I would go to this tiny local coffee shop after church every week and get coffee. She would always get a white mocha, and for a while I would get a dark chocolate mocha before my tastes changed and I went to the less sweet coffees in college. Those dark chocolate mochas were bomb. Like drinking a dark chocolate coffee truffle! Even though I don't drink coffee now, I still have that memory of how delicious they were and I do like coffee in my desserts, like the Mocha Dark Chocolate CBD truffles I made last weekend.
I was thinking about those mochas I used to drink recently and imagining them as delicious truffles. That is how it all started. Well, that and receiving some Veggimins 500 mg Coffee CBD Oil from Raw Guru and being inspired to use it in something delicious. Because why not get your daily dose of CBD while enjoying yummy chocolate! If you have not heard of or tried CBD, it is great for managing inflammation in the body, helping with anxiety and energy levels, and general well being. I take it every day anyhow, so I am all for getting some with my chocolates!
These are super easy to make, you just melt down vegan dark chocolate, I used some chopped Veggimins CBD Dark Chocolate and Rawmio Dark Chocolate (but you could use whatever you have on hand of course). And combine it with full fat coconut cream, and the CBD oil for a really rich chocolate ganache perfect for rolling into truffles.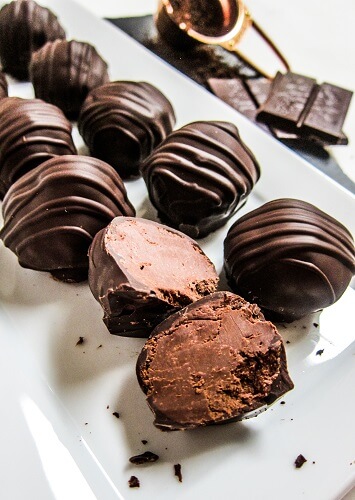 Then you melt some more dark chocolate, dip them and you have something super delicious (and more impressive looking than the time they actually take to make). If you are a lover of chocolate and coffee you will love these babies! I love them and I am not even a coffee drinker anymore. I hope you are all having a wonderful week!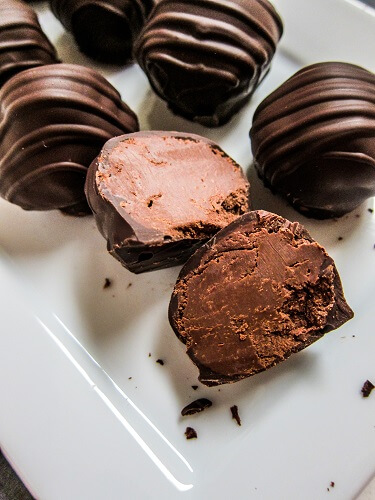 Mocha Dark Chocolate CBD Truffles
Makes 12 truffles
Instructions:
Combine the chopped chocolate and coconut cream in the top of a double boiler and whisk every so often until it is all melted together smoothly. Add the CBD oil and whisk until well incorporated.
Pour into a bowl, and place in the freezer until firm enough to scoop and roll, about 30 minutes or so.
Roll the filling mixture into balls, and place on a parchment lined tray. Place in the freezer until they are firm, about 30 minutes.
Meanwhile, melt the other cup of dark chocolate in the top of a double boiler until smooth.
Dip each of the chocolate filling balls into the melted chocolate one by one letting the excess drain off (I like to use a fork to set them on to dip them). Set on the parchment lined tray.
When the chocolates are all dipped, place the tray in the freezer until the coating has firmed up.
Store chocolates in the refrigerator in an airtight container.
*If you don't want to use CBD, just use 1 tsp coffee extract instead.
translate | Sat, 25 May 2019 01:21:23 +0000
Vegan Porcupine Meatballs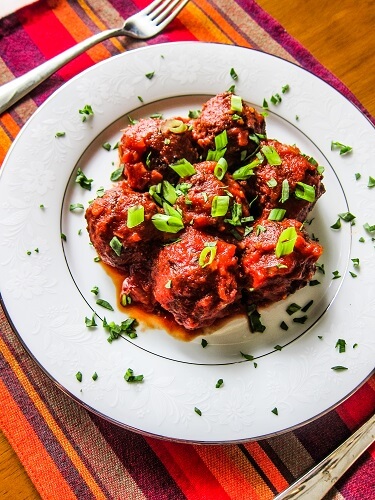 Growing up, I never realized how much work goes into making meat balls. I mean all the mixing and rolling them into a gazillion balls, that takes work! It's no wonder we ate frozen meatballs growing up most of the time and not home made. Once in a while though my Mom would make some really good home made meat balls and they were a real treat. It is kind of the same way with me making my vegan meatballs, they are a few steps I won't lie about that, but they are so worth it in the end.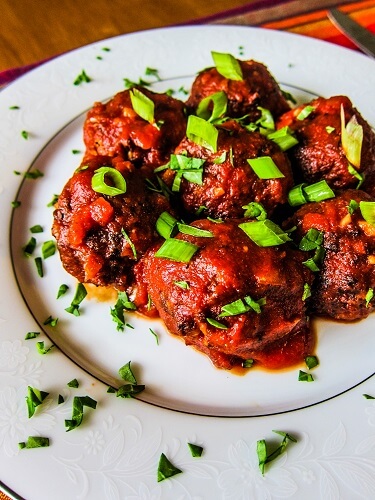 My Mom loves my vegan meatballs. Although she isn't vegan, she tries not to eat very much meat. Every once in a while she asks me to make my vegan meatballs for her, and she says she likes them better than ones made with real meat. Well, last weekend she asked me if I could make some vegan porcupine meatballs, like they used to serve at her school when she was little. She even showed me the recipe in one of her church cookbooks. I had to make them!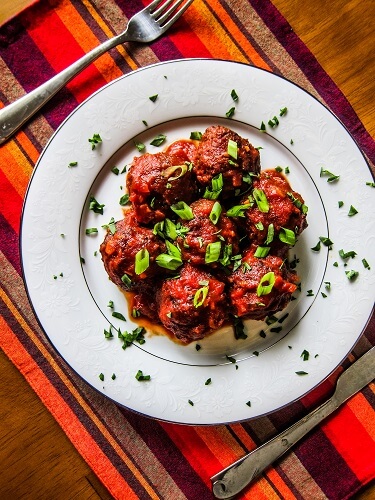 If you have never heard of porcupine meatballs, they are meatballs made with rice mixed into them in a sweet and tangy tomato sauce. They sounded good to me! I tweaked my classic vegan meatball recipe and it worked perfect! I used the same lentils and walnuts as the base, but swapped the rolled oats I normally use for the rice. This sounds kind of weird but the meatball mixture before I formed it and baked it was actually really good! I had to taste it because it needs to taste good before it goes into the oven or it won't taste good when it comes out and I wanted to get the flavors right. Lucky they are vegan and I am not dealing with raw meat here that I would have to cook to sample.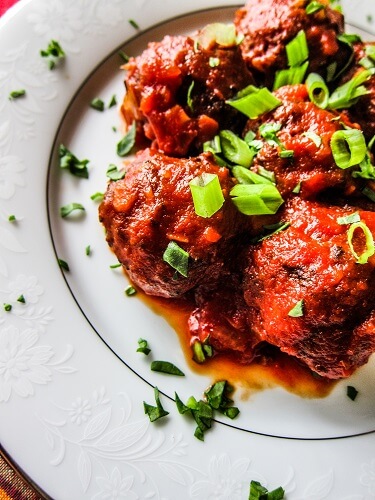 The usual sauce is usually tomato sauce and brown sugar with a few other things, but I swapped the brown sugar for a little maple syrup and a few other ingredients and it was perfect! It was so good on the meatballs! I almost wish I had made these sooner, they are fantastic! My Mom enjoyed them as well, and I think you will too should you choose to give them a try!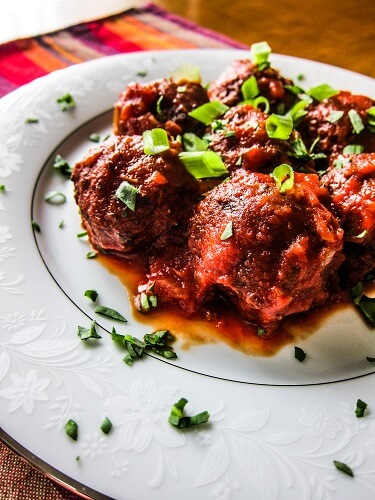 Vegan Porcupine Meatballs
Serves 4
Meatballs:
2/3 cup uncooked French lentils
filtered water
1 tsp olive oil
1 small onion, diced
2 garlic cloves, minced
2 Tbsp tamari or shoyu
1/4 cup organic tomato paste
1/4 tsp sea salt
1/4 tsp black pepper
1/4 tsp red pepper flakes
2 cups chopped walnuts
2 1/2 cups cooked white rice
Sauce:
2 tsp olive oil
1/4 cup chopped onion
2 garlic cloves, minced
1/4 tsp red pepper flakes
1 15 oz can tomato sauce
1/2 cup tomato paste
1/2 cup filtered water
1/4 cup maple syrup
1 Tbsp tamari
1 Tbsp cider vinegar
1 tsp dijon mustard
1/2 tsp sea salt (or to taste)
Garnish:
chopped fresh parsley
sliced scallions
Instructions:
To make the meat balls, add the lentils to a pot, and cover them with enough water to have a few inches above the lentils.  Bring to a simmer, and cook for about 30-40 minutes until the lentils are just tender but not mushy.  Drain very well, and set aside.
In a pan, heat the olive oil and onions, and cook until the onions are softened and tender, about 5 minutes.
Add the garlic and sautee a minute more until fragrant.
Add to a food processor, along with lentils, and all other meatball ingredients.  Pulse until everything is blended but not completely smooth.
Preheat the oven to 375F degrees.  Roll the meatball mixture into one and a half inch balls (they may be a little soft), and place them on a lined baking sheet. Place in the oven and bake for 30 minutes or until firm, but still soft in the middle.
Meanwhile, to make the sauce, heat the oil in a non-stick skillet, and add the onions.  Sautee for about 5 minutes until softened, over medium heat, then add the garlic and red pepper and cook a minute more.  Add the tomatoes, water, maple syrup, tamari, vinegar, mustard and sea salt, and bring to a simmer.  Cook for about 10-15 minutes until the flavors have combined.
When the meatballs have finished cooking, toss them (very gently because they will fall apart if you are rough) with the sauce just before serving, and serve garnished with scallions and parsley!
translate | Thu, 23 May 2019 00:44:11 +0000